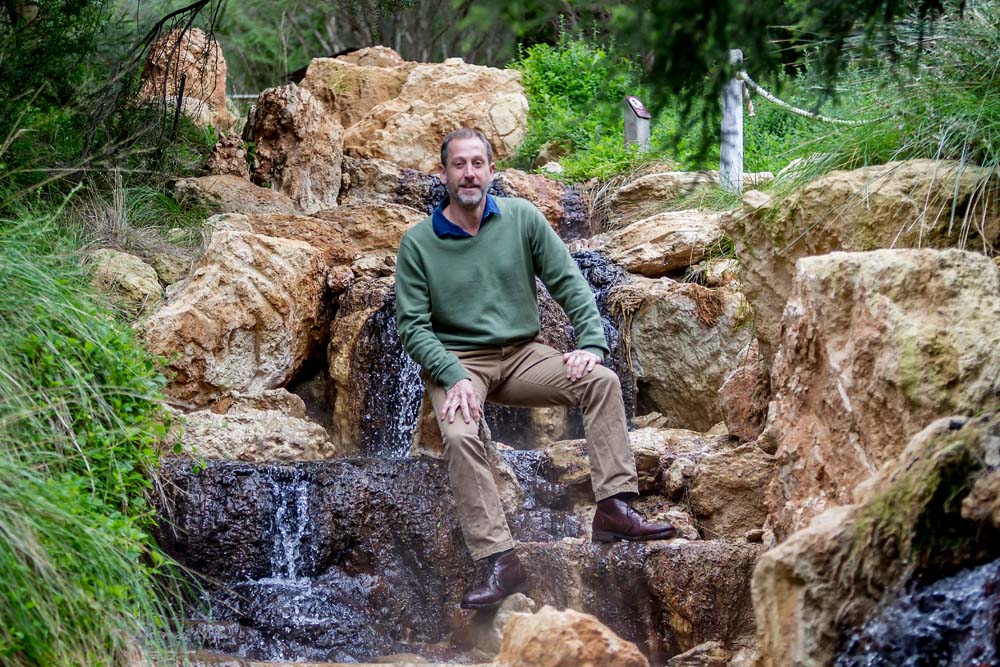 It was a moment of serendipity that led Charles Davidson to create his multimillion dollar business, The Peninsula Hot Springs. Peninsula Essence talks to Charles about the journey that began with an epiphany in a hot spring in Japan, and resulted in a top tourist attraction that is visited by over 450,000 people per year.
How did the idea for Peninsula Hot Springs come about?
It was 1992 and I was working overseas in Japan and had a headache from studying Japanese so a friend suggested we go to a hot spring. We went to Kusatsu Onsen with outdoor pools and snow all around. When I jumped in the hot spring I had a real epiphany, looking at the surrounding snowy mountains, relaxing in that water, I had never felt so uplifted. I wanted to bring this experience to Australia, as having grown up here and spent a lot of time on the peninsula, I knew that the winter is very quiet and there are not much outdoor activities. I realised that these pools could be healing centres as well and wanted to share that culture with my own country.
How long did it take from that moment in Kusatsu Onsen to starting the Peninsula Hot Springs?
Well initially I was told by a Japanese geologist that there were no springs in Australia because it was such an old continent, worn down by time and with no active volcanoes. So it got put on the backburner but I never really gave up. I decided to bring the bathing culture to Australia and so went around to hundreds of Japanese pools and springs. I continued to work in Japan for the Australian embassy and the Mitsubishi Corporation and then one night, five years after the hot springs epiphany, I was having a drink after work with Victoria's Tokyo representative and learnt that the state's minerals and energy department had discovered hot water deep underground on the Mornington Peninsula, near Rye. I have strong ties with the area. My ancestors had built the Briars and we had a family farm on the peninsula where I spent a lot of time growing up.
How did you then start the hot springs?
I was convinced then that my future was being directed towards creating a hot springs experience in Australia. My brother Richard came on board, and in 2005 we bought 17 hectares of land that we knew was above the subterranean store of hot water. I then made the decision to come back to Australia with my wife and open Mizu Spa near the hot springs property as a trial and to provide an income for my rapidly growing family.
Tell us about the staged development plan for Peninsula Hot Springs? Has there been any setbacks?
We have always had a master plan and mostly it has run smoothly. We did have an initial setback when we first started drilling though. We had hired a contractor to drill down to 640 metres to tap into the hot water. The drill got all the way down to where they had hot steamy mud coming out of the ground and jammed. We had to seal it up but the good thing was we knew it was hot and that there was mud. So we eventually had to drill again. It eventually took eight years to realise our dream with the opening on June 28, 2005, the day after my 40th birthday. Currently we are undergoing some refurbishments in our Bath House change rooms. As part of Stage three, we are building seven new pools to the bath house bathing area which sits on a hill facing a new amphitheatre. This area will open the opportunities for Peninsula Hot Springs to run various events including wellness activities, music, talks, cooking demonstrations as well as corporate and community programs. We are also creating a 'fire and ice' experience which includes two large saunas, an ice cave and plunge pool. Guests will be able to utilise these three new experiences in combination for hot, cold therapy to enhance their visit to the Bath House and overall wellbeing. As part of stage four, our 32 hectare site will be home to 126 rooms of accommodation and a Wellness (Health and Wellbeing) Centre, with myriads of walking tracks leading to lakeside and hilltop relaxation viewing areas.
What sort of feedback do you get regarding the health outcomes?
Immediately it is about the cathartic relief of being here with your friends or family. Last year we did a survey with RMIT and they found that 25 percent of people who come here have some chronic issue and a lot of them found they had significant improvement with back pain, arthritis, and mobility problems. Those with stress, anxiety and depression had significant relief as did those with sleeping issues. Bathing in hot mineral water is excellent for you and that is being shown in all the research.  Our purpose is to create experiences where people relax in nature and connect with the deep well of their being.