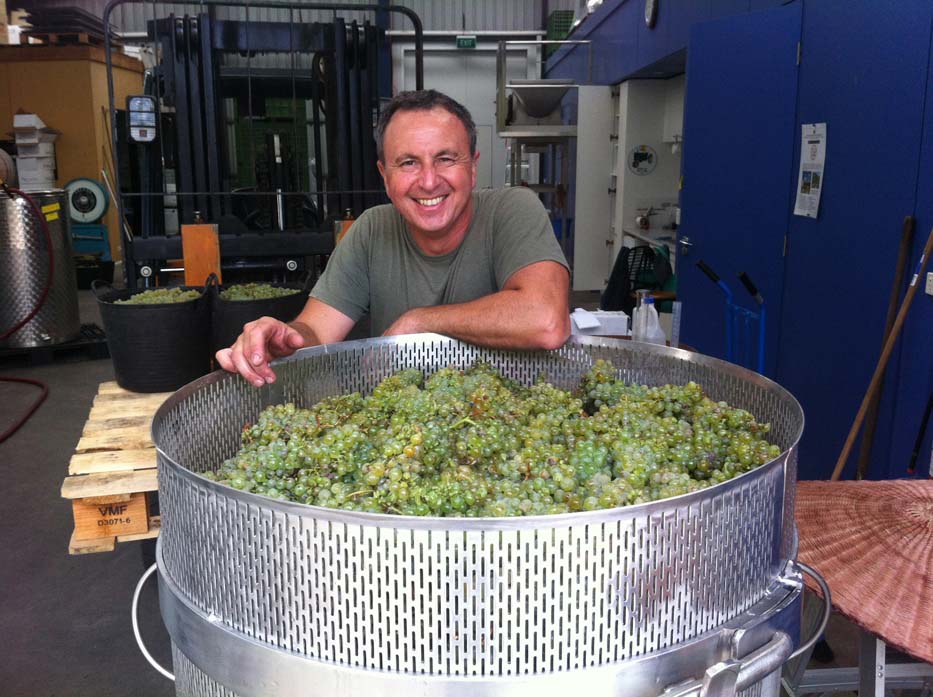 It is hard to imagine Michael Telera not making wine. After all, his family has been in the craft for about 500 years.
Yes, you heard right. His family roots trace back to the 1500's in Puglia, Italy. Tucked away on the Adriatic coast, his family were making wine from grapes grown on the sun-drenched hills and terraces.
Michael grew up in a migrant family that made their own wine in their garage. They also spent holiday on the peninsula; a place where Michael sees parallels to Italy.
But Michael's journey to winemaking was a slow one, and his destination not what you might expect. In fact it is believed that Michael operates the smallest commercial winery in the country.
"The mass market doesn't get me up in the morning," said Michael.
Michael is a qualified civil engineer. He spent 19 years working for Melbourne Water, and was fascinated and nagged by the wonders of water and its effect in viticulture.
"It sat there for many years as an itch that had to be scratched. Eventually I came to the conclusion that I'd either have to scratch it, or I'd die wondering."
Michael had no idea where to go or what to do. Indeed, he knew little about wine; just that he had a dream that he wanted to be a winemaker.
"I wasn't even sure if I was serious. I thought I might learn the trade and have a nice hobby under my belt and that would be the end of it."
It was a visit to Paradigm Hill in Merricks, and an introduction to owner George Mihaly that got the ball rolling.
"It was probably a strange sight for George. In comes this bloke who says 'I think I want to be a winemaker'. But he was great and took me under his wing".
Michael was now in the deep-end. Not making wine in the garage anymore, but working for the real deal. There was a lot at stake, and the learning curve was huge.
"I had no idea of what it took. I had no real idea of the link between vitacultre and wine-making."
But that was eight years ago, and Michael still works at Paradigm Hill as assistant winemaker, and working the cellar door.
"I was so lucky to have met great people. Not only George and Ruth from Paradigm Hill, but there is a fantastic community of like-minded people. Always ready to help and advise."
You'd have thought that Michael's scratch would now be itched, but he longed for more. He wanted to have his own wine brand, and an opportunity arose in 2011 to lease a small vineyard in Red Hill.
"It was planted in 2007 by Michael and Susan Wynne-Hughes. After Michael passed away, there was nobody to tend it, so I took up the challenge," said Michael.
Michael's vineyard was not large, by any measure. In fact it was tiny. A mere 0.3 of an acre it had 17 rows measuring just 28 metres long.
"It is actually a beautiful site," said Michael. "It runs east-west, so has a less intense heat."
"Hugh Robinson from Tuerong came down every couple of weeks and helped get me up to speed with my viticulture. And I toiled on getting the vines ripe knowing that great fruit would eventuate."
Two years later, Michael had his first vintage. All 23 cases of it. Telera was born.
But mother nature was not going to let Michael off as easily as that. His second vintage, in 2014, turned out to be an absolute beast.
With only 33 bottles of pinot and 33 bottles of sauvignon blanc produced for the entire year, Michael was meted out the harshest of lessons.
"You spend an entire year cultivating the vines and fruit. It is all on the line. And then something like 2014 happens. Well, it is only after a loss like that you develop a philosophical approach. You can control plenty of things, but mother nature isn't one of them."
Michael never gave up. He learned the lessons that arose from each year, and accumulated knowledge from every obstacle he came across.
Now, six years after his first vintage, Telera is going stong.
Michael still runs his 0.3 acres of vines in Red Hill, but also buys in grapes from other vineyards on the peninsula.
"I source fruit from Tuerong, and Merricks. It enables me to create interesting blends of 'up the hill' and 'down the hill' grapes.
His Penella blend is made up of twenty percent 'up the hill' and eighty percent 'down the hill'; a wine that he crafts using rehydrated yeast.
His Itana, on the other hand, is made up of fifty percent 'up the hill' and fifty percent 'down the hill' grapes, and is made using a wild fermentation process.
Michael also has the ability to pick at different times due to the differing micro-climates in his two areas. The grapes in Tuerong being picked earlier than the grapes in Red Hill where the climate tends to be cooler.
The other lesson that 2014 taught Michael is that you can't be a part time wine-maker. He learned that to get the best out of his grapes, he needed to be nearby. He moved down to the peninsula full time and now lives just a short bike ride from his vineyard.
"My philosophy is very different to a lot of other wineries," said Michael. "It can be an ego driven business, and a lot of the wineries have a lot of money behind them."
"I just want to make sure that I do the best possible work with the fruit I have. I want every drop that goes into a bottle to be the very best."
Telera is always going to be a boutique brand. The fact is, you don't end up on the shelves of national outlets when you are producing four hundred cases of wine a year.
"It is just me. I am all in. I am the tender of the vines, the wine maker, and the marketing guy,"
But far from feeling overwhelmed by the work, Michael has embraced it head-on.
"I really love it. It has allowed me a peninsula lifestyle, and I am happy. It is also allowing me to test out my business model and not die wondering what could have been"
And mum and dad are proud of his achievements too.
"I feel like I have come full circle. From making wine in the garage with my dad to this; they couldn't be prouder."
The future is bright for Michael and Telera Wines. He continues to push the envelope and is embracing new ideas and concepts like some limited run wines. But everything else aside, he continues to be guided by his fundamental philosophy.
"I will never put anything in a bottle that shouldn't be there. I believe in my wines, and want the wine drinkers of the world to believe in them too."
"I ask just one thing. Pour a glass, close your eyes and enjoy the taste. I think you'll be impressed."