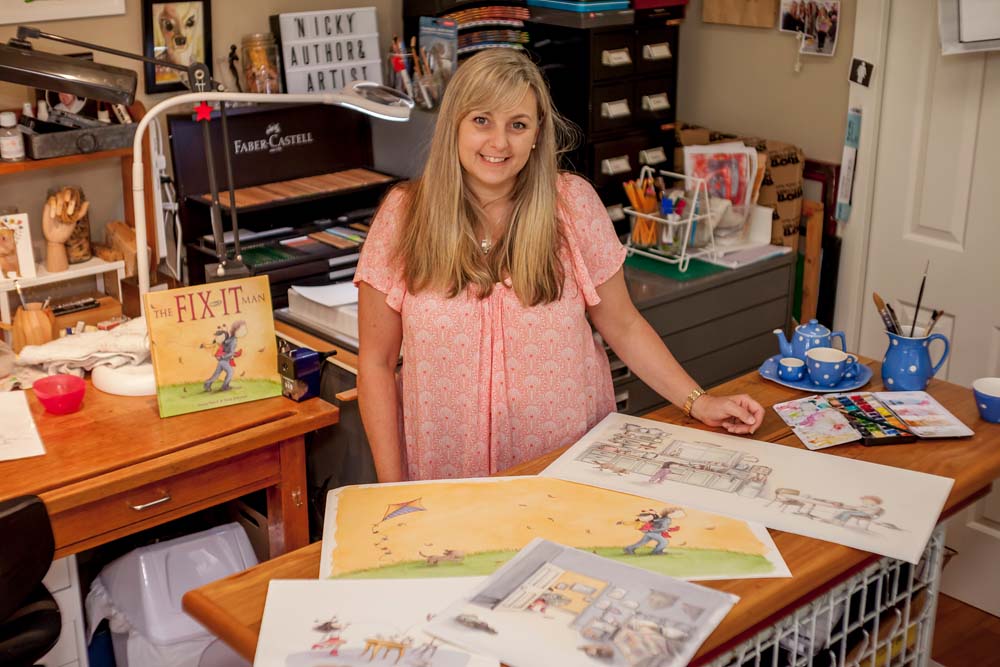 By Melissa Walsh   Photos Yanni
Nicky Johnston is an educator, speaker and author/illustrator of children's books. She is passionate about promoting emotional resilience in children and raising awareness of mental health issues. Her love of teaching sees her kept busy with school visits and presenting at workshops and conferences.
Peninsula Essence Magazine talks to Nicky about her journey into children's literature and gets an insight into how this mother of four's drawings help open a dialogue on some difficult subjects.
Her books include "Go Away Mr Worry Thoughts", "The Worst Pain in the World", "Brave Danny", "Actually, I Can", and the recently released "The Fix It Man".
When did your interest in art and drawing first begin?
I had always loved drawing and art from the time I was little. We were living in our old house in Kars Street Frankston and, when I was 15, mum and dad converted the downstairs games area into an art studio for me. They even put a hole in the floor so I could get down to the studio easily. I was in high school then and doing lots of oil painting as one of my VCE prerequisites. I went to university after that and did a teaching degree so started teaching art from that little studio when I was in my early 20's.
How did you transition from art teacher to writing and illustrating your own book?
When my four children were born, I started working for the RACV as a traffic safety educator in classrooms part time so had more time to devote to my children and my own writing and illustrating. I also visit schools and talk about my books to help children and parents deal with mental health issues. When my eldest child Bayley was struggling with anxiety I wrote my first book "Go Away Mr Worry Thoughts" to help him and me deal with this crippling childhood anxiety. I did lots of research to learn about the psychological behaviours of children and desperately wanted to understand what was going on with my child and help create a more worry-free life for him. He is 18 now and doing really well.
How long did it take to write your first book?
"Go Away Mr Worry Thoughts" took two years to complete. There was a lot of research that needed to be done and it was our personal story so there were many drafts before I was happy with the final result.  I self-published that book in 2008 as back then the niche market books were not taken up by publishers because they are not mass market but there's a massive market. Since then there are a lot more publishers who are taking on this type of book.
What do your children think of you being a children's book illustrator and writer?
Well they are 18, 14, 10 and six now. They kind of go "Oh yeah that's what mum does" and don't really make a fuss. My youngest who is six tipped an entire bottle of black ink over one of my illustrations one day so now I keep the ink up very high. Funny thing is I take that page to schools often as it looks like the ink is in the shape of the whale. I say to the kids' maybe he's telling me he wants to be an artist.
Did you ever think this is what you would end up doing?
Funnily enough, I came across my old debutante ball video recently and everybody announced at the deb what they wanted to do. Mine was I want to be a teacher, and I want to be an artist and illustrator. So it must have been in the back of my mind what I wanted to do.
Where do you do your drawings?
Before I had my studio in the backyard, I would draw at the kitchen table when my children had gone to bed. Last year my youngest started school which changed things. Suddenly I had more time during the day to do my work. I built the studio in 2009 with the goal of running art classes and I still want to run them for kids. Then we found out we were having number four and that changed everything so this sat for three years as an expensive shed. We had a newborn and so had to extend the house and get a new car. I moved into the studio three years ago and am slowly getting it together to be the space I want. I have the most amazing desk which is solid wood and an old draftsman's desk. It weighs about the same as three cars and it is absolutely perfect.
What do you like about being out in your studio?
It's like my own secluded oasis. I come out here and there's no phone. I can't get internet from the house. I can't hear the doorbell and I just get lost in my drawing. I can easily lose a day so I have to set timers on my phone to stop and have lunch or pick up the kids. My pleasure and my release is to draw so I am so lucky to have this space to do it. If I haven't drawn or painted in a while I get a bit antsy so I am very lucky to have it. I get really excited when I'm working on a new book and do a lot of my initial sketches sitting on the couch. When the kid's friends come over they say "Oh my gosh is that the next one? I will remember seeing this" and it's really special.
How long does it take you to illustrate a page?
Because I don't do it full time it can take weeks to finish a page. Often though I have five or six pages on the go at the same time. I stretch them all out onto boards and put them across the desk so I have a working process of seeing several pages at once. To stretch the paper, you soak it in water put it on the board, and have to wait 24 hours for it to set. It is an old fashioned process but it is the way I like to do it. Sometimes I am not happy with a page so will start all over again. That was the case with the cover page of "The Fix-It Man" which has just been released. I got half way through and didn't like the orange so I redid it with the green first and it was so much more defined. They are small things but each choice is a very precise decision.
Why are illustrations so important in children's books?
I create extra dimensions to the story. In the most recent book "The Fix-It Man", the illustrations take Dimity's words to another level. Every pause, every chosen word she has written has a purpose and when I come to my drawings every part of it is a conscious decision. In "The Fix-It Man" there is an image the day after the mum has gone. The house is in a shambles, there are dishes in the sink, the plant is dying, dad is in his pyjamas and even the dog isn't eating. Nowhere in the words does it actually say the mum has passed away but we know through the succession of images. There are so many little images that flow through the book to show the story beneath the words like the dress the mum is knitting, the kite and the mobile she makes. I remember I laid all the pages out without the words to see what my husband thought and he ended up crying because he could see what the story was.
Why are children's books still so important?
These books have a way of helping children cope and understand real life events. "The Fix-It Man" for example, deals with grief and loss. Children begin to learn about loss early, often through the loss of a pet or someone they love. This book offers a gentle way for carers and kids to have conversations around love and loss. At the launch in March we had Georgie Harman, CEO of Beyond Blue speaking about the importance of dealing with grief and how the book can be a useful tool.