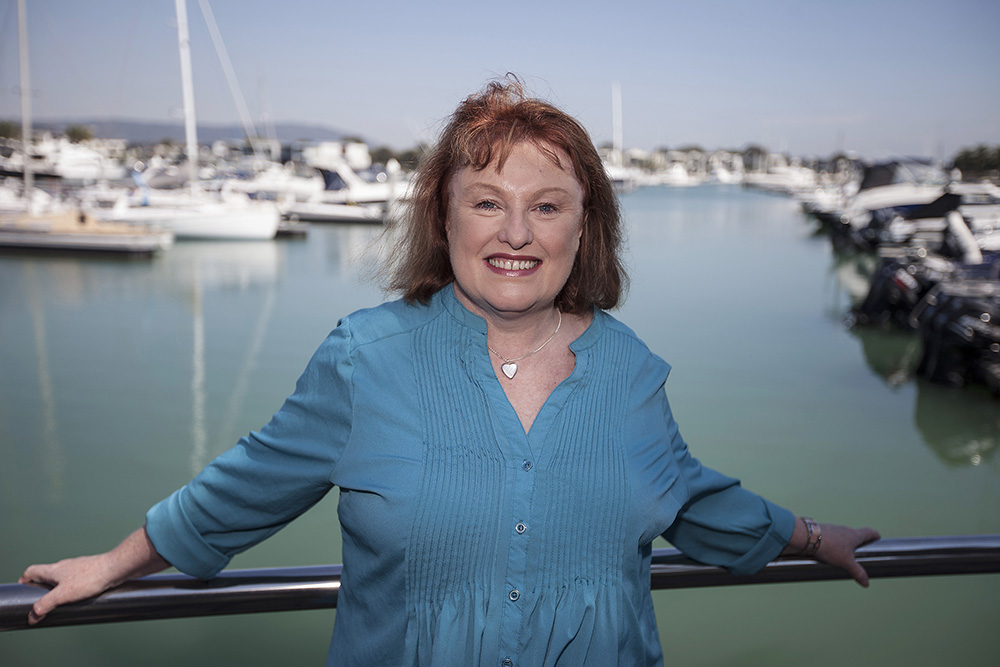 By Melissa Walsh
All the worlds a stage' and it certainly has been for Cindy Pritchard, a veteran of the theatre for more than three decades. The bubbly thespian has tread the boards with fellow actors Hugh Jackman, Bert Newton, Debra Byrne, Marina Prior, Barry Otto, Nancye Hayes, Peta Toppano, Rachael Beck, June Salter, Todd McKenney, Steve Bastoni and John Waters to name a few. She's been an original cast member of many Australian musical theatre productions including "Les Miserables" in the ensemble and Madame Thenadier cover, "Beauty and the Beast" with Hugh Jackman, as the egg timer and Mrs Potts. She was Miss Flannery in "Thoroughly Modern Millie", Sophia in "Me & My Girl", the employment officer in "Sweet Charity", Baroness Elberfeld and the late June Salter's understudy in "Sound of Music", and the matron in "Oliver". She has performed countless shows of "Fiddler on the Roof", "How to Succeed in Business Without Really Trying" and the role of Earth
Mother in the Australian regional tour of "Menopause the Musical", as well as Grandma Poss in "Possum Magic" and Miss Plum in "Hairy Maclary and Friends". She was a regular singer, accompanied by John Foreman, for over five years on Good Morning Australia with Bert Newton, has sung on two ARIA award winning cast albums, and played roles in "Blue Heelers', "A Country Practice" and "Sons and Daughters". It's a long way from the bright lights of show business but Cindy finally found a place to plant her roots down by the beach on the Mornington Peninsula and, at 58, is enjoying the best of both worlds.
"I was singing as soon as I could talk. Apparently I used to stand in front of the radiogram in my nappy and sing and dance, and whenever mum and dad had people over I had to entertain them whether I liked it or not," said Cindy, who was born in the NSW town of Orange. "We had a pianola which I taught myself to play by ear so that I could accompany my songs. I was always performing in school productions at Orange High School. I was first at rehearsals but didn't have the same enthusiasm for school work."
Always drawn to the theatre, ironically Cindy performed in a local amateur production of "Sound of Music" with Murray from the Wiggles.
"It wasn't until years later we realized the connection," she said with a laugh.
It was Cindy's mum's observation that her daughter was stagnating in Orange that changed the course of her life.
"I was working in a record bar in Myer and my dad had wanted me to take over his menswear store when my mum saw that I needed more. She had been involved with the theatre years before and dated actor Willie Fennell so decided to track him down years later, much to dad's horror.   She said I have a daughter who has a wonderful voice, and there's nothing in Orange. He told her that I needed to be at Sydney's Ensemble Theatre and see his mate Hayes Gordon. That was the January of 1980 and I enrolled in the drama school there where I would spend the next three years of my life."
From then, Cindy had her start, working as a singing waitress and doing cabaret shows until finally one day an agent spotted her.
"That was 1985, and by '87 I got the role in "Les Mis", said Cindy who went on to do 1200 performances over four years in Sydney then Melbourne, before a national tour and finally Auckland NZ. "It was when I got to Melbourne I thought 'this is where I want to be eventually'."
Of course life had other plans for the young performer, and soon she was performing in "Me and My Girl" in Perth.
"It was at that time I auditioned via video for "Beauty and the Beast" along with Ernie Bourne and Rachael Beck," said Cindy who got the role as the egg timer, the washer woman and played Mrs Potts for 60 performances at the Princess Theatre.
Just as she was drawn to the theatre, Cindy kept being drawn to the peninsula when she was performing in Melbourne.
"I was renting in Toorak for four years and kept getting drawn down this way on a day trip or a weekend. As soon as I got here I loved it. One of the dressers in "Les Mis" told me years ago about this place called Rosebud and I thought it sounded like such a lovely name. So I brought my parents down and we stayed in a motel to check it out. We played mini golf and went to the beach and I just loved it."
It was June, 2000 that Cindy finally found the house of her dreams in Rosebud.
"Even though I was touring all the time, I knew I wanted to live here so I bought my first house on the peninsula and haven't looked back. I would go off on tour for months at a time but every time I got home and saw Arthur's Seat, I would take a breath and relax," said Cindy, who continued to do eight shows a week across the country until she finally finished the same way she started with the children's theatre, "Hairy Maclary and Friends" three years ago.
"I can live in the city but I would prefer to live in a quiet place like this. As a girl I wrote in a book to the universe that I would like a house that is in the country but near the water. I wanted to be close enough to a city to do acting and I got it all those years later. I did not think it existed."
These days Cindy is still drawn to the spotlight doing music for kids in Mornington, and performing at speaking and singing engagements and local events.
"I am always drawn back to theatre and a magnet for kids," said the actress whose life has come full circle. "When I was doing "Sound of Music" all the kids came to me, and I'm still in touch with Nicky Webster. These days I love introducing the little ones to music, and the looks on their faces when we sing is wonderful."
For Cindy there are so many moments that have been a highlight; performing on stage at the Domain in Sydney in front of over 100,000 people who had all camped overnight to see the performance of "Les Mis", meeting and working with other fine actors, and watching the faces of mesmerised children as she performed in "Hairy Maclary".
A historian of the theatre, she recounts the superstitions and etiquette of the stage.
"You don't whistle in the wings because going back to the old days before automation that was how they would signal the flyman to drop a set. In the theatre you never said the word "Macbeth" as it was bad luck. You say "The Scottish Play" instead. In the theatre, break a leg is said because if you get past (BREAK) the leg of the side of the stage, you're on. It goes back to vaudevillian days, and 'chookers' is because chicken used to be so expensive and you could afford to buy chicken if you'd done a show," she said.
With the theatre running through her blood, there's more on the cards for this entertainer who continues to do TV commercials, theatre spots and film appearances, making sure she has plenty of time to enjoy the quiet beachside life in the place she calls home.