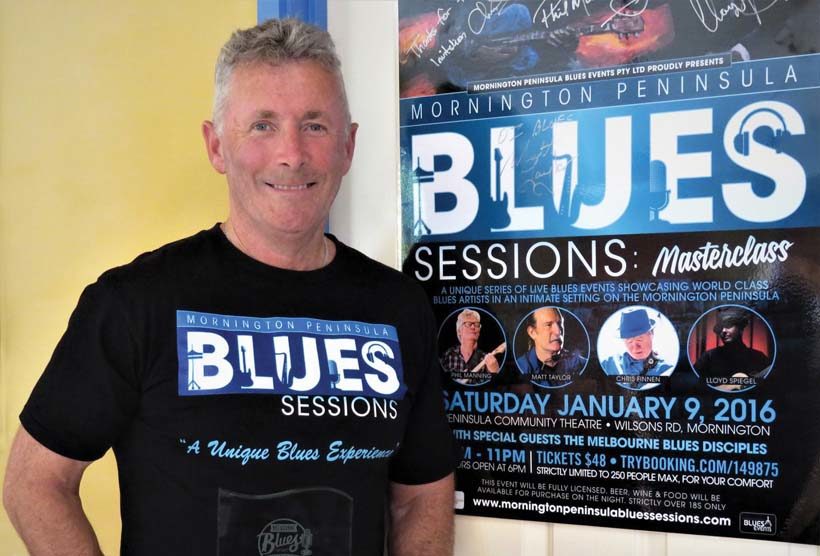 Growing up in Sorrento surrounded by music, Patrick Elliget was destined to do something important for the art that he admires so much. An anaesthetic technician by day, the peninsula local put his love of the blues, in particular, out there in 2014 when he created the Mornington Peninsula Blues Sessions – a series of live boutique blues events showcasing some of this country's leading exponents of the blues in an intimate theatre-like environment of the Peninsula Community Theatre in Mornington. Now the go getter has ramped it up a notch, creating the first ever Peninsula Blues Festival, held this February 9 at the Mornington Racecourse.
"I grew up in a musical family; my parents were Walter and Mary; dad was a jazz musician playing trumpet and piano, and the church organist playing the organ at the Sorrento church for years. Mum and dad had ten kids and dad was a hard working plumber. My brothers and I even had our own family jazz band and I was the drummer. Our house was always alive with music," said Patrick, who has continued the family traditions with his two grown up daughters who are both musically inclined. "Cassie sings in a Brazilian jazz band, while Kate is also very into her singing and dancing."
Always having to drive to the city or other regional areas to see his favourite musical genre was the catalyst for starting the blues sessions and now the blues festival.
"I had always gone to places like Echuca to see festivals and sought out blues singers and bands in the Melbourne C.B.D as well. I just love my blues and decided we needed something like it on the peninsula," said Patrick. "Once the blues gets into your soul, you're hooked. It's a little bit about the human struggles we all have to go through. I love the complexity of the genre as there's a lot of different styles of blues. It branches into jazz as well; I call blues and jazz kissing cousins."
Over the last four years, twice yearly, the sold out sessions have been graced by some of Australia's finest Blues musicians including Phil Manning, Matt Taylor, Geoff Achison, Chris Finnen, Lloyd Spiegel, Jimi Hocking, Fiona Boyes and Chris Wilson, to name just a few.
"After much critical acclaim and establishing a loyal following 'The Sessions' will continue in mid-2019, however we are taking it to a whole new level with the first blues festival on the peninsula," said Patrick, who is excited to bring the myriad stars here so more people can experience and enjoy world class blues music.
"The Mornington Peninsula Blues Festival will be a high-end, world class event featuring some of Australia's finest Rock and Blues music artists in a celebration of live music and everything the fabulous Mornington Peninsula has to offer," said Patrick, who has chosen an eclectic mix of musicians to grace the Mornington Racecourse stage.
"I wanted to mix it up a bit as the blues has a whole range of genres and styles. We have Australian Rock Legends Ross Wilson and Phil Manning and some of Australia's finest blues musicians including Geoff Achison, Chris Finnen and Lloyd Spiegel," said Patrick. "Peninsula music-lovers will be able to enjoy food and refreshments courtesy of the Mornington Racing Club providers while they listen to eight high-class blues acts, and there will be various market stalls and displays in a celebration of what the peninsula has to offer. Buses from Melbourne On The Move will be running to and from the festival, with pick-ups from Melbourne, Brighton, Mordialloc, Frankston, Blairgowrie, Dromana, Rosebud and Sorrento, so your transport options are sorted and you can relax and enjoy a day filled with sensational blues."
---