For a natural-looking and hard-wearing foundation to your interior, nothing beats classic blonde oak flooring. And it's not just for coastal homes, says Mark Chaz, co-founder of Kustom Timber; "Blonde oak flooring is the ultimate design chameleon, blending seamlessly into coastal and modern-rustic homes, as well as more sophisticated urban and contemporary schemes.
It all comes down to the layout you choose and how you style it."
Beach House – a luxurious blonde engineered European Oak flooring that comes in two board sizes as well as herringbone and chevron patterns – is Kustom Timber's best-selling flooring. "It took years to perfect," says Chaz. "It is crafted with clean-grade, premium blonde European Oak and has a natural-looking stain that removes those unappealing yellow and green tones in order to create a wonderfully soft and natural blonde oak appearance, without looking painted.
"It is specially heat and moisture treated to suit Australian conditions, so you know it will look great and perform brilliantly in your home for years, whatever kids, pets or life throw at it.
"Plus, it's made with our never-fail, multi-layer, tongue and groove system, so it's quick and easy to apply, can be sanded back up to five times, and it won't move, buckle or warp like solid timber," he says.
Here are Mark's top tips for working timeless blonde oak flooring into some of Australia's most popular interior styles.
Coastal
"The coastal look has had something of a luxe upgrade recently," says Mark. "While the nature- inspired tones and rustic finishes are still there, additions such as woven rattan furniture and joinery inserts, luxurious pale-grey marble benchtops, and soft and earthy tonal layers across walls and floors are giving it a more sophisticated feel.
"Opt for wide, blonde oak floorboards, such as Beach House 260x2200x15/4mm boards, for a more casual, lived-in look, or a patterned floor such as a Beach House herringbone to really amp up that barefoot-luxe vibe designers are loving right now," he says.
Urban Contemporary
"Choosing a light oak floor is a great way to balance out the rich, darker tones we're seeing in many modern urban houses and apartments today, making spaces feel bigger and brighter, and bringing in a warm, natural feel," says Mark.
"A patterned oak floor, such as Beach House Chevron or Herringbone, is a clever solution if you're looking to add character and depth to a modern build or a pared-back room scheme," he says. "Pair it with matte-black joinery, dark, richly veined stone benchtops and splashbacks, bold, contemporary artwork and curvy furniture with slender, metal frames," he says.
Modern Country
So what exactly is modern country? "It's all the things we love about traditional country styling – the timber furniture, panelled joinery and patterned fabrics, but executed in a more streamlined way," says Mark. "So you might expect to see classic Shaker kitchen or bathroom cabinetry, for example, but with an elegant, slender edge profile; timber furniture, but with slimmer lines and minimalist detailing; fine VJ panelling on the walls; and just one or two patterned pieces, such as an upholstered armchair or a few patterned scatter cushions on a plain sofa.
"A beautiful timber floor is the starting point to any rustic look, and modern country is no exception. Opt for classic, mid-size boards, such as Beach House 190x1900x15/4mm, for a timeless foundation to this look, layer it up with one or two fabulous rugs, and ensure you allow plenty of breathing space around your key pieces of furniture so they sing," says Mark.
Boho Luxe
"This is a look for those who love quirky, individual interiors," says Mark. "A boho luxe interior might feature one-off vintage finds from different periods, such as a mid-century floor lamp, an '80s boucle armchair, and touches of metallics such as bronze or brushed gold for a glam edge," says Mark.
"But don't mistake this look's playful vibe for an 'anything goes' approach or you risk creating cluttered spaces. It's all about finding pieces you love and curating them with care. It's also a good idea to look for pieces that have a common thread to create a sense of cohesion. For example, you might take your colour cues from the tones in a statement artwork.
"A blonde oak floor, such as Beach House in either a plank or patterned format, creates the perfect, neutral base to work off when building a boho luxe scheme, and it will help maximise the sense of light and space. Choose planks for a more subtle backdrop or herringbone or chevron if you want flooring to play more of a starring role within the scheme," he says.
Beach House premium European Oak timber flooring comes in four formats; planks measuring 190x1900x15/4mm and 260x2200x15/4mm, herringbone parquetry 150x900x15/4mm and chevron parquetry 120x600x15/4mm.
Learn more about Beach House premium European Oak timber flooring at the Kustom Timber website, or view it in person at the Kustom Timber showroom.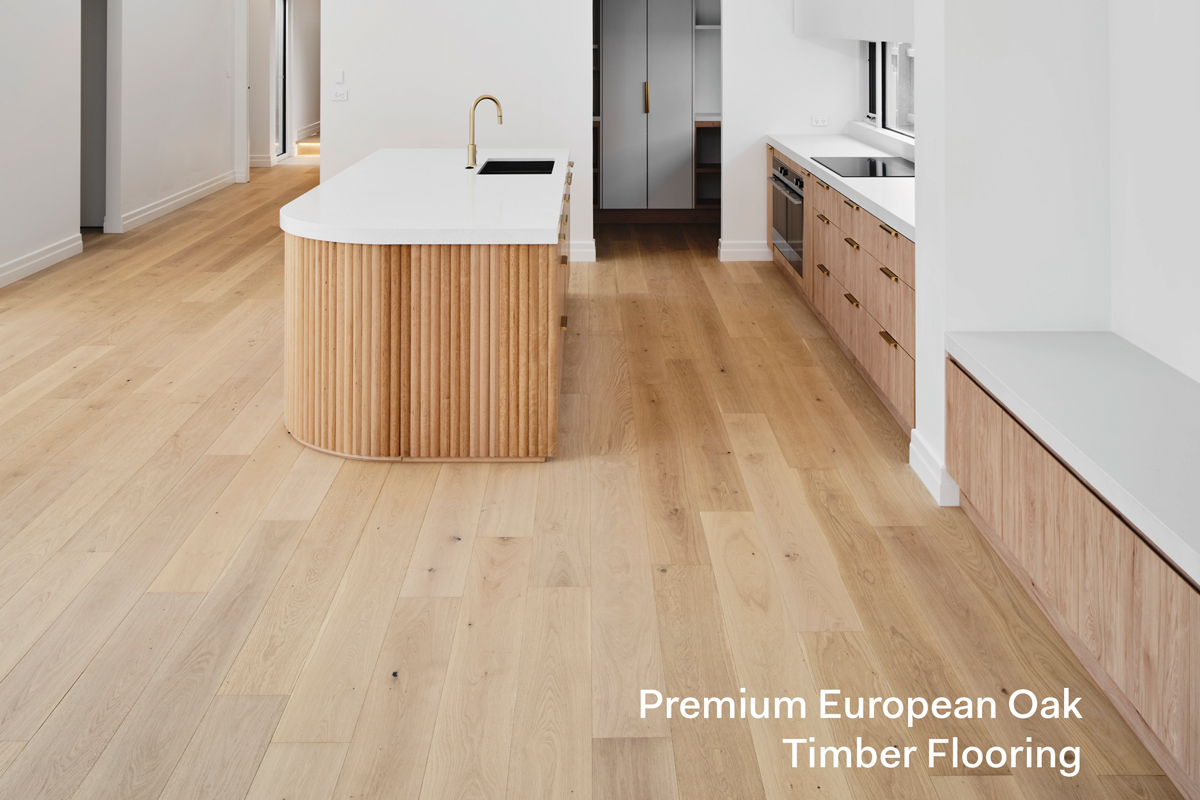 A: 1/4 Torca Terrace, Mornington