By Joe Novella Photos Gary Sissons
It's no doubt one of the hardest jobs in sport, being an umpire or referee; one where it's virtually impossible to keep everyone happy. As well as keeping control of the game, you need to be fit and an expert on the rules; moreover you also need a thick skin as, more often than not, 'umpies' are on the receiving end of some pretty colourful criticism from players and spectators. So who in their right mind would put up their hand to do such a job? Sixteen-year-old Ollie Pratt, that's who.
A love of the game certainly helps if you have your sights set on umpiring at AFL level, and young Ollie, a Mornington Secondary College student, certainly has that. Originally from New Zealand, Ollie's family moved to the Gold Coast where Ollie was born. And there, Ollie started out playing Rugby Union like all good Kiwi kids, but that all changed when the family headed south to set up home on the Peninsula, a place dominated by AFL. It wasn't long before young Ollie discovered the South Mornington footy club, and he's been there ever since, starting at under 9 level.
Footy wasn't the only sport Ollie fell in love with; there was also Tae Kwon Do and Little Athletics. "What was evident from his sport even as a very young kid," said Willie Pratt, Ollie's dad, "was that Ollie had really good endurance." So good was Ollie's distance running, he was chosen to represent Victoria at the National Cross Country Championships on the Gold Coast in 2018 at age 12, and in the Steeplechase the following year at the Nationals held in Sydney. "He's 16 now and we've done over 100 Parkruns together," added Willie, a capable runner himself. "When we started he was just a little tacker so I had him easily covered, but now he beats me every time."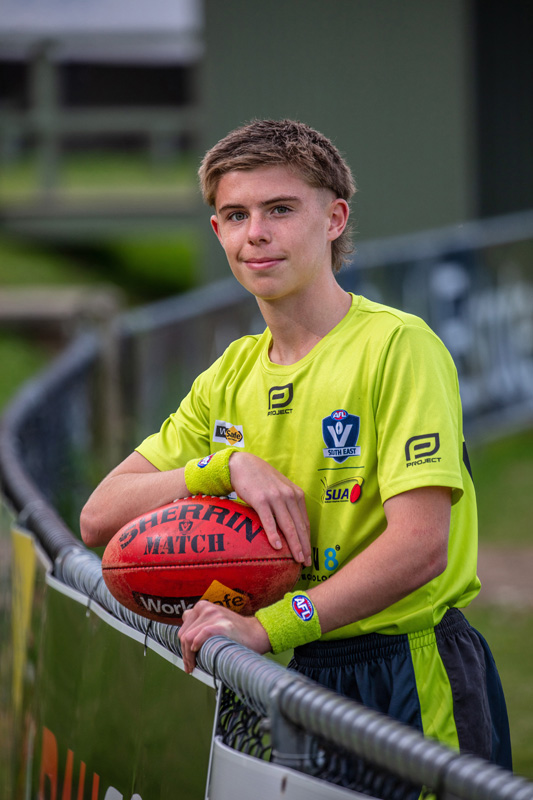 ---
Ollie's light frame certainly helped with his running but not so much with his footy and by the time he got to under 14 level, he was copping a few too many bumps from much bigger boys. "He desperately wanted to stay involved in footy but needed a break so he could grow and catch up with the other boys," said Ollie's mum, Kate. "His athletics coach, Shaun Penny, suggested Ollie become an umpire, specifically a boundary umpire, on account of his running power. Being an umpire would keep him involved and also keep him in good shape for his endurance running."
So, in 2019, 13-year-old Ollie took a break from playing footy for South Mornington and joined the umpiring ranks as part of the local Mornington Peninsula Nepean Football League (MPFNL). According to Ollie, being a boundary umpire has certainly helped with his fitness and running, but they're not the only benefits. "I love the pocket money of course, even though I don't do it for that reason. I also love being on the field and the atmosphere, especially when games are tight. I love the challenge of keeping up with play and also making the right call, and I don't mind the crowd's feedback if I get it wrong. Most of the time the feedback is pretty good, but you do have to learn to ignore the really bad stuff that people yell."
Mum Kate was pleasantly surprised when Ollie first started umpiring. "It's very well organised by the team at the Southern Umpires Association (SUA). The kids are well looked after and there are plenty of development pathways that they are encouraged to follow if they are passionate about taking their umpiring to the next level."
Speaking of next level, Ollie's talent and promise were spotted early by the SUA resulting in their nomination of Ollie to take part in the AFL Umpires Development Academy. The academy, set up by the AFL, is an elite development pathway for talented junior umpires identified from leagues all over the state.
Ollie's progress since attending the academy has been remarkable; he was recently awarded the boundary umpire of the tournament for the VLine Cup competition, Victoria's premier country competition for boys and girls. He has also transitioned to the senior umpiring ranks, currently running the boundary for the MPNFL senior competition and was a last-minute, emergency replacement for a VFLW game between Southern Saints and Darebin. Not bad for a 16-year-old!
"We love that Ollie got into umpiring," said Kate. "We'd heard a lot of horror stories about crowds and violence towards umps but it's not like it used to be. The kids are well supported and trained, with plenty of opportunities to develop. In other words, they don't just put a whistle in your mouth and expect you to run the show. It's so well organised, it's almost like a sport in itself."
Along with the development opportunities, the physical fitness benefits and the pay, the AFL's recent crackdown on dissent has also helped make umpiring more attractive to potential recruits. "You're always going to get your yahoos and those who've had one too many drinks," said Willie. "But if the players show some respect to the umpires so will most of the crowd and that makes it a lot easier for the umpires to do their job. Plus, there's a huge shortage of umpires at the moment, so the whole football community needs to get behind any changes that attract more kids to the umpiring ranks."
As far as young Ollie is concerned, he's got nothing but positive feedback on his experience as an umpire. "I love it," said Ollie. "I'd encourage anyone thinking about umpiring to do it. I've made heaps of friends and hopefully I can keep developing so that one day I can be an AFL umpire."
So, remember the name Ollie Pratt. One day we may just see him running the boundary on the hallowed turf of the MCG on that last Saturday in September–another talented kid from the Peninsula who with the right support and encouragement, has gone on to live the dream.