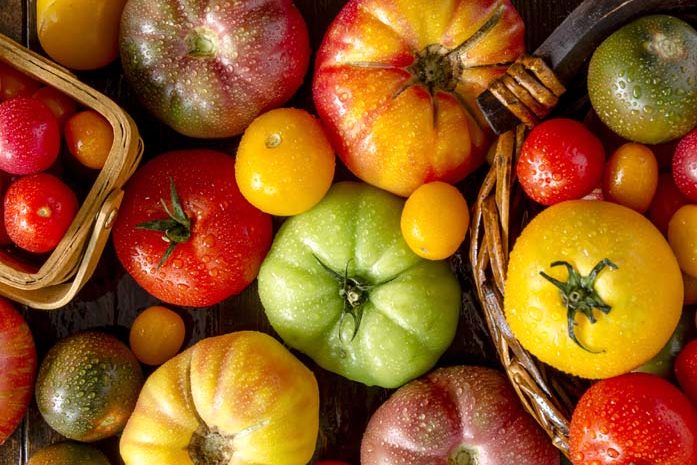 By Peter McCullough
These two words conjure up thoughts of jewellery or perhaps paintings, even furniture in the case of "heirlooms", while "heritage" is generally applied to valued things such as historic buildings that have been passed down from previous generations. For Cheryl McGaffin at Daniel's Run in Tyabb the words have different connotations: in the case of "heirlooms" think tomatoes and, for "heritage", well, she'll be apples.
Cheryl's favourite quotation comes from Louis Grizzard: "It is difficult to think anything but pleasant thoughts while eating a home grown tomato." For Cheryl this brings to mind images of rich, ripe, aroma-laden, red tomatoes, soft in your hands and warmed by the summer sun. This is how she remembers the tomato-growing season in her family: a summer tradition. She believes that if you have never had an heirloom tomato, then you've never tasted a real tomato.
Family Traditions
Cheryl's grandparents grew tomatoes every summer, a ritual that saw every available garden space covered with tomato vines. Her grandmother, in her dressing-gown, would be up early to water the tomato plants before the summer heat set in for the day. Her grandfather would apply his "secret formula" to help produce the richest tasting fruit you could imagine.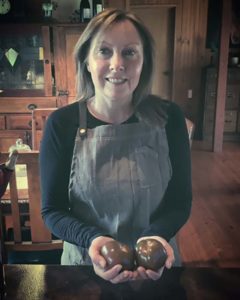 In those days there was no Bunnings where you could buy pre-grown seedlings ready to plant. Cheryl's grandparents grew their tomato plants from seeds that her grandfather had been given by his father. These had been selected as the "best of the best" and carefully stored. Consequently, little jam jars filled with many different tomato seeds were lined up on the shelf in his garden shed.
They were highly revered end exchanged within the family, and with friends and neighbours, and included descriptive terms such as "She's a beauty" for tomatoes whose botanical names had long been forgotten. They could be relied upon to produce the same exceptional tomatoes year after year, and became legendary in their area.
The flavour of these home-grown beauties, lovingly nurtured, was superb. They were grown in soil carefully prepared each year, a ritual that would start in autumn, and were picked out of the backyard at their peak ripeness.
Heirloom Tomatoes
That Cheryl's grandparents were creating an historical connection with the growing and preserving of their tomato seeds was, in essence, part of the definition of heirloom tomato culture. She doesn't recall her grandparents using the word "heirloom"; nonetheless, theirs was the process that had been used for centuries to save, grow and cultivate tomatoes. Today, the definition of an heirloom tomato also includes the ability to reproduce true to type when the seed is saved and resown, and to have been in cultivation for more than fifty years.
Hybrid Tomatoes
With the commercialisation of the tomato plant around 1940, a new era in tomato breeding was ushered in and hybrid tomatoes were the result. With the growth of agribusiness, the hybrid became the most popular mass-produced tomato and appeared in every supermarket store around the globe. The traditionally grown heirloom varieties were relegated to the eccentric or New-Age hippie! No longer did people have to grow their own; they could buy them ready-made, and these ones looked like perfection.
So, what is a hybrid tomato? It is an intentional cross between two genetically different tomato varieties, with pollination achieved via human intervention specifically to produce certain traits or characteristics in the resulting tomato.
This gave humble tomatoes super qualities; they could be grown in poor soils and manipulated to ripen all at once, which made harvesting easier. Increased disease resistance was introduced, and so were tough skins so they could withstand mechanical harvesting and long distance transportation.(They used to test this feature by throwing the tomatoes on the road to see if they smashed!) And they were bred to look more attractive: red, spherical, picture-perfect tomatoes were available all year round thanks to the use of industrial-size poly tunnels. Farmers abandoned the open pollinated heirloom varieties, believing hybrids to be better, more dependable and attractive to the consumer. Unfortunately, many traditional heirloom varieties were lost as a result.
Hybridisation also had another impact on farmers: they were now dependent on the seed companies that developed them. Hybrid tomato seed is essentially sterile so they don't reproduce true to type, and farmers have to buy new seed each year to sow their crops.
The Heirloom Revival
Interest in heirloom varieties has increased markedly in the past decade. There is a striking array of shapes and sizes,of colours, flavours and uses. They can be found at farmers' markets, in restaurants, and even in school garden programmes. Previously, it would have been a struggle to buy an heirloom tomato or source some seeds.
In the last forty years some people have only eaten hybrids and believe that is how a normal tomato tastes! However, many are now turning to heirlooms because of their unique flavour and the memories they evoke. There is a growing disillusionment with the industrially-grown, mass-produced, flavourless supermarket tomato. No wonder! These are mechanically harvested while still green, gassed with ethylene to ripen them, and refrigerated for their journey to the market place. All of which contributes to a tasteless, bland tomato, more of an engineering feat than a culinary marvel.
Recently scientists have discovered a further explanation for why the modern tomato is so bland. Decades of breeding for uniformity of colour have resulted in a gene that prevents the natural sugar development of the tomato. Consequently, a hybrid will not only differ from the plant that it came from, it will taste tough, mealy and flavourless. That is because it has been robbed of the gene that boosts the sugar content, and ultimately the flavour.

Heirloom Favourites
With the resurgence of interest in heirlooms, there are hundreds of varieties to choose from, and many catalogues are devoted to heirloom seeds, thanks to dedicated seed savers around the world. The names in the catalogues often reflect the unique origins of particular plants. Cheryl grows many different varieties and, while the excitement of trying new ones each year never diminishes, she has some all-time favourites. Here are Cheryl's top eight, with her comments:
Goldmans Italian American: Discovered by Amy Goldman, an American heirloom plant conservationist and tomato guru, at a roadside stall in Cernobbio, Italy. She named it after her father's Brooklyn NY grocery store after stabilising it and releasing it to the public. It is a big, boldly coloured, blood red tomato with few seeds, making it ideal for sauce making. It makes the most delicious creamy sauce and looks a dream on the kitchen table. Perfection plus.
Cherokee Purple: A pre-1890 heirloom, this variety is thought to have originated with the native American tribe after which it was named. It is a large, deep mahogany-red coloured tomato that maintains green shoulders when ripe. It has a classic, old-time tomato flavour that is sweet and rich. The Cherokee Purple is perfect for fresh eating or in salads. Its seeds are strikingly surrounded by a green gel inside a rich red interior. It is easy to grow and is highly productive.
Jaunne Flamme: A French heirloom , this is a stunner which has trusses of persimmon-flavoured five centimetre globes of fruit which have the most intense taste. Sweet and tart at the same time, it is an explosion of taste in your mouth. The Jaunne Flamme is early to fruit, highly productive, and perfect for dried tomatoes as the flavour intensifies and it maintains its colour; in fact Cheryl dries many kilograms for use throughout the year. Even when it is bursting with ripeness, this tomato still slices like a dream.
Paul Robeson: Named after the famous operatic singer and civil rights activist who befriended the Soviet Union, this is a Russian heirloom outstanding for its intensely sweet and smoky taste. It is like eating red wine but without the hangover! Simply luxurious, is the way Cheryl describes this tomato; with its smooth velvety dark maroon colour, it is quite meaty and perfect for slicing fresh. It is very productive and Cheryl uses it in every way she can.
Oxheart: An old classic from 1926, Oxheart has huge strawberry-shaped fruit, pink to red in colour, with an old-fashioned tomato flavour. Its smooth glossy thick skin is tender, and its almost seedless making it a favourite for saucing.
Costoluto Genovese: One of the first tomatoes to be introduced into Europe, "Costoluto" means "ribbed" and it certainly lives up to its name. With a rich, meaty texture it makes the most perfect sauce. Cheryl not only sauces it, but bottles the Costoluto for use in the depths of winter. She also loves it straight on a pizza. Costoluto Genovese has been a local Italian favourite since the nineteenth century and looks wonderful sitting on the kitchen bench.
Beams Yellow Pear: A neon-bright yellow colour, this small pear-shaped tomato captivates everyone who tastes it when it is straight off the vine. It hangs in trusses and is wonderfully productive. Deliciously zesty, it is a great snacking tomato or can be put straight into the salad bowl. It is great for school lunch boxes, too, as it captivates children who think it is a fairy tomato!
Rouge de Marmande: A classic French heirloom from 1925, Rouge de Marmande has outstanding flavour eaten fresh, and is the perfect all-rounder. It is quite vigorous and produces abundant, large, flat, lightly ribbed fruit with an old fashioned flavour. Cheryl preserves it for sauces and diced tomatoes, and also uses it fresh in salads. It is ideal in the David Lebovitz classic recipe for tomato and goats' cheese tart.
Black Cherry: These stunners look like purplish-black 2.5 centimetre diameter cherries. They hang on the vine in abundant clusters and their complex rich, sweet, salty taste is perfect for cherry tomato foccacia as well as snacking straight from the vine. Black Cherries are ideal for drying, saucing and salads.
Brandywine: A superbly flavoured heirloom from 1885 and one of the best known, Brandywine is considered the benchmark for flavour against which all other heirlooms are judged. It is large, a great all-rounder, and has the looks to match. It ripens late but is well worth the wait. There are several varieties but Cheryl grows the Pink Brandywine which is a blush rosy pink colour which looks superb in salads.
The Heirloom Advantage
Once you are reaping the rewards for your efforts and have lovely ripe heirlooms to enjoy, they should be stored on the kitchen bench but out of the direct sunlight streaming through the kitchen window. Tomatoes should never be placed in the refrigerator; they will lose flavour which is too great a price to pay! They can be picked once they start to colour and then be allowed to ripen inside. This is one way of beating the birds; alternatively you can net the vines and so enjoy eating a ripe heirloom, warmed by the sun, straight from the vine.
Finally, Cheryl suggests that you should think about which tomatoes have performed well in your garden and that you would like to grow again. Seed from the favourites can then be saved for the following year. By following this practice you are not only preventing a loss of unique varieties in the face of dwindling agricultural biodiversity, but you are also creating a legacy to pass down to future generations of your family.
HERITAGE APPLES
With the success of her venture into the world of heirloom tomatoes, Cheryl looked for a new challenge. She had become rather frustrated at the lack of diversity of apple varieties, even at farmers' markets. This, plus recalling the extent to which the Mornington Peninsula was previously devoted to apple growing, and bearing in mind that her property was once part of an Unthank orchard, Cheryl decided it was time to "bring back the apple." Not just the Pink Lady or Royal Gala or Sundowner that we see in the supermarkets every day, but the varieties that were popular 100 years ago. ( It seems hard to believe now, but as recently as 1960 the Somerville/Tyabb/ Hastings area was still planted with approximately 3,000 acres of apples and pears, and 380,000 cases of apples and 30,000 cases of pears were produced annually. The number of orchards on the Peninsula has dropped over the years from around 400 to 10.)
With a new resolve, Cheryl visited Petty's orchard in Templestowe where they have several hundred varieties of apple trees, some dating back to the early 1900's. At a field day she was able to sample varieties and make her selection. Her trees were then obtained from Heritage Fruit Trees in Beaufort and today her two acre plantation is home to 42 heritage apple trees. There are 38 varieties which Cheryl intends to increase by a further four.
Preparation
Prior to planting two years ago the ground was prepared with organic compost to which small quantities of dolomite and gypsum were added. The trees were staked and old newspapers were placed around the base to control the weeds. The papers were then heavily covered in mulch. The first summer after planting was particularly dry, prompting Cheryl to install an irrigation system. She has kept the traditional orchard look and resolved not to use sprays. Cheryl acknowledges that the wild birds will present a problem and that some form of netting will be required. However it will have to be open enough to allow the bees to access the trees; Cheryl has her own beehive to ensure that this takes place.
Expectations
Cheryl anticipates that it will be four or five years before a real crop can be harvested. However this spring saw flowers on most of the trees and a few of them "set"to enable Cheryl to sample some of the fruits of her endeavours.
Heritage Favourites
Cheryl is now fascinated by the history of the apple, some varieties of which can be traced back to the fifteenth and sixteenth centuries. However, after giving it a lot of thought and bearing in mind that she that she is yet to taste a few of varieties, Cheryl has narrowed down her list to the following:
King Cole: This is a dual purpose apple, medium in size, and with a bright red flush. It is iconic to the Mornington Peninsula being developed by the apple pioneer Cole family and introduced in 1912. This smooth skinned dessert variety was exported to England in huge quantities.
Rokewood: Originating in Victoria in the Rokewood district near Ballarat, this apple was developed by John Bullock and introduced in the mid-1800's. Sometimes referred to as the "Bullock", the fruit is red and firm and juicy to eat. A dual purpose apple, it is beautiful in apple pies as well as being great for fresh eating. A heavy bearer, it is also one of the best keepers, maturing as a later harvest apple in winter.
Opalescent: This is an old American apple which was introduced in the 1800's. An iridescent crimson in colour, it is striking in colour and glows on the tree. The flavour is rich, sweet and with a hint of strawberry, whilst the flesh is crunchy and dense. The Opalescent is a great all-rounder and can be used for eating, cooking or juicing.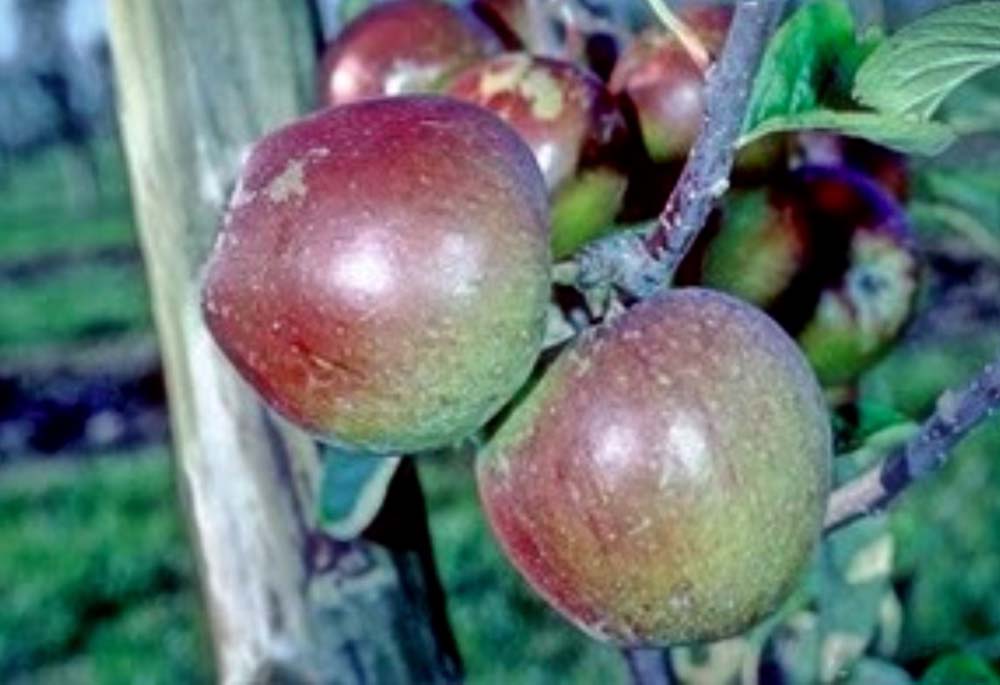 ---
Instagram: daniels_run_heirloom_tomatoes