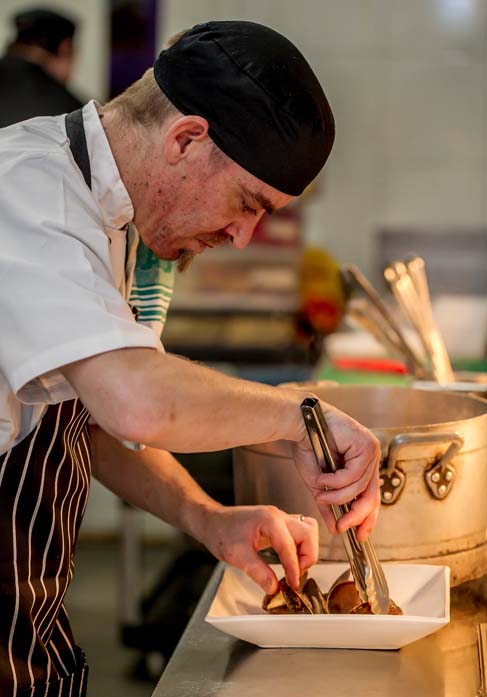 By Melissa Walsh   Photo Yanni
Being brought up by a single father, Jed Dickson and his two older brothers got a lot of experience in the kitchen where everybody would pitch in and help to cook family meals. Jed's dad had a passion for cooking even though he made a living as a deaf teacher. It was a passion he passed down to his sons, two of whom now make their living as a chef, with Jed now head chef at the Rye Hotel.
"Dad was always hands on in the kitchen when me and my older brothers were kids and, being a hunter, we cooked a lot of game stuff," said Jed who started helping in the kitchen from as young as he can remember. "We made a lot of the old classic stews and hearty meals like that."
Raised in east Gippsland, the independent teenager travelled to the city to start his chef apprenticeship at the young age of 16. Almost 20 years later, the young father has found his home on the peninsula where he lives with his wife and four children.
"I grew up in Paynesville so there was lots of fresh fish around. I travelled all over doing my apprenticeship from the city, to Belgrave and Chirnside Park but knew I wanted to eventually settle near the water," said the 35 year old. "I found there is a lot better opportunity for chefs here than in Gippsland, and wanted my kids to be near the coast so Rye is perfect for us."
After working in Red Hill and surrounds for a decade, it was 18 months ago that Jed got the gig as head chef for the Rye Hotel and brought with him his trusty team.
"I brought part of my team with me from the last venue with Jai Happel who was my apprentice in Red Hill and my sous chef Benjamin Richardson," said Jed.  "Benny has been with me for 10 years, we met up in Red Hill and have been a team ever since."
Bringing better, more consistent food to the hotel has been an incentive for Jed and his team, who insist on using fresh ingredients, sourced as locally as possible.
"We have added more modern items to the menu like the pulled pork, steak sandwiches and local Dromana bay mussels. We are about simple honest and fresh food, and always offer consistency and quality."
Surrounded by everything culinary since he was a kid, it was only right and just that Jed should meet and marry a fellow chef, Rebecca.
"We met at the Bell Tavern when Rebecca was singing there. She is a singer in a band as well as a chef. That was 14 years ago and now we have  a great life down on the peninsula with our four children," said Jed, who loves working across the road from the beach. "I still get out and skate board with my son when we can and we sometimes go for bush walks all together as well. It is a great life down here."
---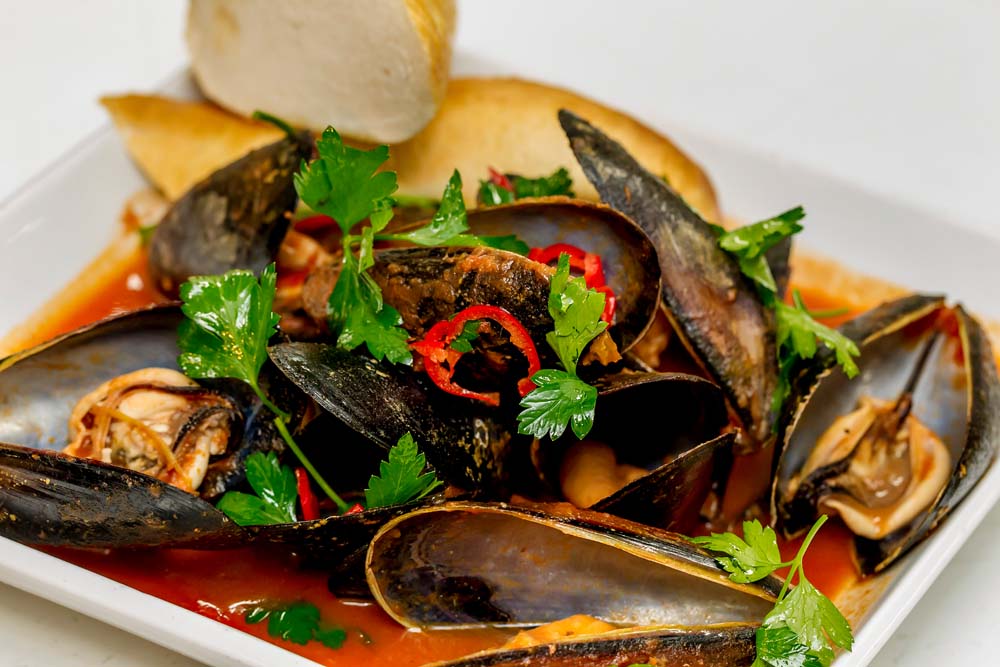 Dromana Bay Mussels with tomato chardonnay chilli broth
INGREDIENTS
Tablespoon olive oil
Brown onion, finely chopped
Garlic cloves, crushed
2 small red chilies, deseeded, finely chopped
1 cup of crushed tomato
1kg tomatoes, finely chopped
1 lemon, rind finely grated, juiced
2 teaspoons caster sugar
1/2 cup Red Hill Chardonnay
1.5kg mussels, beards removed
1/2 cup flat-leaf parsley leaves, roughly chopped
Crusty bread, to serve
Salt and pepper, to season
METHOD
Heat oil in a large, deep saucepan over medium heat. Add onion, garlic and chili. Cook, stirring, for 3 minutes or until onion is soft. Add tomato and cook for 1 minute.

Add tomato, lemon rind, lemon juice, sugar and wine to pan. Stir until well combined. Increase heat to high. Bring sauce to the boil. Reduce heat to medium. Simmer, covered, for 8 to 10 minutes or until thick. Season with salt and pepper.

Add mussels to sauce.
Cover and cook, shaking pan occasionally, for 3 to 5 minutes or until mussel shells open. Discard unopened shells. Ladle sauce and mussels into bowls.
Sprinkle with parsley. Serve with bread.
---
Rye Hotel is at 2415 Point Nepean Rd, Rye. Phone 5985 2277
www.ryehotel.com.au