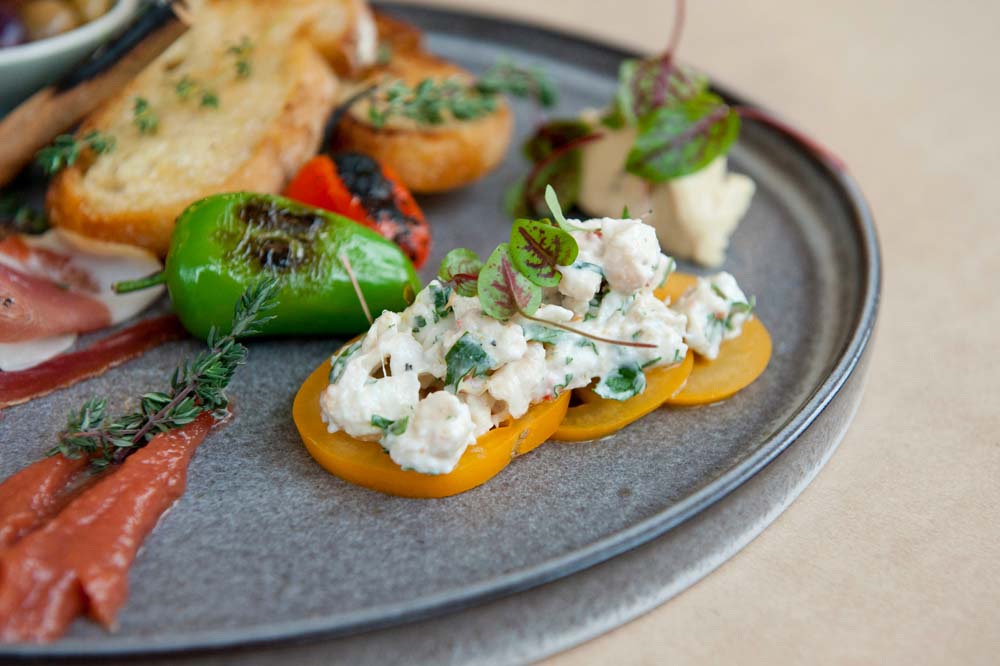 By Brodie Cowburn
Jim and Nicole Johnston are a peninsula pair aiming to provide a fresh new dining experience to the people of Blairgowrie through their new restaurant, Panda.
Co-owner Jim, an experienced hospitality professional, said that the husband and wife duo moved away from similar ventures in other parts of Victoria in favour of creating something new for people on the peninsula.
"I grew up in Melbourne and had a couple of bars and restaurants in the St Kilda and Brighton areas. I married my wife Nicole, she's a Rye girl and wanted to come back closer to her family down here, so we sold our places there and came home. We've been waiting four years for the right venue, but finally we found the right fit. In June this year we opened Panda, naming the restaurant after one of our dogs," he said.
In opening a new restaurant in Blairgowrie, Jim hopes to create a personalised experience for local residents to enjoy. To do so, Jim said he aimed to source food and beverages from local areas as well as draw inspiration from the local region for some of the dishes on the menu. The home grown inspiration is especially noticeable in the beverage list at Panda, with a number of drinks available sourced from some the peninsula's most prominent wineries and breweries.
"We want to really focus on the locals at Panda Blairgowrie. We really want to get to know them and look after them when the busy months come. We want to provide a focus on service and high quality that we think Blairgowrie is ready and really looking for. We hope we can get a bit of a food precinct going in the area and create something the locals will love," Jim said.
"Our menu is shaped around the idea of sharing, and consists of modern Australian style cuisine. Our mains and burger section is packed full of awesome foods you wouldn't cook at home. We used peninsula inspired organic and free range foods wherever possible when putting together our menu. Our beverage menu is also full of great local drinks from places like the St Andrews Brewery. We also have a great range of apple ciders sourced from the Old Apple Shed in Boneo."
Jim said that in the short time they've been open, customers have been raving about the food that can be found inside Panda's doors, in particular about one of their locally-sourced seafood dishes. In addition to their mains and entree sized dishes, Panda also has dessert offerings on their menu.
"People can't get enough of our Salt and Spice dish. It's a calamari dish which is absolutely flying out the door. Another popular one is the Vitello Grande dish, which is a veal schnitzel with its own hot mustard slaw which has really got a bit of a bite to it," Jim said.
"They also love that we really focus on making our food sustainable. For example, our coffee can be made with organic milk and organic sugar."
Jim said that one of the challenges of opening the restaurant was taking over an old space and revamping it to create a more modern and youthful look. Now after a long period of renovations, Panda has opened its doors to the people of Blairgowrie.
"We've been open for a couple of months now after a seven week renovation period. The property actually used to be an Indian restaurant before we took it over. The last owner owned it for close to 15 years before we took it over and got to work on some renovations," he said.
"The restaurant was dated with very blue ceilings and bar fronts, the last owners did not make use of courtyard areas and we intend to do that. We now have banquet seating, a bar and cafe area, and our operating hours are going to expand to be open for breakfast, lunch, and dinner. We're hoping to move soon towards being open seven days a week as well."
Recipe
Gaytime Dessert Cocktail
INGREDIENTS:
30 ml Baileys
30 ml Butterscotch
15 ml sugar syrup
30 ml cream
Shake
SERVING SUGGESTION:
Serve in a chilled martini glass, sprinkle with crushed chocolate honeycomb.
---
Panda Blairgowrie opening hours are currently from 11:30am until late Thursday-Sunday. The restaurant is at 2871 Point Nepean Rd, Blairgowrie.
Their menu and booking information can be found on their website www.pandablairgowrie.com.au