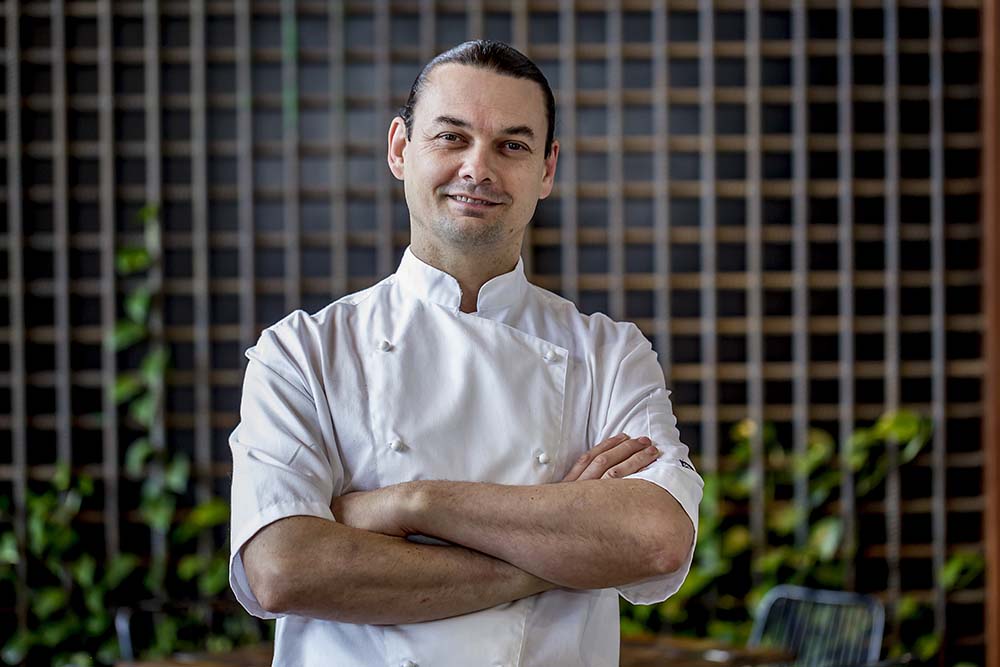 By Melissa Walsh  Photos Yanni
In the iconic horse racing facility where Lee Freedman and his three brothers trained some of the greatest horses in Australian history is now the St Andrews Beach Brewery where you'll find hops, vegetables and farm animals, instead of horses. Executive chef, Jeff Young, is amongst a team of young and dedicated professionals on a mission to keep the racing legend alive while bringing a quality food and beer experience to the peninsula.
Formerly the Executive Chef at The Pantry in Brighton, Jeff has been on board with the brewery kitchen since its inception.
"I started here in October and helped design the kitchen," said Jeff who is originally from New Zealand and has worked around the world an all over Australia. "I grew up around kitchens as dad had a business that built new kitchens and I did my apprenticeship in New Zealand, in fine dining Italian."
After working as a chef for three decades, travelling all over the UK and Australia, working on charter trains and in the best restaurants, it is a pleasant change to be based in the peaceful heart of the peninsula.
"I love working down here and we live on the peninsula now so it's a great drive through the farmland to work every day," said Jeff. "Setting up the kitchen from scratch has been incredible and the menu is evolving within the brief of casual brewery meals."
Always determined to do something unique, Jeff insisted on designing a more diverse menu than the male-oriented beer style food of burgers and pizza.
"We have awesome burgers, chicken wings and great pizzas but I wanted something for the families to also enjoy so we have four different salads, and healthier choice options. It's great to have something for everyone who comes here to enjoy," said Jeff, of the food which has an Asian and Mexican street food influence. "We have some great dishes with chili, and a kransky which is very popular but also the staples that never change like the burgers and pizza."
The working farm has all the produce that the kitchen needs so the property is basically self-sufficient; another bonus that appeals to Jeff.
"We use a lot of our own produce. We have our own bee hives so use our own honey. We have beef, sheep and pigs and grow our own vegetables, so the idea is that eventually the menu will come from all our own products," said Jeff, who is currently working on creating a summer menu. "It is all about quality, fresh ingredients and creating dishes that people can enjoy together with lots of share plates to create a fun, casual environment."
St Andrews Beach Brewery is a 38 hectare property that was once home to one of Australia's premier horse training facilities and proudly boasts a 1,200m grassed race track which is now an exceptionally large fruit and vegetable patch. It has hectares of hops, fruit trees, farm animals and bee hives, all of which come together to create the perfect menu to go with the craft beers and peninsula wines.
Recipe
KOREAN CHICKEN WINGS

INGREDIENTS:
2kg chicken wings
100g Korean fermented hot pepper paste
50g korean fermented soybean paste
Sweet potato starch
Coriander
Spring onion
Red chilli
Sesame seeds (toasted)
METHOD:
Cut wings into wingettes & drumettes (discard tips) cover with cold water & bring to the boil
Strain & set aside to cool in fridge
Coat chicken in sweet potato starch deep fry180c until golden
Mix both pastes together
Roll golden chicken in paste
SERVING SUGGESTION:
Plate & garnish with coriander, spring onion, red chilli & sesame seeds
---
St Andrews Beach Brewery is at 160 Sandy Road, Fingal.Phone 5988 6854.
www.standrewsbeachbrewery.com.au