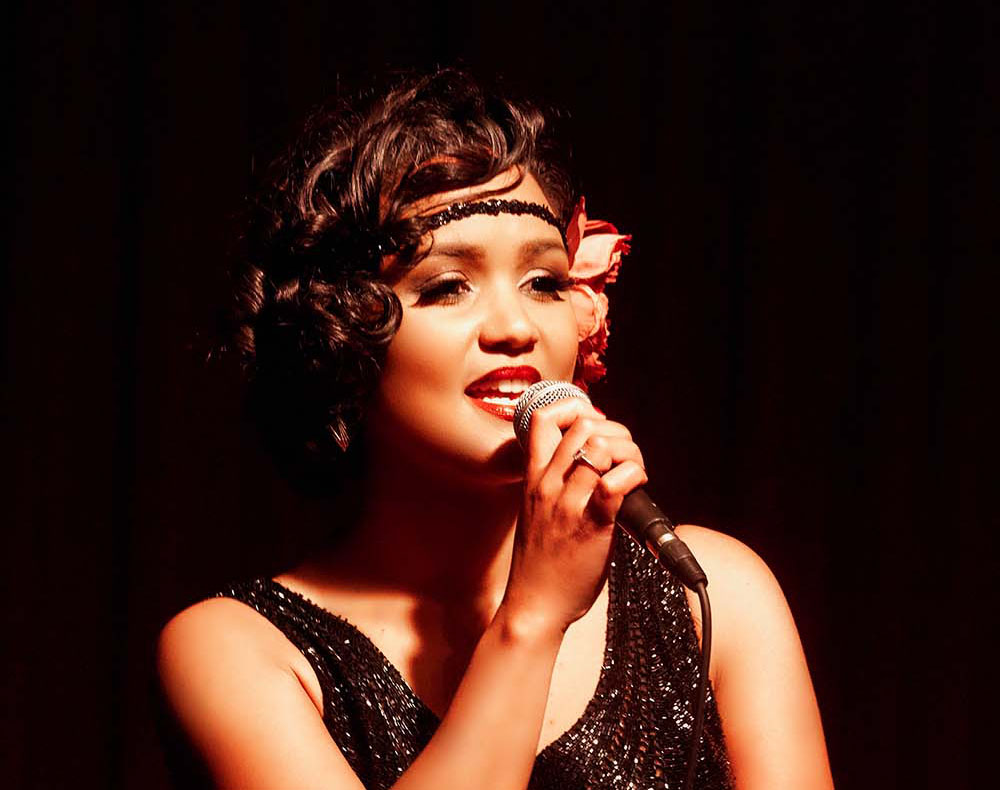 By Kristy Martin   Photos: Gary Tate
Jazz and blues singer. Cabaret performer. Pinup model. Mum. Rye's Lady Fox has certainly got her hands full as her musical career soars to new heights.
What if?
It's the age old question that many of us ask ourselves, but not too many of us are brave enough to act on.
However, it was the question nagging at Sue-Ann Cozyn with such ferocity that she felt she had no choice but to do something about it.
The Rye resident had always been musically talented and wanted to try her hand at a full-time singing career.
After previous stints as a karaoke hostess, lead singer of a 12-piece swing band and female vocalist in a cover band, she decided to put music on the backburner and focus on motherhood instead.
But, after a long hiatus from the industry following the birth of her first child, there was always that feeling that something was missing.
"I kept thinking, 'What if?'.
"I just couldn't live with myself if I didn't give the singing thing a proper go."
Fast forward to today, and you are more likely to recognise Sue-Ann as Lady Fox, her dazzling alter ego with the haunting voice that is setting Melbourne's jazz and blues scene alight.
Lady Fox, or Fox, as she is affectionately known, is a singer, performer, pinup model and self-taught guitarist.
She is the resident jazz singer at Melbourne vaudeville theatre Speakeasy HQ, where she performs up to three nights a week.
This month, Lady Fox will launch her latest cabaret show, 'Shades of Marilyn', which sheds light on Marilyn Monroe's little known relationships with people from the African American community.
'Shades of Marilyn' is her fourth self-produced show in which she spends up to 90 minutes on stage, singing and telling a story.
"It's something that I really like to do," the singer says of producing her own shows.
"And I'm very particular.
"I'll always find something different to write about, something that interests me.
"I love researching and writing about things that people don't know about.
"As well as people coming up and telling you they enjoyed the show or your singing, the best bit is hearing them say they learnt something."
Fox, who was born in South Africa and came to Australia with her parents at age one, is a versatile performer and doesn't wish to be pigeonholed as a jazz singer.
Performing since her teenage years, her range also includes blues, soul, lounge, rockabilly and acoustic.
"I sing constantly.
"I am always singing, whether it's first thing when I wake up or last thing when I go to bed at night.
"Performing gives me a lot of energy.
"If I haven't performed in, say, two weeks, then I really miss it."
Fox credits her father, who was a DJ in South Africa, and also her grandparents for her longstanding love of music.
"My father was always playing music.
"I've never had formal training as a singer, I just always mimicked the albums we listened to at home.
"I found a real love of the old crooners like Billie Holiday and Nat King Cole through the records played at my grandparents' house."
When she was 17, Fox's partner (now husband) recognised her talent and suggested she join his uncle's band, which she did one night in the absence of the lead singer.
The rest, as they say, is history.
After taking an extended break from performing in 2002, she decided to branch out in 2007 and see if singing was, in fact, the career for her.
"I started off doing a bit of burlesque.
"It wasn't until 2012 that I really got serious, found my alter ego and began performing as Lady Fox."
One night, Fox auditioned to be Speakeasy HQ's regular jazz singer and was given the opportunity to sing two songs.
She has been there almost every week since.
"They must have liked me," she laughs.
In October 2015, Lady Fox performed her first solo show, 'Harlem Soul', which was written and produced specifically for her.
She has since produced three shows herself – 'With Love, From Ella', 'Birdland' and 'Live at the Apollo'.
Lady Fox also recently performed at the Melbourne Spiegeltent in the highly acclaimed circus cabaret show 'Papillon'.
She does regular gigs across the Mornington Peninsula with local blues and swing performer Diddy Reyes, who is helping her to improve her guitar skills.
("I am a very poorly self-taught guitarist," she laughs.)
And while she mainly performs covers, Fox also finds time to write her own songs.
"Everything that comes out of me is blues," she says.
"I've written nine songs and would really like to do something with them this year."
As if this woman wasn't multi-talented enough, she even makes some of her own stage outfits.
Drawing on her love of all things vintage, Lady Fox is always dressed in pre-1950s clothing and accessories, with hair and make up to match.
When in character, she is glamorous and flawlessly made up, much like her grandmother was in the old photos she used to admire as a kid.
However, when you are getting home from work at 2am and have to be up early to drop the kids at school, there is not always time for hair and makeup.
"My grandmother would probably be turning in her grave if she saw what I wore to drop the kids off some days!"
Recently, Lady Fox has journeyed into the world of vintage pinup fashion shoots and you can find photographs of her adorning the walls of the Spitfire Café in Rosebud.
She is also featured in this year's 'Black Pinups' calendar, an international publication that aims to give women of colour more exposure in mainstream pinup photography.
Looking to the future, Lady Fox says it is her dream to one day perform in her hometown of Cape Town, South Africa.
And while juggling motherhood and her burgeoning career is often hectic and at times "overwhelming", Fox takes great pride in knowing that she is providing a positive role model for her children, now aged 13, nine and four.
Her two daughters, in particular, have seen her follow her dreams to take on an ambitious career in an industry that can be incredibly tough.
"I think it's good for them to know that they can do anything they want in life, and also to see that hard work pays off."
---
For more details on Lady Fox or to catch one of her shows, visit www.ladyfoxperforms.com