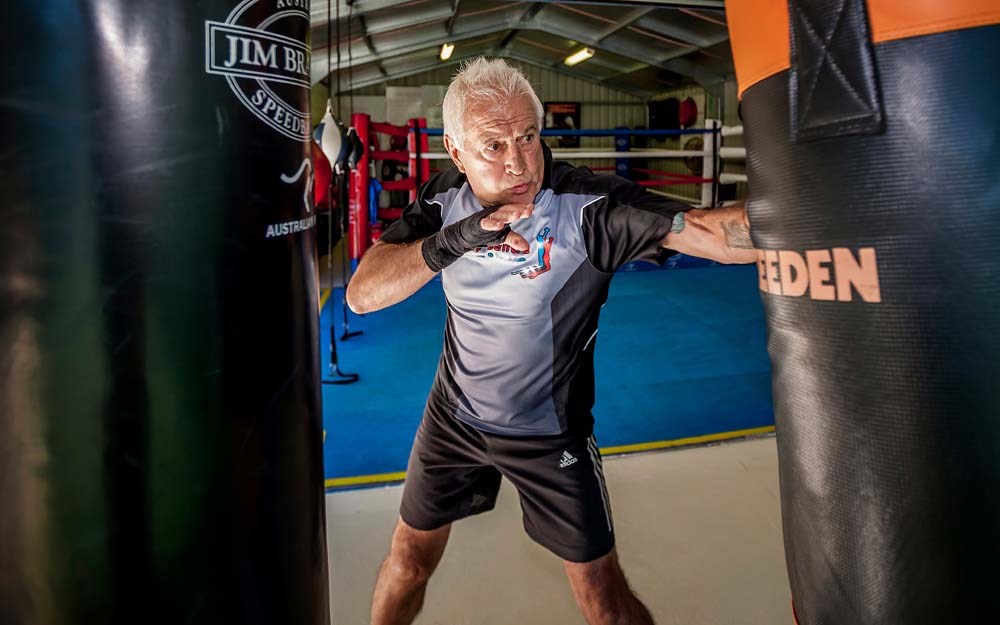 By Melissa Walsh   Photos: Yanni
It appears a juxtaposition to put boxing and harmony together yet former professional boxer, Ron Smith, manages to set the record straight on how boxing can bring peace and transform lives forever.
At 72 years of age, Ron is a true hero and inspiration to many people but this gentle soul has learnt his lessons from the school of hard knocks. These days, he and his wife, Sharyn run Mt Eliza Boxing Centre and The Centre for Lifelong Health and Fitness from their home in Mt Eliza.
Born in Collingwood on June 8, 1944, Ron remembers what it was like to grow up in a poor family.
"Mum and dad had come out from England. Dad was one of the Rats of Tobruk and badly wounded. He ended up in a Repat Hospital which is where I was conceived. We were very poor. I remember coming home from school and mum would be sitting on the front steps because we were kicked out, as we couldn't pay the rent. I loved sport, but went to seven different schools as we were always moving. We moved to Castlemaine as a kid but I left school at 13 to get a job and help mum and dad out. Next door to our home was a big property where I used to get up early and help the old bloke out with the horses. At 13 I got a job as an apprentice jockey at the racing stables in Caulfield but grew too big by 15 and had to leave. By this stage my parents had a war service home in Montmorency so I lived there and started an apprenticeship as a fitter and turner in Preston."
Like many teenagers, Ron ended up hanging out with the wrong crowd but it was just the catalyst he needed to change his life.
"I started thinking I was tough and knocking around with older boys who were pinching cars and breaking into shops. I was only 15 when we all got caught so I went to Children's Court while the others ended up in jail," said Ron. "I was put on probation and this was a turning point in my life as it was when I met George Newton. He was an unarmed combat instructor with the army and my probation officer. Part of the deal was I had to go to a police youth boys club which he ran in Eltham. I'd never even thought about boxing until I went there and I soon discovered that George was the toughest man I knew. He became like my pseudo dad, and taught me that if you work harder than everybody else you could be successful at what you do."
As it turned out Ron was quite good at boxing and within seven months had been in a dozen fights and won a Victorian amateur junior boxing title.
"Two years later I fought for the Australian title to go to the Commonwealth Games in Perth. I was beaten in that fight in Sydney by the chap that ended up winning the gold medal. His name was Jeff Dynevor who became the first indigenous Australian to win a gold medal at the Commonwealth Games," said Ron, who then went on to try out for the 1964 Olympics.
"I qualified to fight on Channel Nine with a guy who was in the weight division above me. He was selected and I received a pair of shoes. At the time I thought it was the most devastating thing that could happen. I was 20. When I look back I realise it is not the slightest bit important to my life."
In a decade of boxing from 15 years of age to 25, Ron had 108 fights, 90 bouts at a high level, with 18 pro fights televised on channel Seven's TV Ringside, and spent thousands of rounds in the gymnasium sparring and doing interclub competitions.
"It opened doors that normally a young kid from a poor family would never have and taught me a lot about life rather than boxing," said Ron, who has made sure that he passed down his knowledge and philosophy from the golden age of boxing.
"In my opinion boxing really started a couple of centuries ago and it was called the noble art of self-defence. And boxing in those days was what a lot of young boys learnt at school,  youth clubs and orphanages around the world and it was really about learning how to protect yourself, how to defend , how to evade. It wasn't about aggression. It was about learning skills, how to move, how to balance and score punches to achieve winning the competition. It certainly was not about trying to hurt another person and at the end of the day two people in the ring had the utmost respect for each other and that showed in and out of the ring."
Ron says he has learnt a lot about life through making mistakes but finally found his true calling when meditating at a Brahma Kumaris weekend retreat in Frankston.
"Sharyn and I went there after we had moved down to the peninsula many years ago. I had an epiphany that I needed to help more people. I had been helping work colleagues and older friends with their health and fitness over the years and teaching kids boxing but I knew I had to do more. So I left a very good government job, we bought this property in Mt Eliza and began The Centre for Lifelong Health and Fitness. That was 17 years ago and we love every moment of it," said Ron, who has been full time Personal training now since the year 2000. "I have now done 49,000 personal training sessions with clients from 82 to as young as 8. We help people with health issues who have had heart attacks, cancer, arthritic problems, and even have doctors that train here."
While Ron loves that he can help all ages to try and turn their life around, his real passion is for the kids.
"We have kids from every walk of life, 50 percent from single families as that's the way life is. There are lots of kids that have lost their way. We have had kids on the most serious drug you can get, locked up, bashed up and we have been able to turn them around. We've had cases where kids have dropped out of school at 15, got in with the wrong crowd but we have seen them through and attended their 18th and 21st birthday parties.  We have seen kids go on to adult apprenticeships, own businesses, and some have partners and children, and all I can say is that is better to me than training a world champion boxer without a shadow of a doubt."
For Ron the key is simple.
"'I talk to them with respect. I'm not here to be their best friend. We run the classes and are fairly regimented, but while I instruct them in the boxing I will walk around and have a word in each kid's ear to see how they are going."
Ron recalls one of his proudest moments with a young lad who came to him with no confidence.
"I used to have a whole group of Year 12 boys from Peninsula School who were gun athletes, but there was one kid who was coming along at the same time. He didn't go to Peninsula School and came from a poor family. They all laughed as he couldn't do one push up, whereas these kids could bang out 50. So this little tubby kid couldn't do a push up but he kept coming along and I kept at him and at him. In the end he started helping other kids and kept coming along for five or six years.
He joined the navy and did his training at Cerberus. Sharyn and I went to his graduation to see this once chubby kid with long hair and pimples march out in white full uniform with the gun, a grown, proud and happy man."
Another friend Ron admires and loves spending time with is his old boxing buddy, John Famechon.
John and I were both competing at the same time. John was far better than me. In fact I believe that he and Lionel Rose were the best two boxers in my 70 years that I have ever seen. In later years our paths crossed a lot, and 24 years ago when John was hit by a car it was a turning point in his life.  Now I work with him every week and I think I respect him even more than when he was in his prime as World Featherweight Champion. He still believes he has the chance to improve and I think that holding on to some hope keeps him going from day to day," said Ron, who will continue to teach and train with the same feeling of hope and faith that John has.
"I have great faith in the world with the future generations after spending time with kids all my life. In my 73rd year I am so comfortable with the generations that are coming through but I really believe that it's people like myself who  have an influence, whether that's a school teacher, a karate instructor or a dance teacher. And never take for granted that it is a huge responsibility."