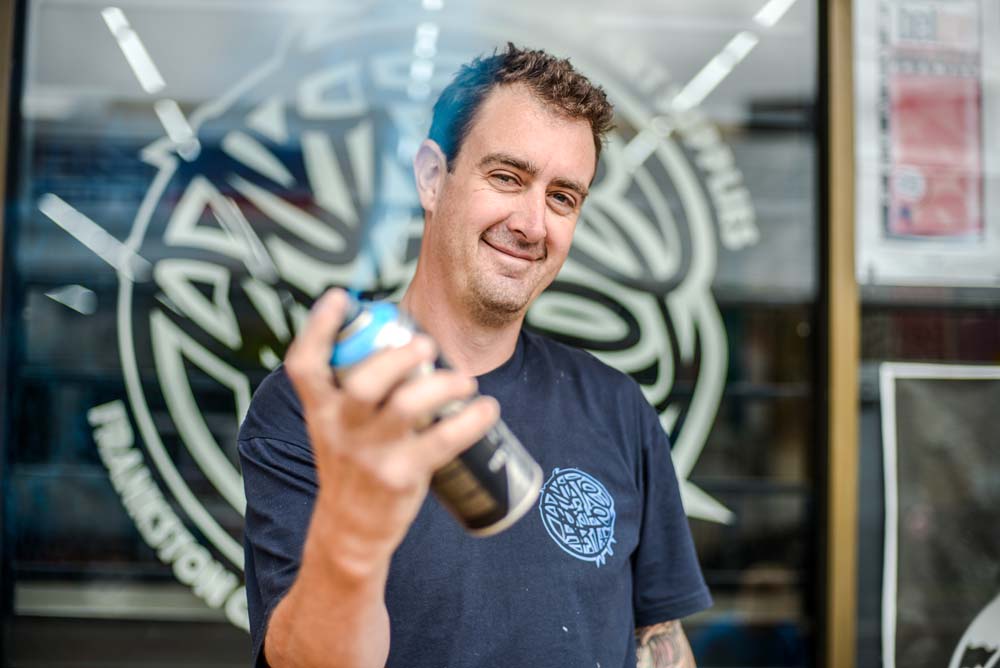 By Kristy Martin   Photos: Jarryd Bravo
Frankston artist Sheldon Headspeath is using his large colourful murals to help change people's perceptions of street art.
When Sheldon Headspeath goes about his work, it is not uncommon for people to stop and ask if he is breaking the law.
While the street artist is used to turning heads with his bright and bold murals, his style of art is still a controversial means of expression and is often lumped in the same category as illegal graffiti.
"People will come up and say 'Are you allowed to do this?'" Sheldon laughs.
"But these days I've usually got a camera set up and I'll block off the area, so it looks a bit more professional."
Sheldon is used to capturing people's attention with his large scale spray-painted artwork, which is regularly commissioned by schools, councils and local businesses.
"I've just always had an interest in art, since I can remember, and just gradually sort of went from graffiti to murals," he says of his transition from teen tagger to talented street artist.
Having always lived in the Frankston area, Sheldon was commissioned to paint his first wall in Beach Street back in 2000.
Requested by a local business owner to paint a mural that would cover unsightly graffiti, Sheldon realised the potential to earn an income from his creative passion.
He has since painted colourful, kid-friendly murals for local schools, including schools in Balnarring, Seaford and Rosebud.
"I've probably been to Eastbourne Primary School about five or six times.
"He's good, the principal there; he just loves it.
"The kids love it too, I had classes come out and sit and watch."
Sheldon has also painted walls at cafes, gyms and footy clubs.
He once collaborated with 20 other artists on a mural in the Essendon Football Club carpark that took three days to complete.
A couple of years ago, he painted an impressive snake mural on a private property in Frankston and set up a time lapse video to record his efforts.
In December 2015, Sheldon and his wife Karlie opened 'State of the Art' art supplies on Olsen Street, Frankston.
The store supplies street artists with specialised paints and markers, which they would otherwise have had to travel to Melbourne for.
"I've always gone to the city to get paint and stuff, so just thought there was a need," Sheldon says.
Street art has, in recent years, become a more widely accepted and celebrated artform throughout the world.
Melbourne is now internationally renowned for its thriving street art culture and designated tours to places like Hosier Lane have become major tourist attractions.
But there is still that stigma surrounding graffiti and tagging.
"We don't use the word graffiti," says Sheldon's wife, Karlie.
"Everyone looks down on graffiti, so you want to say street art.
"We are a street art shop, not a graffiti shop."
Karlie says it would be good if local teenagers had a place they could go to paint.
"The problem with the peninsula is that there is nowhere around here like Hosier Lane.
"If there was something like that, you wouldn't see half the graffiti that you do now."
While people under 18 are not legally allowed to purchase the aerosol paints sold at State of the Art, teenagers often visit the shop accompanied by their parents.
"Some of the parents are setting up big plywood sheets for their kids to paint on in the backyard at home," Karlie says.
"Kids are bored, so they are going to steal cars, they are going to do drugs, they are going to break into people's houses.
"If they've got somewhere legal to paint and they can come and get paint with their parents, the parents are going to be happy because the kids are not going to get a police record."
Sheldon and Karlie enjoy providing budding artists with the tools they need to express themselves.
Sheldon has witnessed teens who were once addicted to drugs take up street art instead and get a new lease on life.
"Every day in here is like a counselling session," he jokes
While walls are his preferred backdrop, Sheldon also paints on canvases and skateboard decks and pretty much anything else he can find.
State of the Art even has its own clothing line featuring his designs.
He says while the past 12 months have been up and down, he is looking forward to expanding the business to include more clothing, shoes and perhaps even art classes.
He would like to teach people, particularly teenagers, about how street art is accessible to everyone and can be used as a positive means of expression.
To find out more about State of the Art, search for 'State of the Art 3199' on Facebook or Instagram.