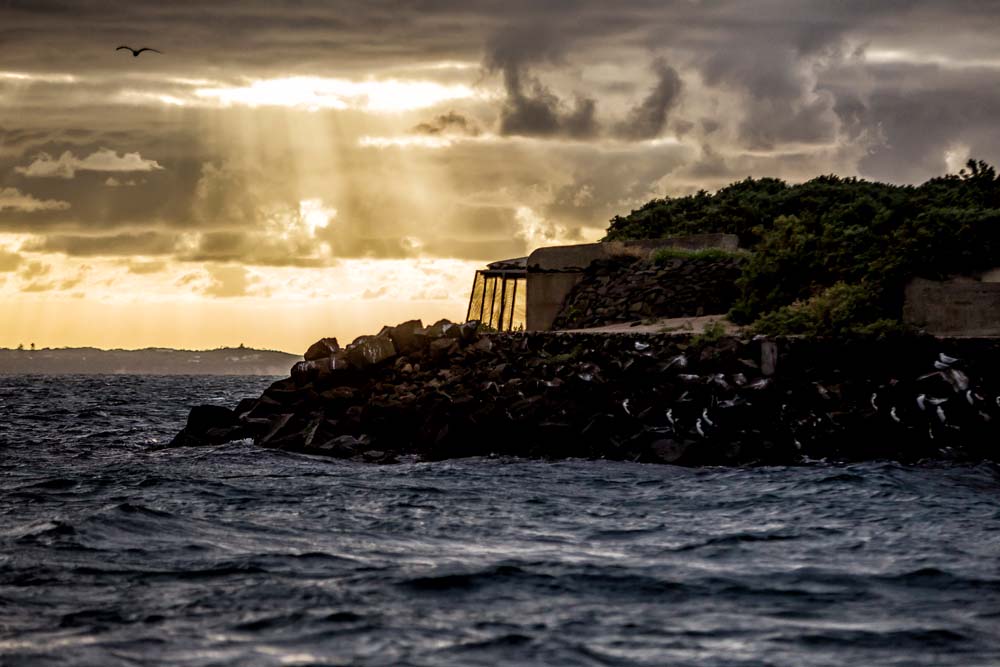 By Keith Platt   Photos Yanni
As with real estate, the success or failure of photography can depend on location.
The right location can be inspiring, helping a photographer to put the best light on a subject.
Faces and places are interesting, but any good photographer, or cinematographer for that matter, knows the importance of location and background.
Studio set-ups – with measured light, painted or contrived backgrounds – present a different realm to that offered by location.
Making a boat trip to a new location provides the photographer with a break from the land and the familiar. And if the destination is surrounded by sea there's no doubt that the textures, structures and natural features are going to bear the marks of weathering.
Rosebud-based photographer Derry Caulfield has found a spot in Port Phillip that exactly fits the bill to inspire the creation of interesting images. Actually, found is the wrong word, she was led to the location.
Having grown up on the Mornington Peninsula Caulfield knew the "go-to spots" on land, but had "never given a second thought about what might be worthwhile photographing in our beautiful bay".
That is until Caulfield was contacted by Steve Ross, of Rye-based Riptide Charters who suggested the South Channel Fort as a location for her to take photography students.
Unknown to the charter boat operator the fort – six kilometres off Sorrento – would be a new location for Caulfield too.
"I had never met Steve before and yet he offered to take me out to the fort at sunrise to experience this amazing part of the bay that most people don't get to visit, let alone photograph," Caulfield recalls of her first trip to the fort in January.
The historic fort and its photographic potential were all laid out before Caulfield's eyes and lens as she arrived at the fort just before sunrise.
"I was amazed at what I saw – the barracks, the remnants of the disappearing guns, the tunnels and living quarters, the surrounding grounds and the wildlife," she says.
"There were so many species of seabirds living safely and happily on the fort and we were lucky enough to get up close and personal to a penguin."
Unlike the studio where backgrounds and subjects are contrived to be shown in a particular light, Caulfield is "very aware" of the fort being a "precious eco system" and ensures there is no interference "other than to photograph it".
"The photography trips are limited to six people to ensure we keep a gentle footprint on the island."
On the way back Ross took his boat past the South Channel Pylon where Caulfield photographed more seabirds and the colony of seals that calls the pylon home.
The novelty of the South Channel Fort belies its historic purpose: a last line of defence for Melbourne if threatened by foreign navies.
Now, the fort is more likely to be besieged by boats carrying day-trippers.
The island attracts anglers, snorkellers, those with an interest in Victoria's more recent history, bird watchers and photographers.
Built on slightly more than half a hectare, the fort was designed to play a key defence role in keeping enemy ships contained within a triangle of fire from Point Nepean, Queenscliff and its own weapons.
The fort – also illuminated as a navigation aid – was equipped with a battery of five guns, including an eight-inch (20cm) "disappearing gun".
Mines laid as underwater booby traps could be remotely exploded from the fort as enemy ships attempted to sail down the bay.
Work on building the fort began in 1879 during fears of a Russian invasion.
Construction took about nine years with up to 100 men and officers being stationed at the fort from 1890 to 1916, although by 1908 its weapons were out of date. Guns installed at Queenscliff and Point Nepean had the range and accuracy needed to protect the bay's entrance.
The island on which the fort is built is based on 14,000 tonnes of bluestone quarried near Bacchus Marsh. Concrete cylinders reaching down to the sandstone bedrock support a concrete and brick slab, which, in turn, holds the concrete fort.
The heritage listed fort is 122 metres long, 76 metres wide and sits 6.4 metres above sea level.
Its underground layout which is connected by a series of tunnels, includes the former ammunition magazines, kitchen, officers' quarters and storage areas.
It is a reminder of past fears and can be seen as a gauge of Russia's long involvement in world affairs.
But these days, rather than serving as a potential weapon in the national armoury, the South Channel Fort is managed by Parks Victoria rather than Defence and is seen as a refuge for wildlife. A place of peace rather than war.