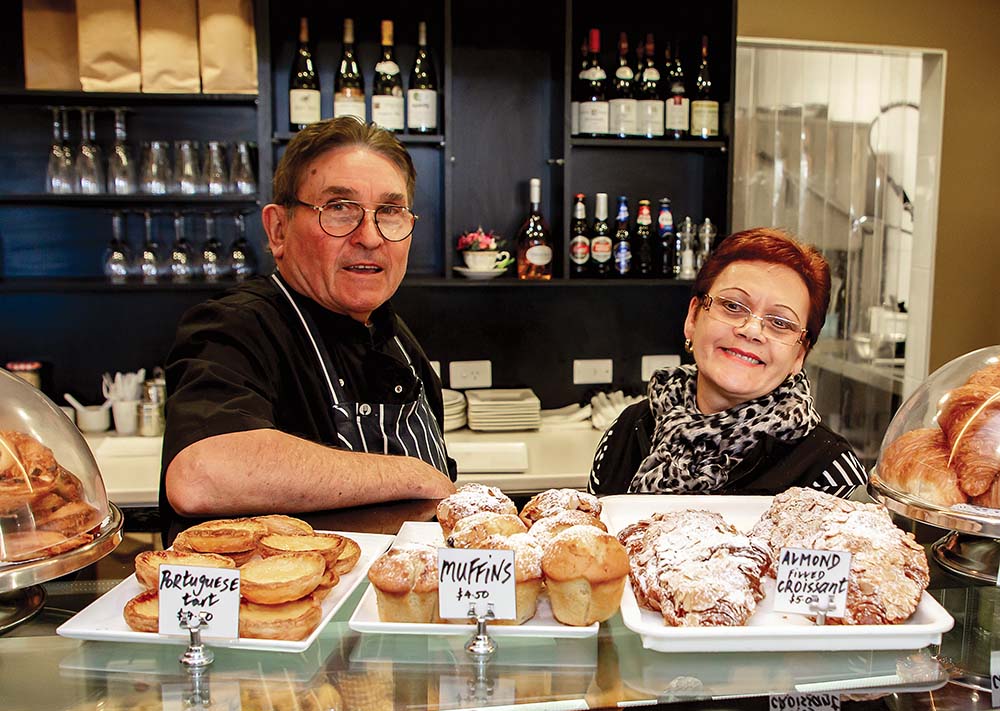 By Andrea Louise Thomas  Photo Yanni
Forget Paris. If you want to experience the flavours of authentic French cuisine you need go no farther than Mornington. Café Gourmand on Main Street serves delicious French food made in the traditional style by proprietors Robert and Angele Grondin. (Angele also makes mouth-watering desserts.) They cook with the love of food and take great pride in their dishes. That's why their customers come back time and time again.
Robert hails from Les Sables d'Olonne, an 800 year-old fishing port in the Vendee Region on the western coast of France famous for its extensive beaches, sailing and fishing. Naturally the focus is on fresh fish, but the oysters and mussels are superb in this area.
Angele comes from Alsace in the far northeast where Germanic influences make for a completely different kind of cuisine. It's famous for its wine and cheese, but their French saurkraut is unique regional specialty. Both The Vendee and Alsace have delicious food, but Angele says, "Wherever you eat in France, you'll eat well because we love food."
Cooking is an important part of life in France. Slow cooking and slow eating are part of French culture. "All French people love to cook. We sit down and spend all afternoon eating and drinking. We eat as a social occasion," she adds.
And this is how the couple approach running their café. They come out of the kitchen to meet their customers for a chat and make sure they are enjoying their meal. Robert has perfect confidence in the response because he knows his wife is an excellent cook. In fact, they both are. They take the time to make their food perfection.
Café Gourmand opened in Mount Eliza 11 years ago. Its client base was solid and consistent from the beginning. When renovations meant moving the business to Mornington – their regular customers followed. When they relocated to Main Street many new customers discovered the delights of Robert and Angele's cooking. Their café adds a new flavour to the international food scene in Mornington.
"The key ingredients in French cuisine are butter and wine, everything else is second," Robert says. Some of the dishes they make at Café Gourmand take days to prepare, as the dishes must 'mature' to reach their optimum flavour.
Angele's recipes are mostly her own, but some were passed down from her mother as were some of the dishes Robert brings to the table. Between them, Robert and Angele deliver the very best of classic French country cuisine served up in their cosy cafe.
Café Gourmand is open for breakfast and lunch but, for quite some time, Robert has hinted at opening for dinner. Their regular customers are waiting with baited breath. When discussion of the menu came up, it seemed clear the time is near. "Our mains will be duck confit, poulet chasseur, pork belly with prune sauce, lentil de Dijon, cassoulet, scallop and fish tarine," Angele says.
Imagine this food partnered with fine wine and possibly topped off with fondant au chocolat, parfait, mousse or exquisite cheese. Is your mouth watering yet? It should be. This is some of the finest French food outside of France. Bon apetit!
Café Gourmand
328 Main Street, Mornington
Ph. 5973 5677