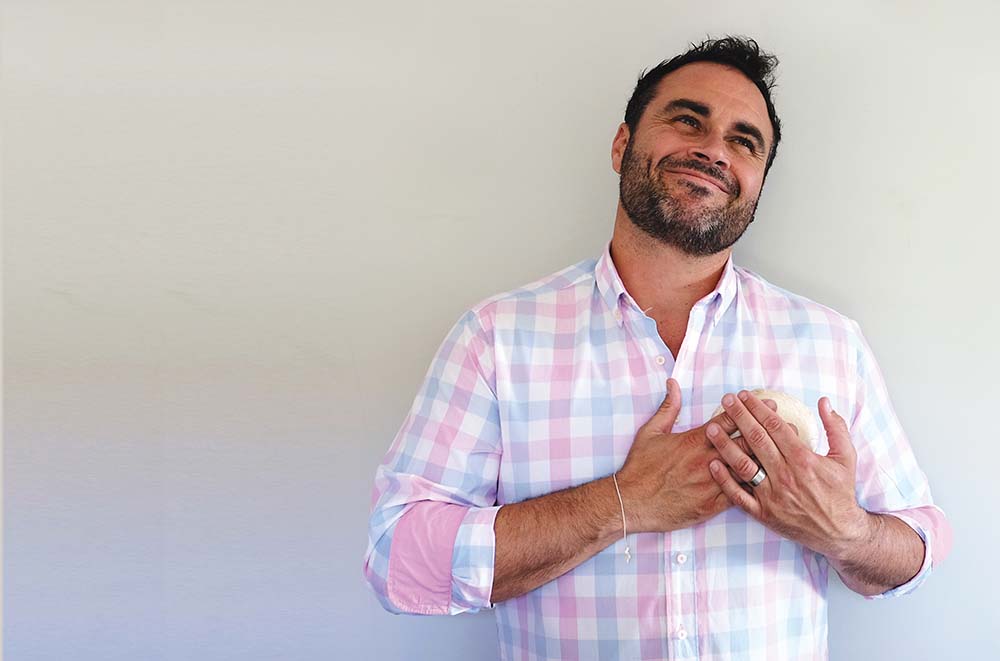 Miguel Maestre is a chef, restaurateur, author and television presenter, best known for presenting TV programmes such as Miguel's Feast, Miguel's Tropical Kitchen and Boys Weekend, and co-hosting the lifestyle television series The Living Room. The celebrity chef and Spaniard, who started out at 21 when he moved to Scotland to experience the world, made his name in Sydney working his way up through the ranks. Miguel's passion for food and life is infectious, and he has developed a talent for incorporating Spanish ingredients and cooking styles into his modern Australian menus.  He talks to Peninsula Essence about life, his family and a love of cooking that spans decades.
1. When did you decide you wanted to be a chef?
Pretty early on, because I'm not good at anything else. I decided to channel all my energy into cooking when I was young, around 18 or 19. I worked my way through kitchens in the UK, which was hard when I could speak very little English.
2. Did you grow up around food and cooking? Did you have any mentors, or family that inspired you?
My parents have always been very influential in my life. My mum was one of 20 children. They were successful farmers in southern Spain so I grew up around food. It was an amazing environment full of healthy, delicious food. I always knew where food came from at an early age which is important. They mentored me to not just be a good cook, but to be a good person too. I've also been very lucky to have worked for some amazing chefs over the years.
3. Where did you study and do your apprenticeship?
I saved money to become a chef at a college in the UK. I'd paid for the course and started attending, but had a bad experience there. I couldn't speak much English so the teachers weren't very nice.

I decided to leave the course and just work my way through kitchens, getting on-the-job experience. I worked for free for a long time.

There was a huge language barrier so I learnt through repetition.
4. Which kitchens did you work in first?
I worked in kitchens all across the UK, starting at the very bottom. But I did my time at each place and grew as a chef.
5. When did you come to Australia and what were your first impressions?
My first impression was "amazing". Australia is one of the most amazing places in the world. I thought there would be kangaroos everywhere and everyone would look like Crocodile Dundee.

I arrived in Manly (Sydney) 16 years ago and couldn't believe how different it was to Spain.
6. What is your favourite food to cook and are there any dishes that you personally enjoy eating?
I know this is a cliché, but I love cooking big paellas at home. It's what everyone wants, especially when you can include amazing fresh produce like delicious Australian mushrooms that add so much flavour to a dish.
I have a very diverse diet and love to cook different cuisines – from Japanese to Chinese and Italian. I mix it up a lot and everything is made from scratch.
7. What is family life like at home? Do the children help you cook or show any interest?
It changes every day. Sometimes they're excited, sometimes not. Claudia is quite curious and loves doing the little jobs – buttering her toast, cracking the eggs. My son Morgan is very interested in the eating. For Morgan, his favourite ingredient is broccoli. We all just enjoy really delicious food.
8. How was the experience of Dancing with The Stars? What did you learn/take from it?
It was a great experience in many ways, and I never take anything negative from my experiences. Mentally it was hard because I wasn't ready to leave so early. Now looking back, there was a silver lining. It showed me a new part of myself, how to deal with feelings when you lose. And I also got to meet my dance partner Megan, who is amazing, and it kick started a new fitness regime for me. I've already lost 15kgs. Megan is a great athlete and she made me train daily. She's also now touring with me as we dance live at the Good Food and Wine Shows across the country. We're great friends today and she pushed me out of my comfort zone. I feel like I'm now ready for anything. 
9. You do the monthly Trofeo Estate dinners. How has that been? What do you like about coming to the Peninsula?
It was such a lovely experience with amazing dinners. Getting to work with the local Mornington produce is second-to-none; from the seafood to lamb to the wine. It was amazing, as was working alongside so many professionals. I just love regional Australia so it was a really positive experience.
10. What's next for you career wise? Is there anything you haven't done that you would like to?
So many things! As a person, you want to be the best version of yourself. You never should feel like 'you've made it' – the best is always tomorrow and you have to think that way to be the best version of yourself. Never be complacent about 'what if'; just try and be better tomorrow. A better husband, a better friend, a better presenter, a better chef.
We're about to start Series nine on The Living Room which is very rewarding. I'm excited to see my food products (Maestre Family Foods) continue to succeed. I love my job, I'm very blessed and looking forward to another year of doing what I'm doing. Tomorrow is always your best day.