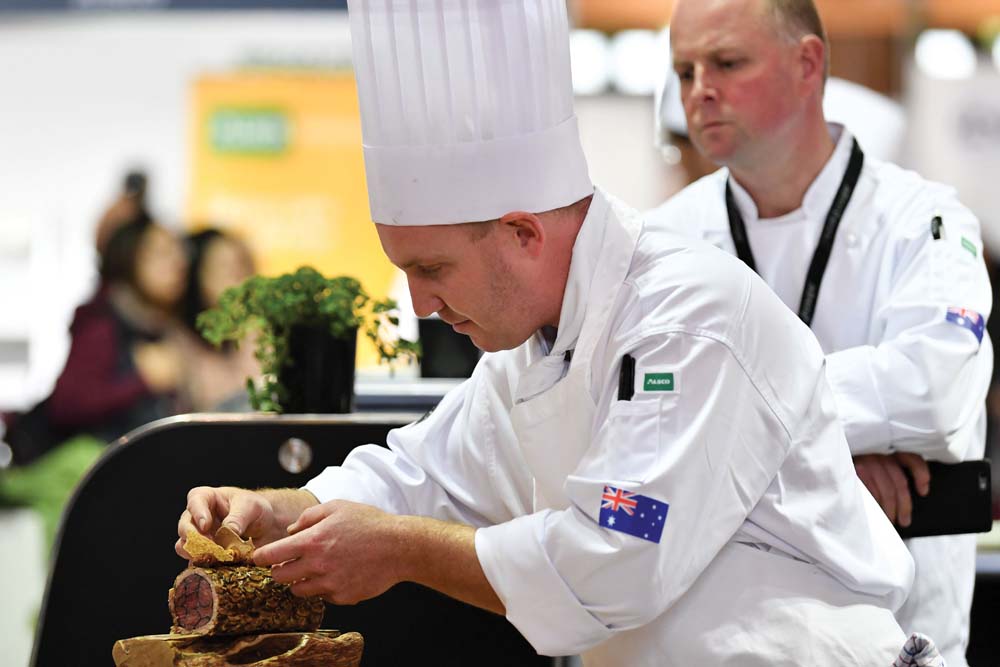 By Brodie Cowburn
The Bocuse d'Or competition is a long way from home. The prestigious international tournament features the top chefs from around the world battling it out in order to be recognised as the greatest culinary mastermind on the planet.
The competition is named after the legendary chef Paul Bocuse, who passed away earlier this year. It has been running biennially for over three decades, and in 2019, a local chef from Flinders will be fighting for the crown.
Michael Cole, current head chef at Georgie Bass Café and Cookery, underwent a gruelling qualification process to be selected last year as the Australian representative in the iconic cooking competition, which will see him take flight across the world to show off his cooking talents.
"After my first try at the Bocuse d'Or, I told myself I would try again when I was about 35. I knew if I entered last year, that by the time the Grand Finale took place I would be around that age, so I entered," said Michael.
"The deadline for entry nearly passed and I just got into enter this competition. I contacted the shire and they found an amazing apprentice chef for me to work with, but we were only a few weeks out and we had to train like crazy to get ready in such a short amount of time. It's almost like a performance; you have to be synchronised and calm. So we put in the training and we qualified for selection.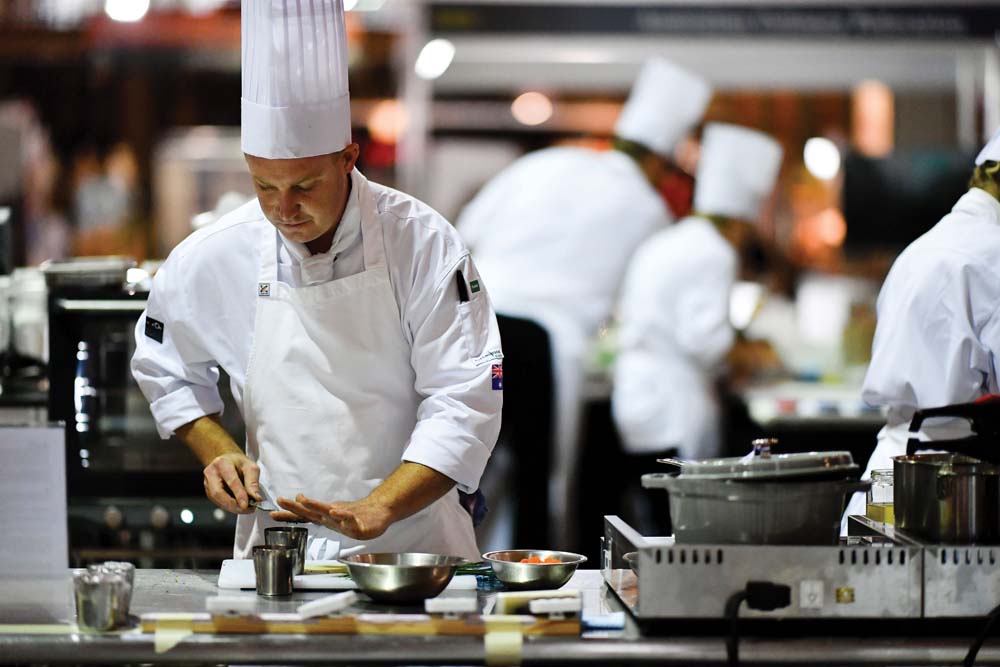 "We were exhausted by the time we won, it was surreal. Everyone was really excited and there was a real buzz. I was so focused on it that it felt like it wasn't real. Memorising the garnishes was so intense, you pretty much have to be able to create these dishes with your eyes closed. You become so focused that everything else feels like a dream."
Michael first fell into the world of cooking after taking a job to help him pay for his love of snowboarding. It was there he realised the love and passion he had for the food industry, which has taken him to work in Melbourne, Hamilton Island, France, and Japan.
This is his second try at qualifying for the Bocuse d'Or competition, after an ill-fated attempt in his younger days.
"I'd heard of the Bocuse d'Or before through one of my bosses, and he explained it as the culinary Olympics and the height of any chef's career. The picture he painted to me was a dream, so when I went to France when I was 24, I went and watched the Bocuse d'Or. I was in awe of the energy and the excitement, and I couldn't believe how amazing the event was. So it became a dream of mine to do it," Michael said.
"When I came back home I found out they were doing it so I thought I would enter. I was 25, and I had no idea what I was getting myself into. I had no idea how intense it was going to be. I failed miserably.
"It shocked me, but it shocked me in a good way. It showed me how much I had to learn. The whole thing about cooking is we are forever learning and challenging ourselves to get better. It took me eight years of training and working around the world before entering the Bocuse d'Or competition again."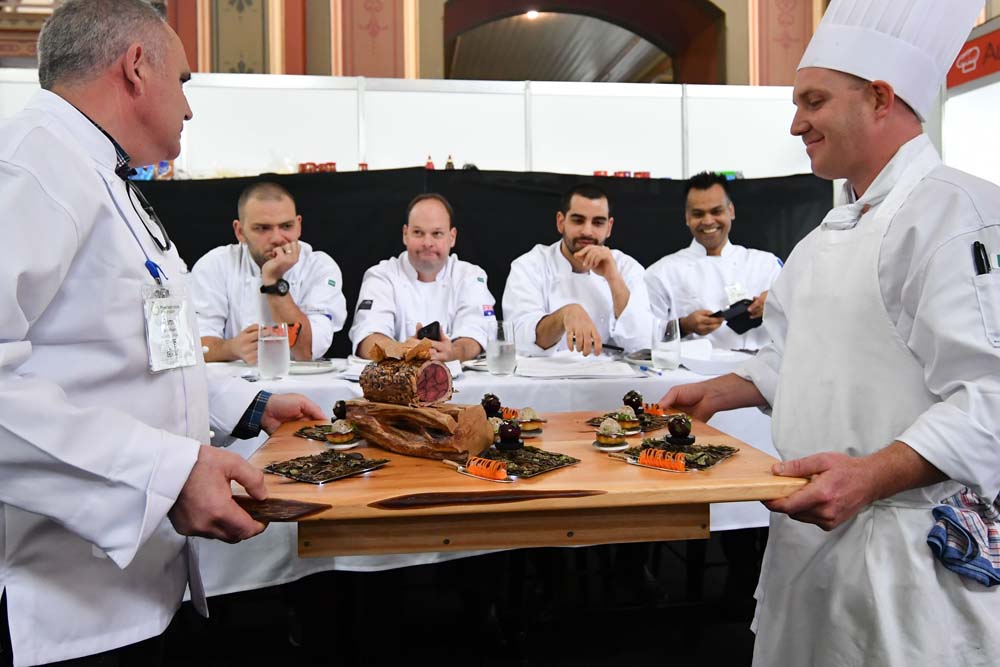 He would find more success in his current attempt at the competition, being selected as the Australian candidate for the next round. Michael was also honoured by receiving the Chef of the Year Award at the same time, further recognition for his outstanding work in the kitchen.
Michael attributed his success to the unique style of his presentation, taking inspiration from the trees and berries he finds on his walks amongst the bush. For one of his final dishes, he had made hollowed out beetroot spheres filled with beef terrine, which were then glazed in wild blackberry juice, covered with flowers and herbs, and floated with magnets so they hovered above the board and spun around. It is this distinct style of presentation that may set him apart from the rest as he progresses further along the competition.
Before reaching the Grand Finale, Michael and his teammate, former My Kitchen Rules contestant Laura Skvor, must first take on the Bocuse d'Or Asia- Pacific competition, which could see them qualify for the Grand Finale in 2019.
"We had a meeting in Melbourne a few weeks ago about our training program for the Bocuse d'Or, so Laura and I have already started training for that. They're going to send us over to the competition in China probably about a week before the event so we can get used to it over there," Michael said.
In 2017, Australian chef Daniel Arnold represented his country in the Grand Finale of the competition, finishing in a respectable 8th place against competitors from all across the globe.
The competition finals have been previously dominated by European chefs, and Michael will have to buck the trend and become only the second ever non-European to finish on top. The winner in 2017 was US chef Mathew Peters, who showed it can be done.
Having previously worked across the globe, Michael Cole says he is now happy to call Georgie Bass Café and Cookery home.
"I was working for the Flinders Hotel group a few years ago. I'd just come back from Japan and wanted to work somewhere beautiful, and we found Flinders just by chance. I feel in love with the beach, surf, fishing, and nature. We settled and stayed here for a bit, and I wanted a new challenge from fine dining. I spoke to the owners and they told me they were opening a cafe and cooking school. I'd never worked in a cafe or cooking school, so it was a new challenge for me, and I said yes. The cafe is health focused while not being too over the top, using great local produce. I created a menu and it was exactly what they were after. It just worked," he said.
"At the cooking school there's an amazing kitchen, and I would stay back after work to practice little ideas and techniques. It was great rehearsal and helped me get to where I am in the competition."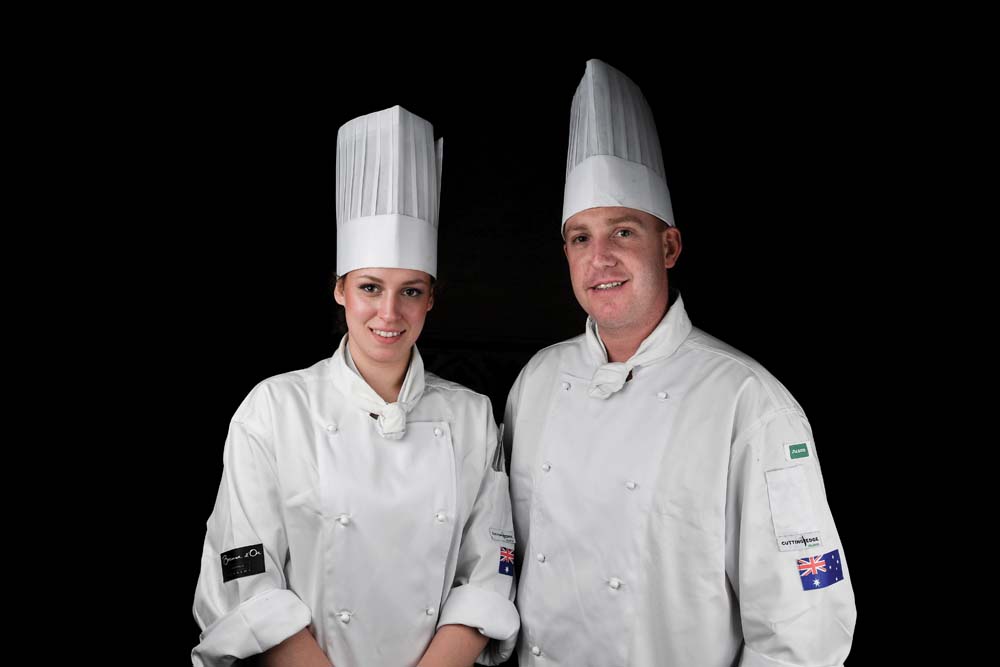 At Georgie Bass, Michael runs classes to impart his food wisdom and expertise to all who are willing to learn.
Michael said he loves working on the Mornington Peninsula and draws heavy inspiration from the local area for his creative and unique dishes that set him ahead at the competition.
"Sometimes people can't understand why a Bocuse d'Or chef is working on the Peninsula, but it's all about the lifestyle balance. It's so beautiful down here, I find so much inspiration and it's all so positive. Working here gets me away from the hustle and bustle of the city, and it gives me time to create too," he said.
The Asian Pacific Selection of Bocuse d'Or will take place in Guangzhou, China on the 8th and 9th of May, 2018. The top chefs will qualify for the Grand Finale in Lyon France in January of 2019.