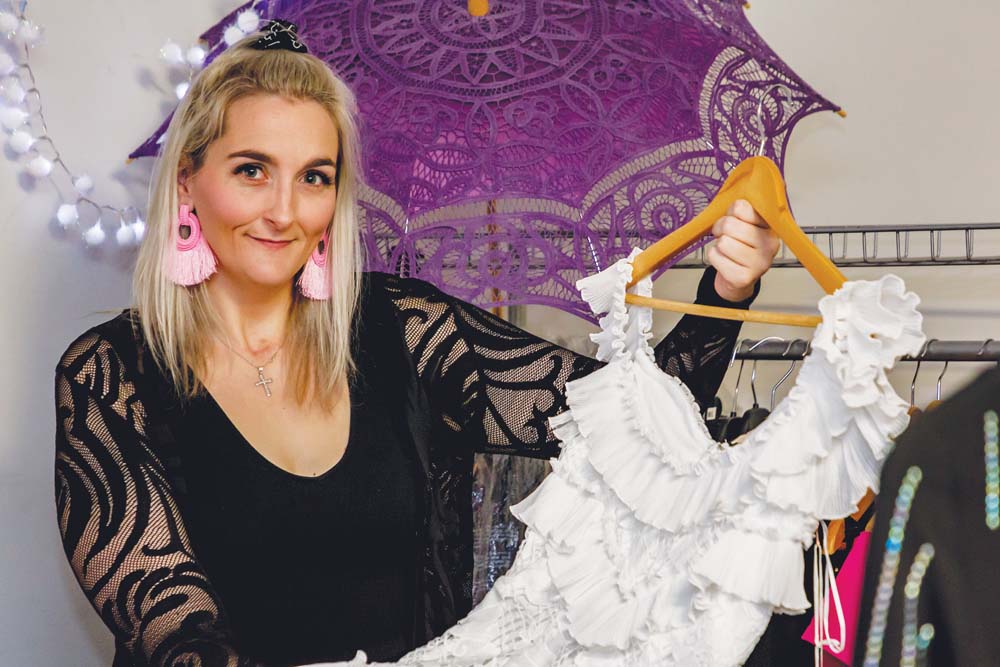 By Melissa Walsh  Photos Yanni
Melissa Forbes has always loved fashion, working for retail giants throughout her early career, learning from the best at David Jones and City Chic, and finding her passion along the way. 
The epitome of strength and style, you would never know the bright and bubbly mother of three who recently restarted her own business, Fashion Pop, had faced serious health challenges along the way. A true inspiration, peninsula-born Melissa is the essence of courage and conviction, continuing to push on with a determination to help other women through fashion.
"I originally started Fashion Pop four years ago after I could no longer work in retail due to a heart condition," said the 37-year-old. "I loved working in the retail field but saw there wasn't a lot of variety for the curved and plus sized women, so I wanted to bring affordable fashion for all body types without a hefty price tag."
For the single mum, this was the chance to do something creative and work around her three children.
"I started out very slowly, buying items bit by bit when I had spare money so that I could build up enough stock to launch it," said Melissa, of the process that took two years. "I finally opened my little boutique but three months into it, I developed a 5cm follicular carcinoma tumour in my thyroid with metastasis spread. This sent my life into turmoil; I had to concentrate on healing and so closed the boutique and put everything on hold until I recovered."
Proof that you cannot keep a good woman down, Melissa relaunched her fashion pop boutique five months ago, deciding to create an online business that is easy to manage around the children.
"I'm now so excited to finally launch Fashion Pop online and my goal is to make Fashion Pop Boutique about supporting women, building hope and turning fashion into power," said Melissa, who has teamed up with the Australia New Zealand Gynaecological Oncology Group. "It is a wonderful organisation that funds women to get into vital trials to save their lives and goes under the banner 'savethebox'."
Melissa donates a percentage of every sale from Fashion Pop to the foundation and these incredible women.
"I wanted to give back hope. Cancer in all forms can be unpredictable and scary. I have been there and I understand the emotions you face, but through mine I found strength and hope and a desire to give back," she said. "I now see that my cancer experience has inspired me to help others while doing what I love with fashion."
Fashion Pop Boutique sources clothing from around the globe with main suppliers in Australia, USA and the UK.
"We have a large range of dresses, playsuits and bodysuits, tops, bottoms, plus and curvy, jewellery and accessories, beauty and active wear," said Melissa, who is very conscious of having a wide range of sizes for all beautiful figures.
"I have always loved clothing and fashion, and feel like you don't have to spend a fortune to look good. I choose fashion to suit all sizes and most age groups. After struggling with health over the years and now proud to say that I am fully recovered, it is even more important for me to help other women look and feel good, as well as donate funds for women's cancer research."
While it has been a long process, Melissa says that she can finally see her vision coming to life.
"It was all worth it because I know my vision is going to make a positive impact on the world, and support beautiful, strong women," she said. "We have our first charity showcase Fashion show coming up on the Mornington Peninsula, and will also be launching a limited men's active range with a percentage of sales donated to men's mental health. All items can be purchased at www.fashionpopboutique.com and we offer different payment options. We also have a strong presence on Instagram and Facebook."
While they may be a small boutique, Melissa says they are all heart and here to make an impact.
"I'm now getting to follow my vision and through that I want to show my children whatever life throws at us, there's always a light in it."
---