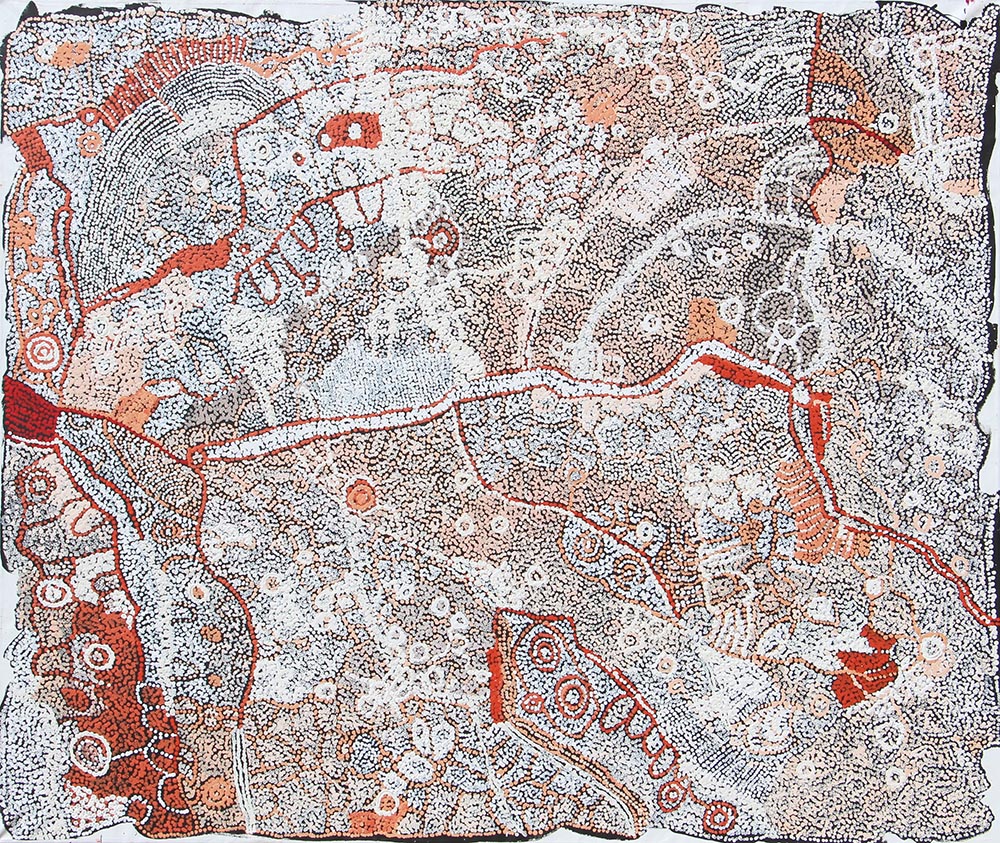 Outstanding new pieces of Aboriginal art have been flying in from around Australia to feature in The Summer Collector's show at Everywhen Artspace. Works come from as far afield as the Central, Western and Eastern deserts, Far North Queensland, the APY Lands, Utopia, the Pilbara, the Kimberley, Arnhem Land and Victoria.
" 2020 has been a watershed year for Aboriginal art, " says Everywhen's co director Susan McCulloch. "Aboriginal artists all over Australia have been extremely proactive in isolating themselves and their communities and taking all precautions to keep as safe as possible."

The results, she says have been great. The downside has been that most of the community-owned art studios which enable the work of the artists were closed for extensive periods, thus severely limiting the amount of art that could be made.
Simultaneously, says Susan, there's been a upswing of interest in Australian Aboriginal art. She attributes this to such factors as the Black Lives Matter movement, people spending on home beautification rather than travel, several highly publicised international exhibitions and auctions of Aboriginal art, exhibitions by both public and private galleries, social media and an increased ability to explore and buy art online.
"Many people are also wanting to support our unique Indigenous culture and learn more about it," she says. "While the community art centres are still not able to work at full capacity, the art that's now being made is fresh, varied, often of exceptional quality and with often, a great sense of joy."
"This has enabled us to show an extensive and dynamic group of works," says Susan. "As we work with several hundred artists from more than 40 community-owned Aboriginal art centres and a number of independent artists, we can show a huge variety of styles and media."
As well as paintings, the Summer Collector's show features sculptures, carvings and other 3D works with special capsule exhibitions by Kimberley ochre painter Gordon Barney and works from Australia's oldest art centre, Ernabella Arts in the APY Lands.
"The most frequent comment we get from first time visitors is "we never knew Aboriginal art could be like this!"
The Summer Collector's Show runs until February 23.
---
EVERYWHEN ARTSPACE
A: 39 Cook St, Flinders   T: 5989 0496
E: info@mccullochandmcculloch.com.au
W: www.mccullochandmcculloch.com.au
Open: January – seven days a week
February – Fridays -Tuesdays
Hours: 11am-4pm
Peninsula Essence – January 2021