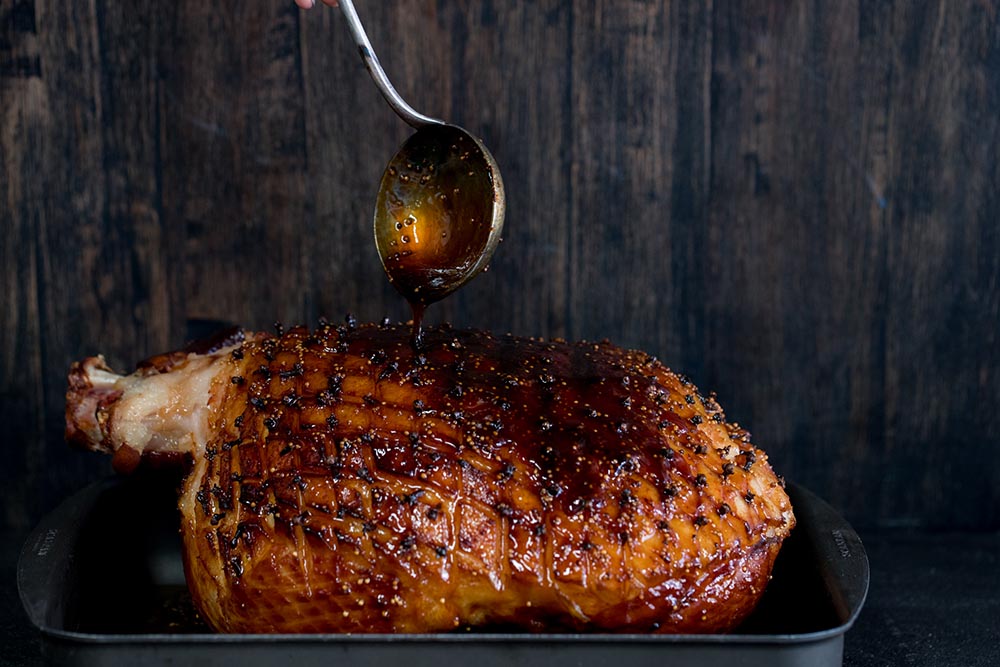 A whole ham is considered the centrepiece on many Christmas tables around Australia. It is also surprisingly easy to make with our delicious orange glaze and perfect for feeding a big hungry crowd.
INGREDIENTS
800ml orange juice
300g brown sugar
2TBS yellow mustard seeds toasted
Water when needed
INSTRUCTIONS
One of the most important steps is to take the ham out of the fridge 3 hours prior to cooking to let it come up to room temperature.
To make the glaze, place all ingredients in a saucepan over medium heat. Stir to dissolve sugar, then bring to the boil until the sugar dissolves.
Preheat oven to 170°C
Line a large, deep roasting pan with baking paper. Using a small sharp knife, cut around the ham shank, then carefully run the knife under the skin around the edge of the ham. Gently lift off the skin in one piece by running your fingers between the skin and the fat.
To elevate your ham to a show-stopping centrepiece, score the fat in a diamond pattern (about 5mm deep) and stud the centres of each diamond with cloves. Not only is it decorative, it also creates lovely pockets of crusty glaze in the corners of each diamond.
Pour the glaze over the ham and put in the oven (lowest shelf). Baste the ham with the glaze at regular 20 minute intervals. Make sure you use a ladle so you don't dislodge the cloves.  Each time you baste, rotate the ham 180 degrees.
If the glaze in the pan gets too thick, add a little water to the glaze to loosen the caramel.
Just remember, the ham is already cooked so you just want to warm it up as well as caramelise the glaze! If using a meat thermometer, aim for about 38°C degrees.
Add remaining glaze to a jug and serve alongside your delicious ham.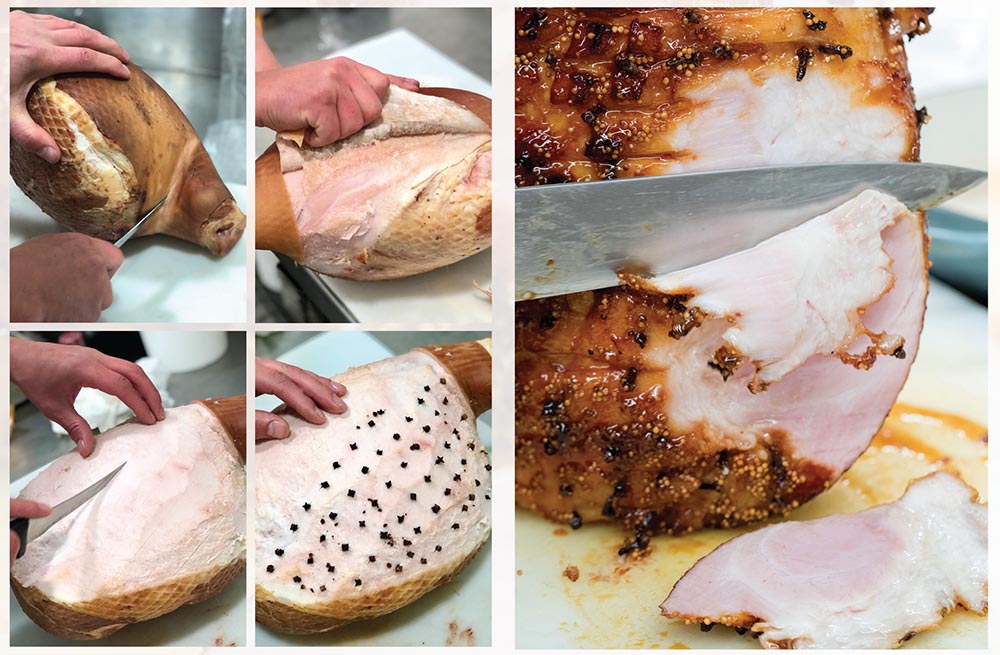 Gamekeepers is a Victorian family owned meat and game specialist. We supply the best quality meat in the country to Victoria's best restaurants and now we can deliver directly to your door.
Free Delivery over $100
We deliver to the Peninsula every Tuesday and Thursday
Pre-Order Christmas Products Now. Call Gamekeepers direct on 9555 7000