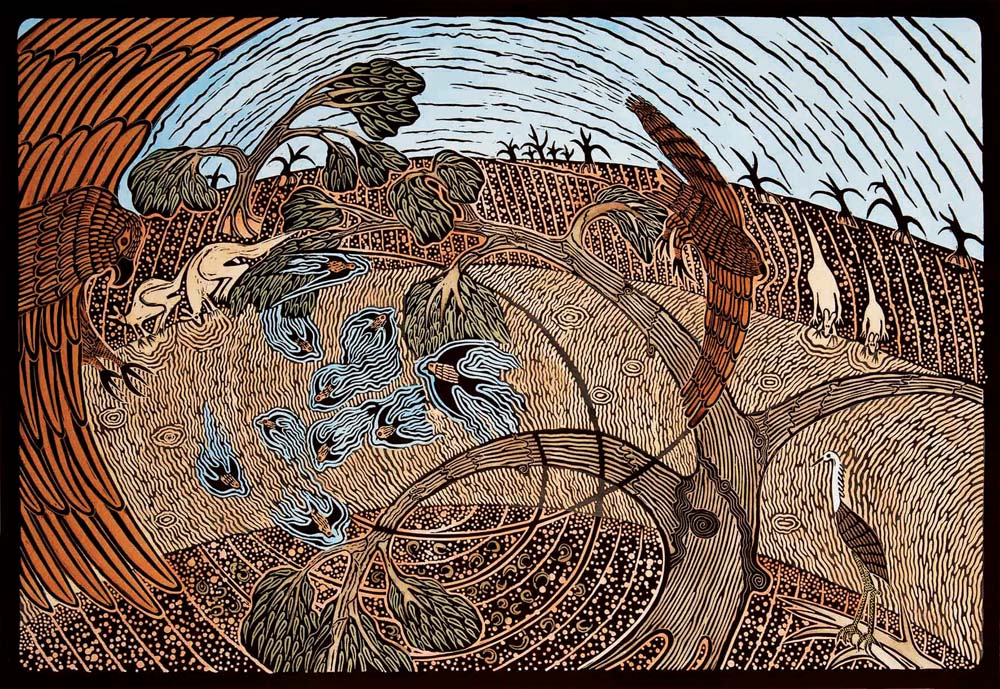 Over more than 40 years Flinders resident David Wright has established himself as one of the world's leading architectural glass artists with large commissions for educational, religious and public buildings the world over.
Yet a little known part of his artistic practice, to be revealed this month, stems from the long-time travels that David and his partner and wife, Sue McPhee-Wright, have taken to some of the most unseen parts of Australia. Kitting out a 'snail house' on the back of a 4WD ute has enabled the pair to travel to very isolated spots with David continuously sketching the differing landscapes in both their grand scale and intimate detail to be reworked later in his studio into more formal imagery of prints and paintings.
"I realised that over 40 years I had built up a substantial body of work and wondered if it would make for an interesting exhibition," he says.
Everywhen Artspace gallerist Susan McCulloch believes so, describing the works as "an amazing body of work — like so many graphic jewels".
In delicate line and meticulous hand colouring Wright has captured the timeless nature of these lands from their expansive horizons to the intimacy of bird, fish, plant, amphibian and insect life. The Kimberley's famed boab trees are outlined against a black ground, as though clinging to the edge of the world; brilliantly-hued flowers bloom against a red earth; the bones of a road kill animal are picked clean by eagles swirling in a maelstrom-like sky; a flock of white geese circle the receding waters of a soon-to-be dry lake; crocodiles all but blend with their watery camouflage and a keen-eyed water bird broods over mudskippers as they are swept downstream.
On a subsequent trip Wright captured the very different 'crystal desert' of Antarctica with equally keen observation.
"With wit, insight and great fondness, David shows us that all these lands are far from the barren deserts of popular belief," says Susan McCulloch.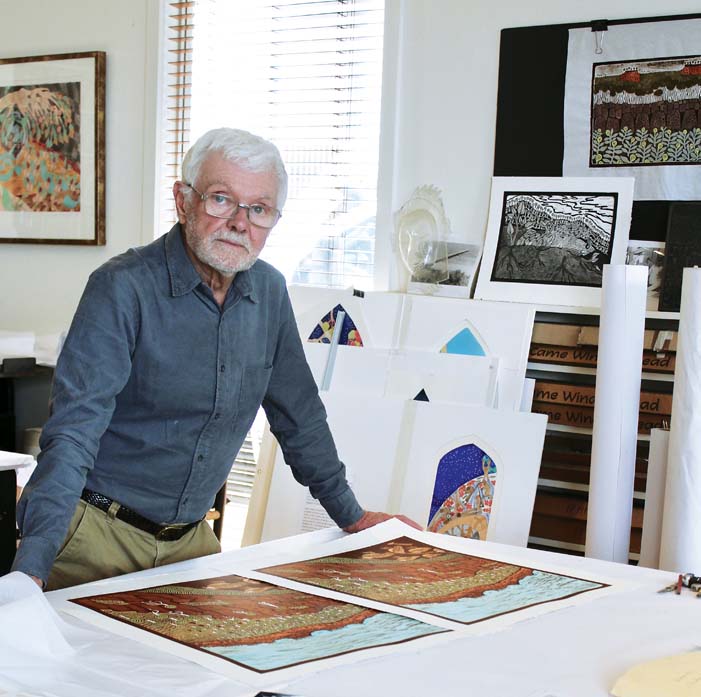 David Wright | Prints & Paintings with be opened at 2pm on Saturday, June 8, by critic and artist Ronald Miller and runs daily until July 2.
David Wright will present an artist's talk on Sunday June 23 at 2pm. Free event but rsvp is essential.
---
EVERYWHEN ARTSPACE,1/39 Cook St, Flinders
Open daily 10.30am-4pm
T: 03 5989 0496
E: info@mccullochandmcculloch.com.au