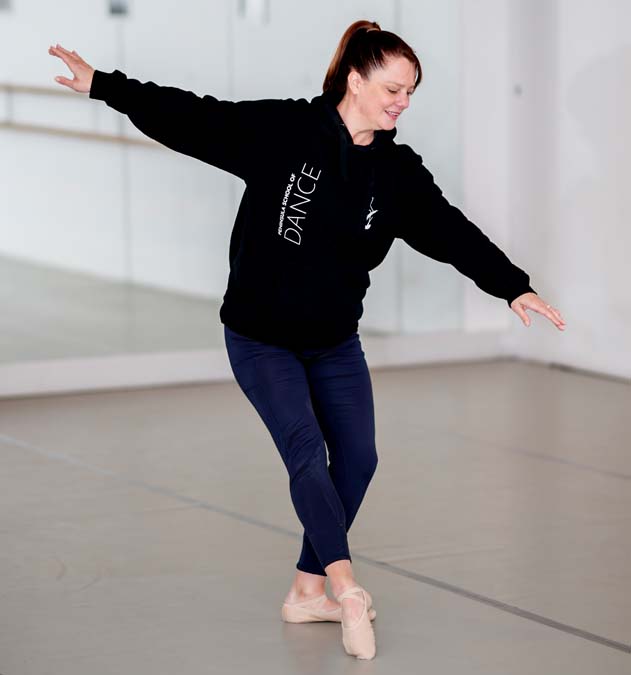 By Andrea Rowe Photos Yanni
COVID-19 has dealt a devastating blow to dance studios and the performing arts, which also sustain the wellbeing, physical health, entertainment, creativity and social connection of so many. For dancers on the Peninsula, this fulfilment, along with regular dance practice during the pandemic, has been exceptionally challenging to maintain. 
But dancers are masters at pivoting. And, Peninsula Dance School's Director, Melanie Gard has led the dance studio to step boldly into the digital space to keep the magic of dance alive.
"We've danced our way as a community through tough times and we're standing strong," says Melanie.
Known by her adoring dancers, families and staff as Miss Mel, the determined Dance Director moved classes online last year to sustain the energies and expression of young dancers who are driven to perform. Now, they're hungry to get back into the studio, and on stage.
Under the floodlights, and adorned in costumes, they'll dance to commemorate an impressive 60-year legacy of Peninsula School of Dance. The Diamond Jubilee celebration will reflect the talent of the former Rosebud Ballet School which was first established in 1961.
Fast forward to 2021, and hundreds of young dancers call the studio their special place.
It offers over 10 streams of dance and performance skills from ballet and broadway to hip hop and tap, starting with petite beginner programs all the way to VCE dance.
47-year-old Mel has been at the helm of the dance school since 2006, introducing new dance streams, inclusive programs like Rhythm Works for people with disabilities, memorable performance opportunities with Cabaret Cathedral and Victorian Dance Festival, workshops, choreography competitions and exams, and a unique experience for students, dancing in the Disney Land parade.
Despite the pandemic, it continues to be a renowned and thriving dance studio on the southern peninsula, and one of the few certified dance studios in Australia to hold a Keeping Kids Safe in Dance accreditation.
Peninsula School of Dance's leap from lockdown is set to be a celebration of hard work, commitment, resilience, and talent amongst a community of families who value dance and performance.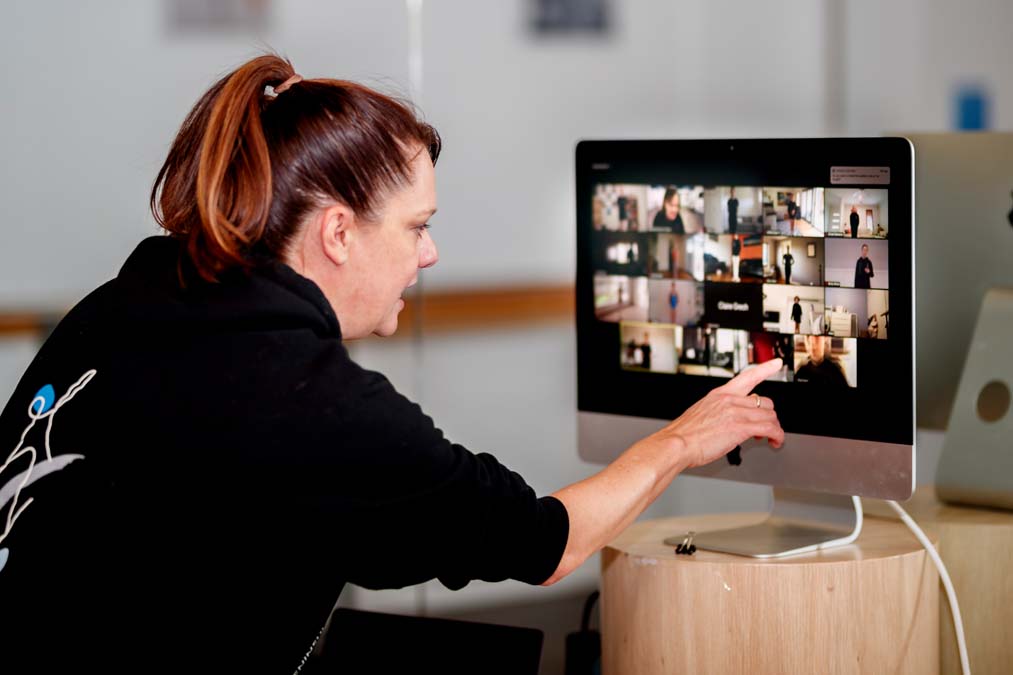 "We talk a lot about the lessons and insights we will all take from lockdown," says Mel, "I knew my dancers valued each other's company, and are passionate about movement and dance. But I'm grateful for how we kept them connected, and helped kids through such traumatic times. The dance studio is their happy place, where their friendship groups are and they explore self-belief; we had to hold that space for them."
That space evolved from a modern studio dance floor to computer screens, where Mel and her dedicated staff zoomed into family homes to keep kids dancing.
"Our students were logging on to see their friends as much as to improve their pliés – dance mattered even more for the connection it gave them. Friendship really is the glue we all need."
Dance lessons in lounge rooms gave families a rare insight into what their own children love about dance. They've told Mel that the positive affirmations and recognition of their children by the dance teaching team was vital for wellbeing during such harsh restrictions.
"Suddenly our studio lessons became an intimate experience the whole family could see. Some parents told us they loved hearing the classical music or dance beats filling up their homes.
Another said it was like sunshine in her day. I'm thrilled we could offer that consistency, and that I could demonstrate that in challenging times, it's important to show up, participate and move forward."
"Dance teachers really could run the world," jokes Mel.
"I'm grateful to the families who have done their best supporting their dancers too. Really, we've all done our best during COVID times to be there for our kids."
A conversation with the wise and wonderful Mel covers everything from memories of her dancing childhood to the life lessons at the barre that dancers gain. And then there's insight to local life and how performances at community gatherings and events form the foundation of civic contribution, celebration of talent, opening young minds to new experiences and providing equitable opportunities.
It's abundantly clear that this 60-year-old dance school which started in the Rosebud Memorial Hall and is now a rising star of the Capel Sound industrial estate has been witness to great moments on the Southern Peninsula. And nurtured true talent. The school has a well-respected history of dance students from Jason Coleman, and Chloe Dellimore who have both contributed to global performing arts, and respected teacher Miss Sandra McKay OAM.
Your name doesn't have to be up in lights to impress Mel though.
She's in awe of her dance students as they explore valuable life skills and gain self-esteem. Mel is soaring along with them. "Every time I teach – I'm buzzing, I love that someone wants to turn up and become a confident dancer or express themselves. I love seeing their journey."
She won't tell you herself, but Mel's peers will be the first to declare their admiration for her passion as an educator and advocate for dance inclusivity. Mel's background in disability and community development, as well as her ground-breaking partnerships with local government and community organisations drives her commitment to inclusivity for dancers of all abilities.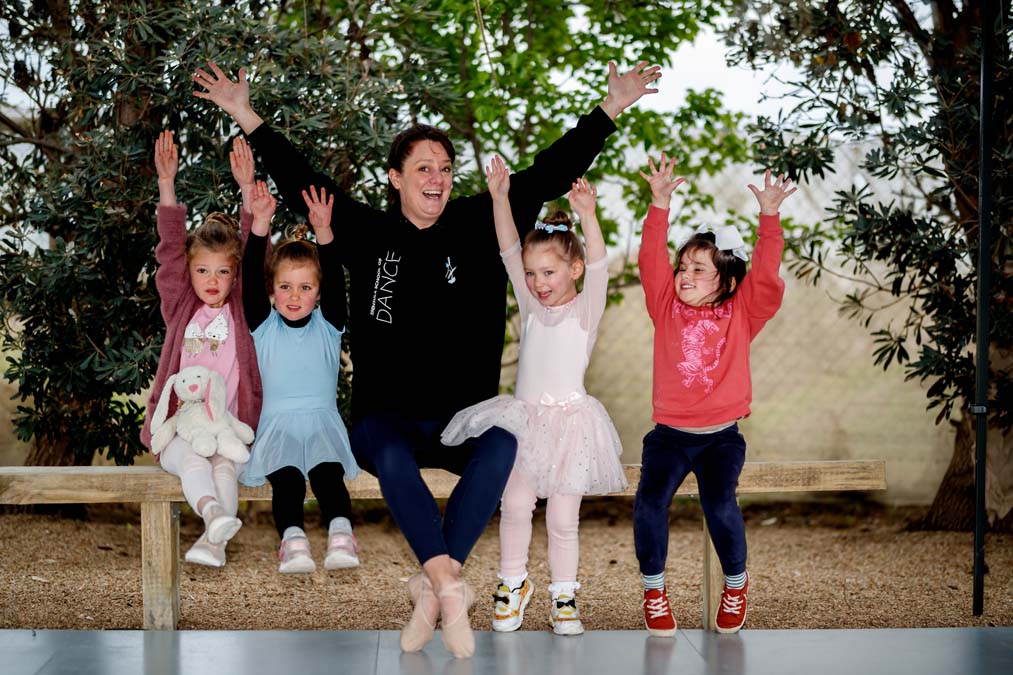 As well her busy role as Director of Peninsula School of Dance (which she runs in partnership with her husband Robbie), she's also the Co-director of Unlocking our Potential, a unique vocational and life skills disability program, and the Vice Chair of Dance Arts Alliance which received national media attention representing dance studio owners during lockdown restrictions.
She's also a live-in-the-moment mum to three kids, a much sought-after assessor and dance mentor as a Licentiate with Cecchetti Ballet of Australia, and sits on the Mornington Peninsula Arts and Culture Advisory Panel.
But Miss Mel's greatest joy is the life skills dance offers her students.
"When I talk to past students they reflect on how shared experiences of classwork, rehearsals, concerts and showtime preparation have built skills to take into their many careers. Dance can be a discipline, a stimulation for ideas and a celebration of memories of growing up. "
"Every time I step into a studio with my students, I'm not just teaching them how to dance, but at the core I'm helping them become collaborative, expressive, strong, resilient and respectful people. That's a special honour."
As restrictions ease, Mel has pivoted again with an outdoor studio space, providing welcome respite for eager dancers and their families. She's planning to move students back indoors to their beloved dance floors after summer and will rebuild the strong sense of community that Peninsula School of Dance prides itself on.
"Performing arts is about performing; we haven't been onstage in two years. We're all set to get back into the theatre to give our students the diamond jubilee performance of their dreams, and to let our dancers, and our community's dance history, shine."
Continuing with her giving spirit, Mel is encouraging the community to share their studio stories and dance day memories with her. She's established a blog on her website featuring interviews with key staff and dancers, and capturing the dance school's history in the hearts of many.
"Sixty years is a long time, and two years of this interrupted history really is a small blip in the timeline. It's felt catastrophic and awful – but we will survive, and it's important that we celebrate our history and plan for a fabulous future for the next generation of performers."
---
Follow Peninsula School of Dance
FB: facebook.com/Peninsulaschoolofdance
Insta: @peninsuladance
W: peninsuladance.com.au