By Joe Novella Photos Yanni
Gone are the days when mums took a back seat, making sure the household worked like a well-oiled machine while hubby played a round of golf. No longer do mums drop and run, depositing the kids at various sporting locations before rushing off to take care of the shopping, or the washing, or the countless other tasks that mums do to make sure their loved ones have opportunities to participate in sport. The time has now come for mums to get involved and Mount Martha Soccer Club is leading the way with their 'Go Soccer Mums' program.
Women's sport has exploded over the last decade with surging numbers in traditionally male-dominated sports like footy, soccer and cricket. And we're currently seeing the same trends in seniors sport with lots of opportunities for people over the age of 50. But one part of the population that still remains under-represented on our sporting fields is mums. And that's why Mount Martha Soccer Club, in conjunction with Football Victoria, is rolling out the Go Soccer Mums program, which is designed to get more mums playing sport.
Cheree Lane, Operations Manager at Mount Martha Soccer Club, is the driving force behind the program. "Our first group of soccer mums started quite a few years ago with a spring/summer informal kick about. But in 2019 we received some funding and with it we kick-started a formal 'Soccer Mums' program over the second half of the soccer season. We even entered a comp at Chelsea for the first time in 2020 and the ladies all had a great time. We have entered again this year, but our main aim is to have fun, enjoy a laugh and get some exercise."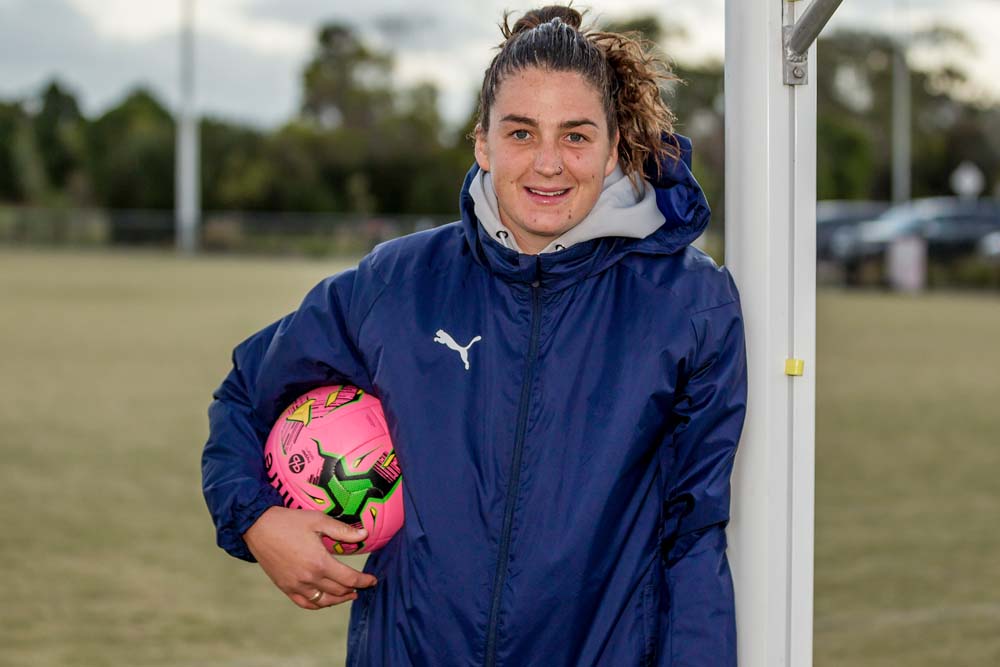 For most people, when they think of sport they think of super-fit, talented athletes whose sole objective is to win. But that's definitely not the case with the Go Soccer Mums program according to Cheree who gives a summary of the program, "We have about 15 ladies that are part of the program. They range from 35 to 60 plus. We train on a Monday night from 7 till 8 at Civic Reserve, Mornington, our home ground. Any level of fitness is fine; there is no judgement. It's all about getting together and joining in to the best of your ability."
For a lot of people, turning up at a club to join in is a daunting experience, so I wondered how the ladies, many of whom had not played organised sport before, dealt with that. "My concern was that I may not enjoy it, I'm not very fit and thought it may be too hard, but the other mums are like me with all different skill and fitness levels," said Anita Mandic. Jaime Seletto had similar concerns: "I'm not very fit and I was scared that it would be intimidating. I'm so glad I gave it a try because the Go Soccer Mum's crew is so welcoming and so much fun. Also, I've never played soccer before. I didn't even know the rules when I started. I had never seen a game!"
The team is managed by Shelley Christie and coached by Melissa Maizels, who plays soccer at the highest level for the Melbourne Victory W-League team. You would think having such a well credentialed coach would add pressure on the mums to perform, but that's not the case. "The best part about the Go Soccer Mums program is having a laugh at ourselves," said Anita. "Sharing giggles when things don't quite go as expected."
Having fun and social interaction certainly come through as great benefits of the Go Soccer Mums program but they're not the only ones according to the ladies involved. Other common themes include a sense of camaraderie, slow and steady improvement of skills and fitness levels and, most of all, getting some 'me time' in a very busy world.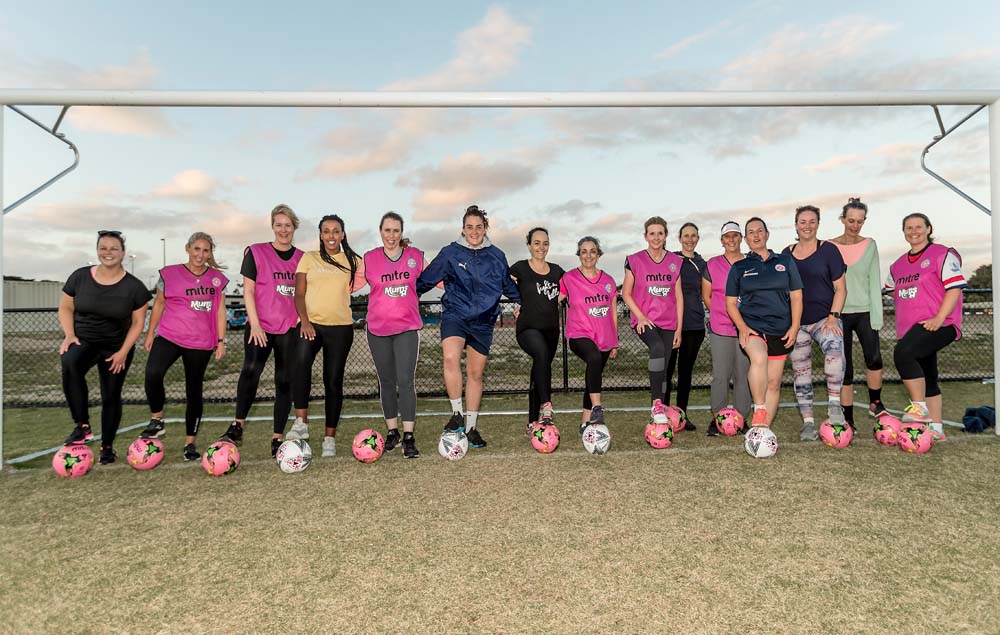 So how do these busy mums get time to participate? "The hardest part about Go Soccer Mums is coordinating myself, my life and my responsibilities in order to get me there. But Go Soccer Mums has made me realise that I need to be a priority. I need a little time just for me, and so I'm making sure that I get here every week," said Jaime. 'Me time' is also important to Nesreen Mussa, another participant in the program. "Having time for myself to look after my health physically and mentally is why Go Soccer Mums is so important to me."
It's clear that the ladies taking part in Go Soccer Mums have gained many benefits from the program. This is especially so for Cassie Stevens: "The best part of participating is how I feel after each session. I leave invigorated and have a smile on my face." Even the significant others in these ladies' lives are on board.
"My husband and kids have encouraged my participation in Go Soccer Mums," Cassie continues. "My whole family plays competitive team sport and now so does Mum!"
The Go Soccer Mums program isn't going to break the bank either at approximately $5 per session. "Go Soccer Mums is the cheapest form of exercise that I've ever participated in," according to Jaime. "It makes it easy to prioritise my health without sacrificing anything else that my family participates in."
Finally, I asked the ladies if they would recommend the Go Soccer Mums program to other mums on the Peninsula and the response was a resounding "Yes!"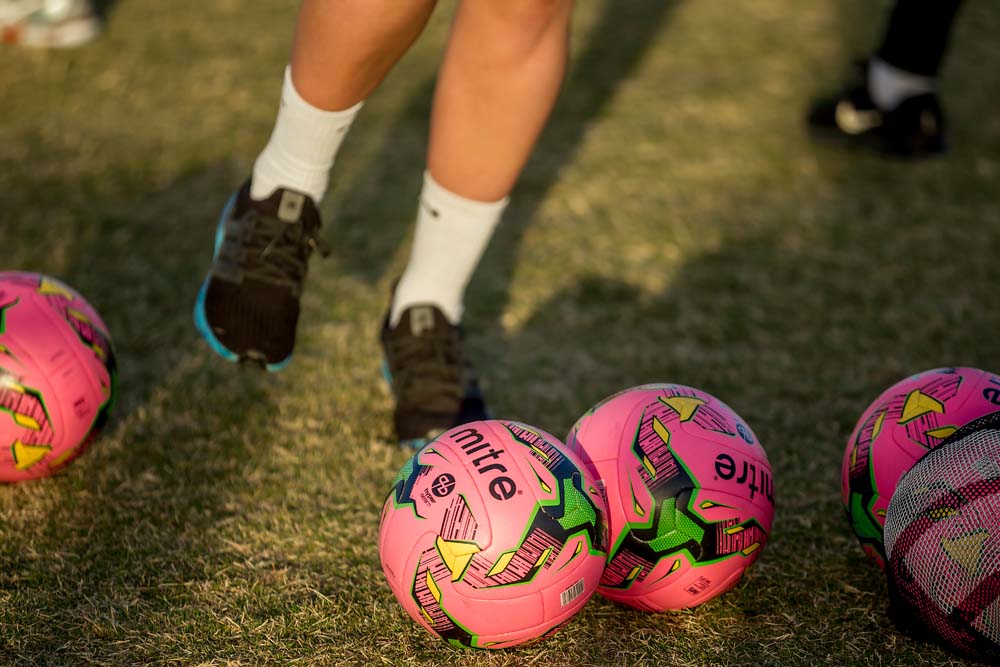 ---
For more information on the Go Soccer Mums program at Mount Martha Soccer Club, please contact Cheree Lane at operations@mountmarthasoccerclub.com.au