By Olivia Condous Photos Gary Sissons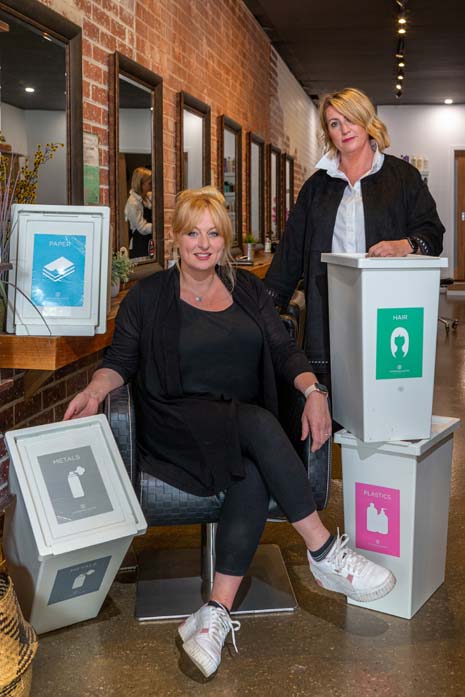 If you're looking for a reason to justify a visit to the hair salon for a pampering, look no further. There's a way to help protect our precious environment while getting a fresh cut-and-colour, so you can look good and feel great about it too.
Sustainable Salons arrived on the hair and beauty scene in 2015 and started a monumental waste-management movement that had a big impact on the way Australia's grooming industry operates. Their innovative work to reuse and recycle has made huge strides in helping to make our haircuts eco-friendlier.
In 2010, the organisation's co-founders Paul Frasca and Ewelina Soroko took a trip around the country to visit 160 hair salons and uncover what was happening to their waste. Shockingly, they found that every year Australian salons were generating one million kilograms of landfill in aluminium foil that could have been completely recycled.
This discovery began the journey that set Australian hair salons on the path to zero waste.
Now, owners of hair salons, barber shops, beauty salons, dermal clinics and pet-grooming services can become members of the organisation that helps businesses recycle cut-off hair, chemicals and waste water, disposable hygiene products, plastics, salon metals and more.
Every single hair cut at a sustainable salon contributes good back into the community and environment. The hair collected off the salon floor is made into "hair booms", which are designed to soak up oil spills on land and at sea, and cut-off ponytails are donated to create medical wigs for those with alopecia or leukemia.
Currently, there are 1000 member salons across Australia and New Zealand, with 25 of those in the Mornington Peninsula area. One of those is Amicus Hair & Beauty, located on Main St in Mornington. Salon director Donna Sutherland said the salon had been a member of Sustainable Salons since the service became available in Melbourne, around four years ago. She said becoming a member had a big impact on the way she and her team used the salon for the better.
"We recycle 95% of our waste now; we're passionate about sustainability," Donna said.
She said the Sustainable Salons made it "very simple" to begin recycling their waste and were "very encouraging".
"Before we became a Sustainable Salon, we were getting two standard size bins picked up weekly," Donna said. "Now we get one bin picked up monthly and it's only half full".
The impact of Donna and her team's efforts has produced monumental results, as Amicus Hair & Beauty has recycled 93 kilograms of hair, 311 kilograms in plastics and 451 kilograms in metals since beginning their sustainable journey.
This recycling initiative benefits the broader community, as the proceeds from the recycled materials sold by Sustainable Salons are donated to OzHarvest to provide meals for those in need. So far, the money raised Australia-wide has donated 143,000 meals to feed the homeless.
"It makes our team and our customers feel even better about walking through our salon's doors," Donna said, "all salons should be on board with it," she said.
The amount of Sustainable Salon members is certainly increasing; Mr Fox Hair, Beauty & Retail in Mt Martha is another business that has joined the growing sustainability movement.
Leah Rice, who owns the salon with her mother Debbie, said she made the decision to become a member as she was concerned with the amount of waste generated by her salon that ended up in landfill or down the drain.
"It's important for all of us to do our part; we no longer have 'rubbish' as everything is reused and made into something new," Leah said.
"It didn't take long to adjust to the different bin system; Sustainable Salons have made it super easy," she said. "The company is amazing," Leah said.
"They give back to families in need and give jobs to people with disabilities which is really important to me."
The Mr Fox owner said her clients have also "loved" the sustainable changes, with some finding her salon through the Sustainable Salon directory as they were looking for a consumer-conscious business.
Leah urged other salon owners to make the sustainable switch: "Do it, you won't regret it," she said.
It seems as though more and more of us needing a haircut are looking to be eco-friendly, as Sustainable Salons annual figures showed 54,132 customers visit their members' salons every week.
Customers wanting to find a Sustainable Salon in their area simply visit the website sustainablesalons.org and use the salon directory to search for their postcode or suburb.
For business owners and customers alike, there is one undeniable benefit of getting involved with Sustainable Salons and it's the organisation's mantra: 'Look good, feel good, do good!"