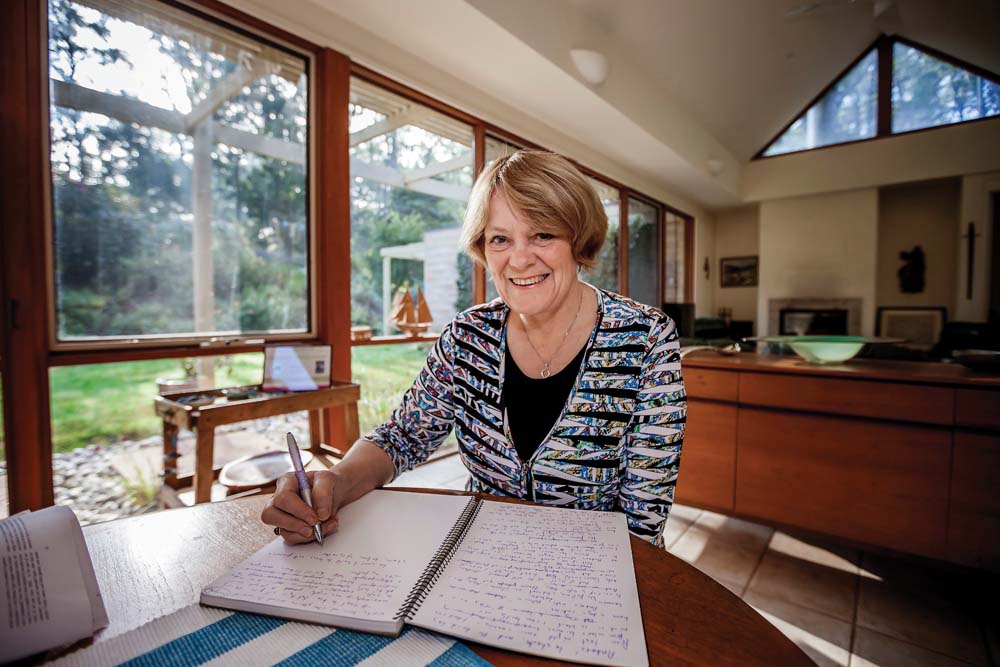 By Andrea Louise Thomas  Photos Yanni
Nestled among the gum trees on a bush block in Red Hill resides an award-winning writer of international repute. Wendy Orr is best known for her book Nim's Island, which was made into a film in 2008. It's sequel, Return to Nim's Island based on her book Nim at Sea was also made into a film (2013), but she has written more than fifty books for children and young adults since she began her writing career in 1986.
Writers tend to have common threads that weave through their work. Those threads often mirror the writer's own life. In Orr's work, bravery, resilience, determination and self-acceptance are recurring themes. Her novels feature strong female characters that overcome obstacles and persevere through often harrowing circumstances, not only to prevail, but also to thrive. Whilst now living a quiet existence as a full-time writer, life was not always quiet for Orr.
Her father was in the Canadian Air Force, which meant the family moved every few years. By the time she finished high school she had been to ten schools on two continents. She was born in Edmonton, Alberta, but between the ages of three and seven she was living in a small village in France learning to read and write in French though English was always spoken at home. It was not until she learned to read and write in English that she started writing stories. "It was the power of the language that we spoke at home," that inspired her she says.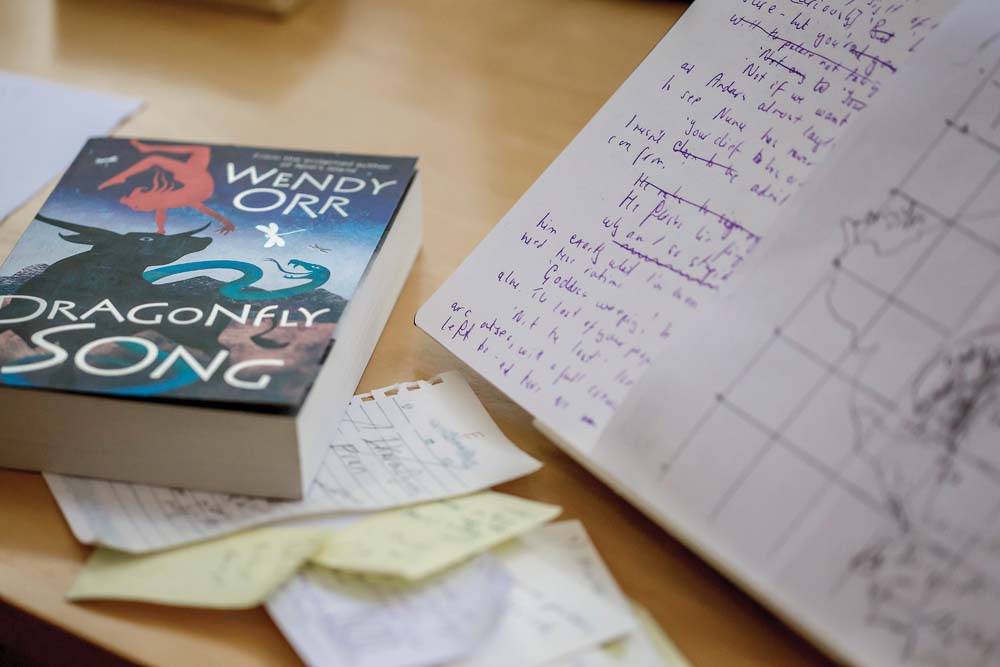 Books and stories were always present in her young life. Both parents were avid readers. Her mother read nightly bedtime stories and her father used to make up his own. Orr recalls being happy wherever they lived. She was a very independent child so it's not surprising that many of the characters in her own books are strong and independent.
Orr began writing professionally when her daughter started school and her son was in Year 2. She was working as a paediatric occupational therapist at the time. With only a day and a half each week to write given the demands of work and family life, she had to be very focused and organised. Orr did this for five years when something happened that would test her own strength, bravery, resilience and determination.
In 1991 she was in a serious car accident. Her car was hit by another car travelling at 140 km per hour. Orr suffered catastrophic injuries including a broken neck and two broken ankles. Her medical prognosis was grim, but over the next fifteen years she concentrated on fighting to regain control of her body while coping with the pain and aftermath of the accident. Orr spent the following five years walking with a cane, but now she walks the trails of the Mornington Peninsula with little more than the occasional ache and pain.
In her young adult novel, Peeling the Onion, Orr wrote about 17-year-old Anna whose whole life trajectory was changed by a car accident, yet she learned to live a new and different life. This parallels Orr's own personal story and proved to be a cathartic experience for her. This book is so important that it continues to be used as a teaching text in schools today.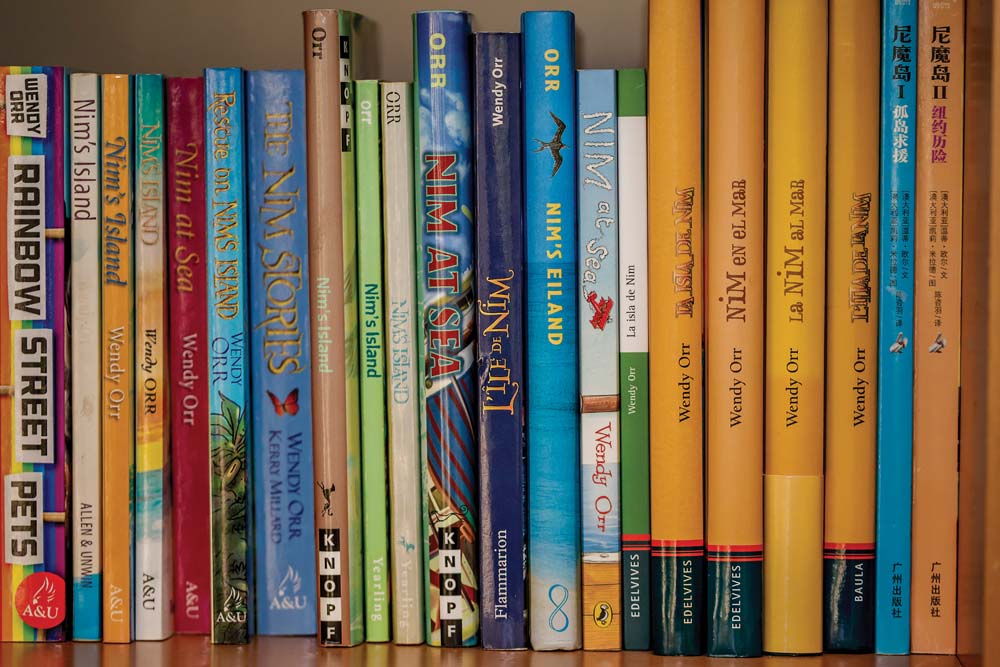 Though she has to get up and have a break from writing every half an hour to avoid getting stiff, the accident is now behind her. She is spurred on to keep writing because she says, "There is always another story. It's also about needing to make a living, but it's mostly about the story and curiosity. You never know where the research will take you." Her greatest fear she says is "not being able to write or that it's just no good." Even the best writers have self-doubt.
There have been many high points along her writing journey. Three in particular stand out. The first was getting a letter finding out that her first book, Amanda's Dinosaur, was being published. The second came when her novel, Leaving it to You, was shortlisted in the Children's Book Council Book of the Year Awards. "It was the shortlist that told me I was a real writer," she says. Finally she thought the whole movie experience with Nim's Island was amazing. She described walking the red carpet in Hollywood with Abigail Breslin, Jodie Foster and Gerard Butler as 'surreal'. Seeing the film for the first time was emotional and thrilling.
Orr's latest book, Dragonfly Song is a departure from her other writing in that it is written in free verse and prose. "I always heard the book in verse," she says. Set in the Bronze Age, Aissa is a young girl abandoned at birth by the priestess of her island, shunned and outcast until she is sent away to be an acrobatic bull dancer on a remote island and comes back as the heroine of the story. The combination of verse and prose sweeps the reader along effortlessly.
With most of her work, she writes by hand because she says, "Writing by hand comes out truer. It's about accessing the sub-conscious and that is where the story lies." In Dragonfly Song she wrote the verse by hand and the prose directly onto the computer. She is working in a similar process with her upcoming novel set after the eruption of Santorini in 1625 BC. It is due to be released in July next year.
Leaving a legacy is one of the benefits of being a writer. "I would like to think I have broadened children's lives in terms of curiosity and empathy. Kids' letters have told me that I have empowered them to be brave. Readers borrow courage and resilience from books," she says. Courage and resilience are qualities that Orr knows something about.