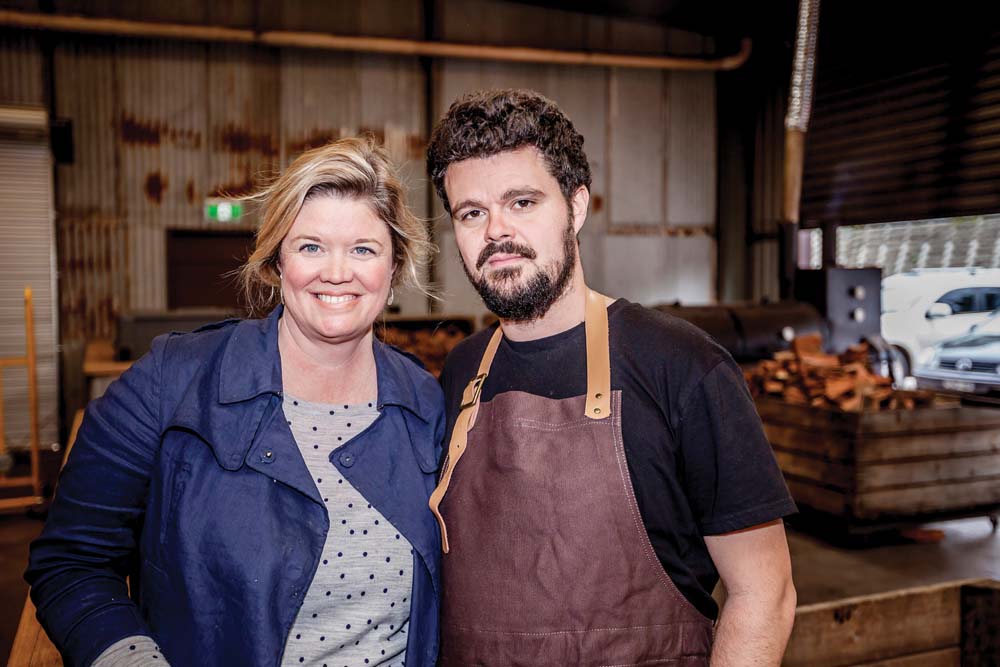 By Melissa Walsh   Photos Yanni
IT WAS A SIMPLE MEAL OF US SOUTHERN STYLE BBQ THAT WOULD CHANGE THE LIVES OF LOCAL COUPLE, MARTIN AND MELISSA GOFFIN. YEARS LATER THEY WOULD OPEN RED GUM BBQ, THE FIRST SOUTHERN BARBECUE ON THE PENINSULA.
When Martin Goffin first tasted US southern style barbecue with his wife Melissa, little did he know that meal would change his life. A far cry from hospitality, UK born Martin was making his living in local council and now ten years later he and Melissa own the first southern style barbecue restaurant on the peninsula, Red Gum BBQ.
"I became obsessed with it," said Martin, from their fabulous set up in Red Hill. "Melissa is originally from Florida and was used to eating this food but I couldn't believe how good the flavours were and came back to Australia to keep honing my barbecue skills. We would have people over for a barbecue and they were expecting snags and chops but fell in love with our version of barbecue – things like pulled pork, barbecued ribs and homemade sauces. As I didn't have a barbecue I would make do with the gas cooker and spend whole days cooking pulled pork and ribs in our tiny kitchen."
Martin says it wasn't just the flavours he fell in love with but the history behind it.
"I love that the southern style barbecue has such a rich history in all different areas. It is all about family sharing food together and spending time with one another over a meal," he said. "I remember one time in Tennessee when visiting Melissa's grandfather we went to a local barbecue place which was incredible. It was all about the flavours of the food and the celebration of families spending time together."
The largest barbecue venue in Australia, Red Gum BBQ is set up in a huge space which was formerly a garage.
"After getting such great feedback from friends and family, we decided to start a pop-up barbecue at markets," said Melissa. "We officially launched Red Gum BBQ in October 2013 and things just went crazy from there. With a 3×3 marquee and a trailer, winch and Texas offset smoker, Red Gum BBQ set out on the road and quickly became a regular at markets and events across the Mornington Peninsula. Over the summer of 2014, we teamed up with local cafe, Commonfolk Coffee and began Saturday Smoke; a night of Meat, Music and Merriment.
"That was where we finally got to see our future in action. We loved seeing the food; the space and experience bring people together and create that sense of connection and celebration. Getting the food perfect was critical; we knew that, but it was always about more than just amazing food," they said.
It took another two years for the couple to finally find a home for their Red Gum BBQ but eventually they came across the 900 square metre building at the top of Red Hill.
"After months of negotiations and many hours of painting and digging trenches, we finally had our perfect space and officially opened our doors in late January this year," said the couple.
Red Gum BBQ is set up for families and socialising with craft beers on tap, an open pit room, indoor and outdoor dining, and an aroma that is mouth-watering the moment you walk through the door.
Everything in the joint is handmade or locally sourced and it is like stepping into an authentic southern family barbecue joint with the same style wooden tables and benches that Melissa remembers eating at when she was a child growing up in the US.
"We have intentionally worked to create a warm and welcoming place where people can get the full southern style experience but with a local peninsula edge," said Melissa, who with some help from a local designer, has personally designed and sourced the space. "Everything here is made from recycled material so all the tables have been built with wood from Chadwick Demolitions in Rosebud. The wood on the bar is from old bridges in country Victoria and the ones in the function room are from an old jail in the same region. We picked out all these pieces from the Vintage Shed, and collected the driftwood for our light installations from a friend's property in Blairgowrie. Even the stumps we use for some of the chairs and bar tables are from a tree lopper we met in the area."
Red Gum BBQ is all about traditional American style food but with an Australian connection, hence the name.
"The southern style barbecue is based on regional American food but Australia is our home so we felt it was important to maintain the connection to both. Red gum is a wood that is native to our state so we use red gum in our pits and we get all our wood from a local supplier at Red Hill Gardening Centre just a couple of doors down," said Melissa, who says that Red Gum BBQ is all about local.
"We have always understood ourselves to be inextricably and proudly linked to the Mornington Peninsula. At every opportunity we connected to local suppliers and to our local community to sustain and promote the values of our beautiful area. We do this for many reasons – we believe in ethical sourcing and ensuring that our business footprint is minimised, we acknowledge the rare and wonderful talents of people in our local communities and want to employ, sustain and promote their work and we just happen to think that we have the best of everything at our doorstep."
As for the food, the flavours from dishes at Red Hill BBQ are out of this world.
The meat is cooked on a four metre long trailer pit, imported from the US, and the main fare is served with typical southern sides including "mac 'n cheese", potato salad and coleslaw. There's 6-10 hour slow cooked free range Aussie-smoked, American-style BBQ meats, sides and veggies, slow cooked pulled pork, beef brisket, and chicken, and Mary Lou's spinach salad straight from Melissa's own family recipe. They've recently added a new lunch menu with things like fried buffalo chicken sandwich with blue cheese dressing or a brisket chili cheese steak that's bringing in locals eager to get a southern style lunch to eat in or take away. All of their menus and information about how they source and cook their food is on the website.
There's even a little kids play area, colouring sheets, high chairs and plenty of space for every member of the family.