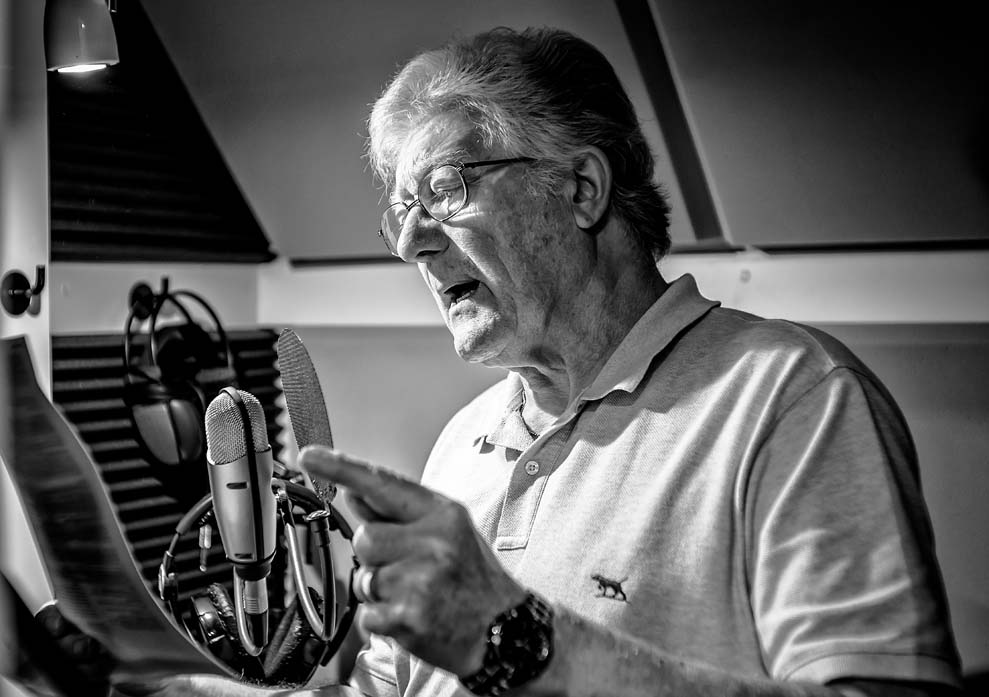 He's been the highest rated radio announcer in Australia and a member of 3AK's Good Guys, rubbed shoulders with the Bee Gees, Barry Humphries, Wilbur Wilde, Derryn Hinch and a plethora of stars over the years. He began his own radio school which continues to operate till this day. This year the legend Gary Mac moved to the Mornington Peninsula with his beloved wife Joanie and talks to Peninsula Essence about the golden days of radio.
"Of course radio announcers in those days were known as music jocks or dj's," Mac explains as we sit surrounded by his well set up studio where photos frame the walls showing the memories of the wild times he has shared over his past forty years in the business.
With a radio career that began in Newcastle, it was a natural progression for the well-articulated Mac to go on to bigger things very quickly, with a stint at radio stations in New Zealand and Australia in the early years.
"I'd always had the desire to work in radio and I didn't know anything about it except my parents had a large console radio which stood a couple of feet high and had all the dials at the top and big speaker down the bottom," said Mac, who was born in New Zealand, and spent the first 18 years of his life there. "I used to lie on the floor as a kid and listen to the serials or news broadcasts and I was so curious about where this all came from and how radio worked.  I knew there was a transmitter for the radio station which was out of town but always wanted to know where the radio announcers worked from."
The Kiwi, who has no noticeable accent, says that not all New Zealanders say fush and chups.
"Mum and dad never had an accent either," says Mac, who got his first job out of school at a menswear store.  "Funnily enough that was the catalyst for me coming to Australia and beginning my radio career. I had a friend at work who suggested we go over to Australia for six weeks in 1964 and I am still here to this day."
Mac and his friend jumped on a boat which was the start of their adventure, with the old Southern Cross nearly sinking several times on the journey from the North Island.
"We had about four life boat drills on the way so that was a lot of fun, "said Mac who had wanted to experience sea travel.  "The boat brought a lot of migrant people to Australia. When we arrived in Sydney, I had left a small town called Hastings on the east coast off the North Island, near Napier. I went from a city of about 20,000 to a city of millions and took to it like a duck to water. I loved the people and the hustle and bustle. There was a couple of people I met in radio in New Zealand and they pointed me in the right direction here, I did a short radio course and then got a job as a biscuit sorter on a conveyor belt, sitting there with a white hat and white coat with gloves, my job was to pick out all the broken biscuits. In the meantime, my radio course teacher said he would call me if I got a gig. I will never forget the phone call to the biscuit factory when he said something to me that I have had the pleasure in saying to many others through my own radio school : 'We've found a radio job for you and I think it's got your name on it'," said Mac, and the rest is history.
After working in Bathurst for three years at 2BS, Mac established the largest 'breakfast' radio audience in mid-western NSW. By 1971 he was officially the highest rated announcer in Australia, a day-part ratings figure that has never been matched.
"I went on to do voice overs for television with my freelance career in full swing and presented a variety of radio programs during that era."
Four years later in 1975, he returned to full time metro radio as a programmer and announcer, while continuing his freelance program promotion voice-overs for TV.
"Our radio school, Gary Mac Productions was formed in August 1979 and continues to produce quality audio and video for a variety of applications which we are now operating from the peninsula," said Mac, who has built an industry recognised reputation as a voice coach and freelance voice-over for radio and TV commercials, product launch videos, narrator of documentaries and corporate productions screened in Australia and around the world. He remains closely involved with the ever-changing facets of radio, general voice presentation, public address announcements, and continues to provide his proven voice coaching and training methods.
Living on the peninsula these days, life is quieter than the heady days of city radio, yet Mac still has the fire to teach from his home studio of Gary Mac Productions.
"We teach audio, video, voice over and voice coaching, and are basically a 'one-stop' shop for most things audio and video. Be it high-end audio production for radio and TV commercials, corporate video and YouTube video production and narration, one-on-one voice over training and corporate voice coaching, we have been creating sound ideas for a long time," said Mac with his wealth of experience in radio, voice-over, audio and video production and media training. "We provide the perfect recording environment for the voice over and audio production for on-line training programs, product launches, motivational and relaxation programs. We can also accommodate remote producer and client talent direction via hybrid telephone connection."