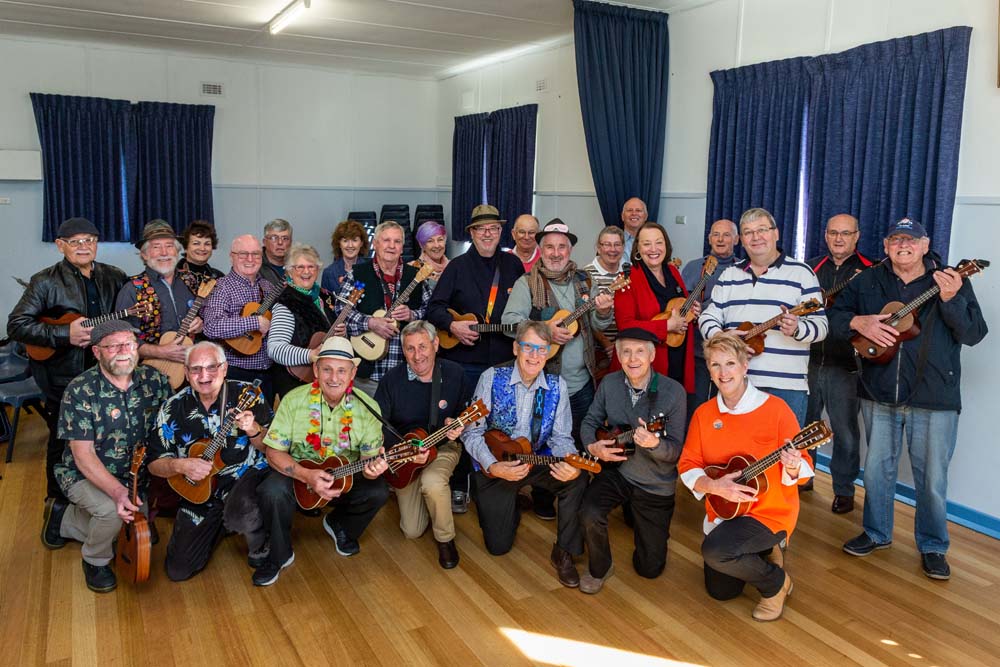 By Melissa Walsh Photos Gary Sissons
They might have a strange name but the Spukes pack a hell of a lot of fun into their days with the ukulele group bringing people of all ages together to enjoy a few hours of ukulele strumming, singing and friendship. The community group located in Rosebud has people from all over Victoria meeting on the second and fourth Saturday of the month and alternate Mondays.
"We have people from Shepparton, Vermont South and Blackburn, as well as peninsula locals," said Alan and Karen Blythe, the two passionate musicians who began the Southern Peninsula Ukulele Group. "We started the group five years ago down at Dromana at the old shire offices. There wasn't a ukulele group here and the first session we had 10 people. Now we have over 100 on our books."
The happy sound of the ukulele has become a therapeutic haven for the members of Spukes, who burst with excitement and enthusiasm at each of their practice gigs.
"Our songs are very easy to play, and you only need four strings. You can walk in and forget what's going on in the outside world, and just be in a joyful environment with like-minded people," said Alan and Karen, who like to encourage singing and the harmonies as well. "The interaction is hilarious and one person even said this place is like medicine; you can walk in and feel happy straight away as soon as you start playing."
Saturdays are the busiest days for Spukes with over 80 people filling the hall with ukulele strumming, and a colourful vibe with lay wearing, extravagant vests and bright clothing reflecting the mood of the ukulele players.
"When we perform at places like the Village Green, there are even people who get up and dance with their Zimmer frames," they said with a laugh. "Throughout the year we play at various events such as the Rosebud Kite Festival, Buskfest, Christmas Parade and other community based fundraising events."
They even have their own ukulele luthier with Chris Dovey utilising his fine woodworking skills.
It was Chris's brother that encouraged him towards the ukulele and for this tradesman it was not long before he was trying to make them himself.
"After I had made a few, I decided to learn to play the instrument and now I am a regular at Spukes with a few of the musicians there actually using my own handcrafted ukulele," said Chris.