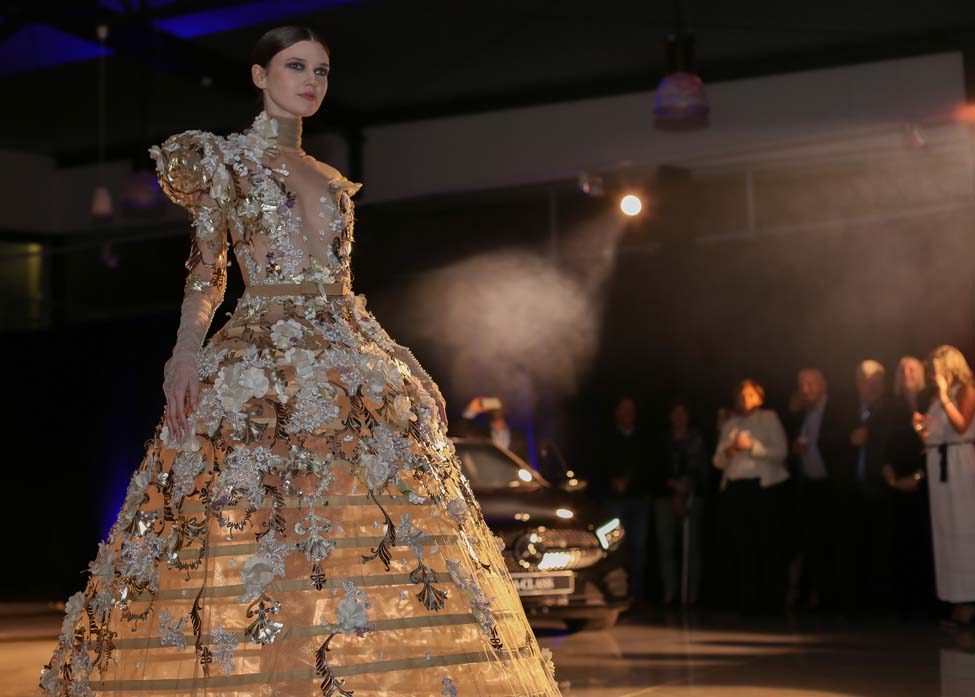 By Cameron McCullough Photos Shani Hodson – zoso.com.au
Their dresses are synonymous with luxury and exclusivity; and with a global following and clients like Beyonce, Jennifer Lopez, Madonna and Kim Kardashian, J'Aton Couture are one of the world's most desired brands.
Mercedes-Benz Mornington recently played host to J'Aton Couture when they teamed up to launch the all new A-Class vehicle.
"We were excited to be teaming up with such a great brand," said Mercedes-Benz Mornington Dealer Principal Chris Thoday. "J'Aton represent only the best, and we believe that reflects our brand well".
Lush velvet draped the showroom walls, with colourful lighting and special effects setting the mood. Veiled vehicles sat waiting beneath the spotlights while invited guests sampled fine wines from Pt. Leo Estate.
The catwalk models showcased their French lace sheer gowns, Italian tulles and corsetry from J'Aton's new exclusive collection.
But nothing outshone the revealing of the all new A-Class vehicle, by Mercedes-Benz Mornington Ambassador Brodie Harper. All present were visibly impressed with the all new A-Class for good reason.
"The latest generation of the Mercedes-Benz A-Class is sportier than ever before on the outside, and smarter and safer from the inside, with new advanced technology", said Mr Thoday.
"From the futuristic touchscreen driver display, voice recognition and smartphone wireless charging raise the bar on every level".
"The new A-Class obeys you like never before. But it goes much further than that: It understands you and talks to you. Two words are all it takes: 'Hey Mercedes'. And right away the new A-Class is all ears".
The all new A-Class Mercedes-Benz has been recognised for a design philosophy of sensual purity. Surfaces are even more puristic, details even more striking. The interior of the new A-Class looks completely different and you will see things in a new light as a result".
"The interior literally embraces the occupants. Smooth transitions between instrument panel, centre console and door trims create a pleasant wrap-around effect," said Mr Thoday.
"This is just as unique as the selection of trim elements and indirect lighting to show everything in the best light".
The new A-Class caters to you more than you could have ever imagined. Protective instinct, cutting edge. You can trust its senses like no one else's.
With the new A-Class, a little bit more is always possible – you can not only adapt the ambient lighting to your mood, but the display styles in the instrument cluster and the central monitor as well.
At the touch of a button, Dynamic Select offers different drive modes, which predetermine the settings for engine, transmission, suspension, and steering, for instance.
With the Individual Mode, you choose all the respective parameters yourself. This means that you can select a sporty setting for the powertrain and at the same time set the suspension to comfortable. Simply drive as you prefer.
"We're really proud of the all new A-Class, and know our customers will love it. Judging from the launch night with J'Aton, it is going to be extremely popular," said Mr Thoday.
To find out more or to test drive the all new A-Class visit Mercedes-Benz Mornington today or go to www.mbmornington.com.au
---
Win a custom-made gown by J'Aton Couture, valued at $15,000* For your chance to win a custom made gown by award-winning J'Aton Couture, valued at $15,000 test drive a new Mercedes-Benz at Mercedes-Benz Mornington before 29 September 2018.
Exclusive to Mercedes-Benz Mornington.
*Terms and conditions apply, visit showroom for details.