Photo: YANNI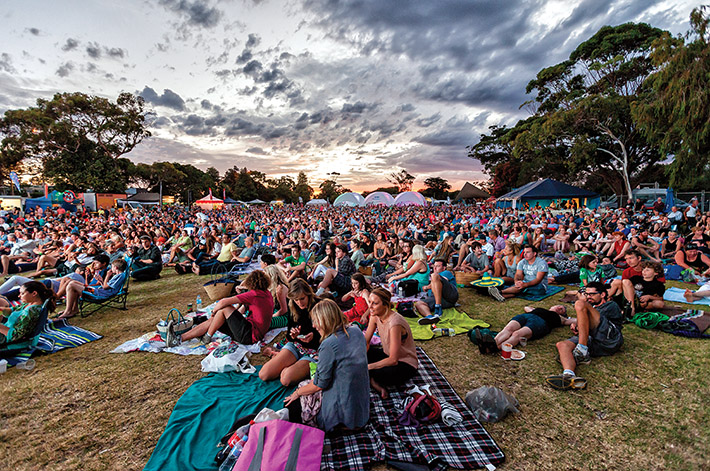 The Peninsula Short Film Fest (PSFF) is an annual event held in Rosebud with the aim of fostering the Australian film industry through hosting an annual short film festival where filmmakers of any level are encouraged to submit a film of up to eight minutes in length. These films are then shortlisted to 12 which are screened on the night and judged live by a panel of celebrities and industry professionals – all competing for prizemoney.
The Festival, now in its fifth year, is held on the first Saturday in February and this year (2015) attracted a crowd of more than 3,500 people to the Village Green in Rosebud.
The Festival is supported by the cream of Australian talent – Russell Crowe, Sam Worthington and Nash Edgerton to name a few.
Everybody has heard of "That Sugar Film"; it is the highest- grossing Australian documentary of all time and has played in cinemas all over the world. Well this year, as a special guest of PSFF, Damon Gameau, the film`s writer, director and star will be on the judging panel. Damon has also appeared in Underbelly, Balibo, Charlies Country and Love my way.
Festival director Steve Bastoni said 2016 is going to be a bumper year. "We have an awesome judging panel lined up. We're thrilled to have Damon Gameau join us. He's an accomplished actor and director– he won the Tropfest final in 2011. Joining Damon on the judging panel will be the usual cream of Australian talent, including resident PSFF judge and award winning Actor Lachy Hulme."
"We've secured the biggest and best screen in Australia for the event, its 80 square metres and has a 6mml pixel pitch plus Postall Studios will deliver Cinema quality sound" said Steve.
The Woodleigh Emerging Filmmaker Prize ($500) is gaining strong interest this year with entries already flowing in.
2015 has seen massive growth for PSFF with year–round workshops taking place around Victoria. PSFF have workshops running this November and December at Frankston Arts Centre – Animation and Short Film for Everyone.
Get filming and enter now. The plan is the same – 12 short-listed films judged live on the night by a panel of celebrities with the winner taking out $5,000 in cash, second place $2,500 cash and the National Australia Bank third place winning $1,250 cash. There are plenty more prizes with awards for Best Screenplay, Best Director, Best Actor and Best Cinematography. Entries are open until Friday December 18, 2015. Films must not be more than 8 minutes. The entry fee is $33, and entries are accepted from both Australia and overseas.
Save the date – Peninsula Short Film Fest: Saturday February 6, 2016
Village Green, Rosebud

FREE ENTRY
For entry details, to book a workshop or for more information, visit
www.peninsulashortfilmfest.com.au
First published in Peninsula Essence – Summer 2015/16