By DEBRA MAR  Photos: YANNI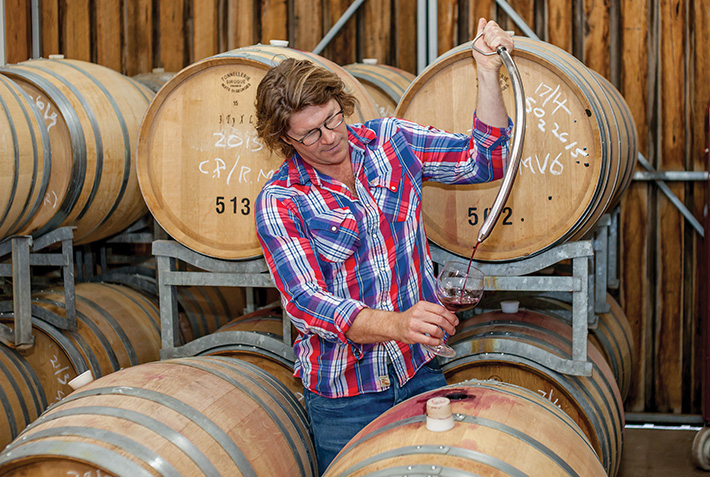 He has mixed with international winemakers, mingled with Masters of Wine and has an incredible passion for life and travel. Debra Mar pursues the winemaker who produces premium vintages at the unique terroir vineyard on the peninsula.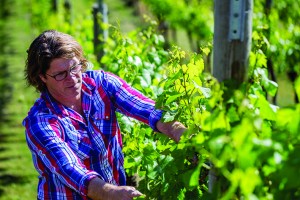 You could be situated anywhere in the world – under a Tuscan sun, meandering along a country road in Burgundy or sitting among vines in Bordeaux. But the sound of the odd blowfly and twill of a magpie's morning song transports you to Australia; an estate in Portsea to be exact.
Portsea Estate is one of the newest boutique vineyards to establish itself on the Mornington Peninsula. It is camouflaged by surrounding homes and holiday houses built on gentle undulating terrain. The vineyard is owned by Australian film producer, writer and vigneron Warwick Ross and is worked by principal winemaker and viticulturist Tim Elphick.
Tim courteously leads us to aged 'paint-splinted' wooden benches under a Moonah tree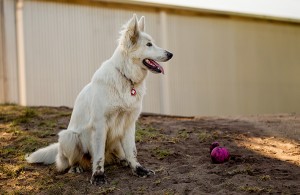 with the morning sun dabbled on our faces. We have a clear vista of vine plantings and sheds that house machinery and wine barrels. A solid pile of seasalted grey wood from the old Sorrento Pier lies in the background and Willow, an 18 month white Swisse Shepherd entertains us with her pink squeaky ball and lively antics.
Tim comfortably uses winemaker's terms such as best crush, benchmark varietals, calcareous sandy soils, full structured red, natural acidity and big tannins. He has a welcoming and engaging manner complemented by a placid laid-back nature. In his early 40's, Tim has the best of both worlds. He works full time, spending two nights in Sorrento and the remaining time  commuting back and forth from Richmond where he lives with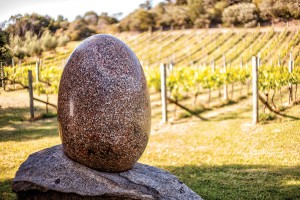 his Greek-Australian wife Jeri and their young daughter Kalypso. Tim and Jeri married in a Greek Orthodox Church on a Greek Island.
Growing up in the small community of Gooseberry Hill, just out of Perth, Tim studied horticulture and worked as a landscape gardener. He wanted to escape the isolation of Perth and thus travelled for two years as a free-spirited young man in his early 20's.
He returned to Perth and shortly afterwards moved to Melbourne in 2000. To further his knowledge and technique he studied 'Winegrowing' at Charles Sturt University in Wagga Wagga.
Asked what age his taste for wine started, he said, "I enjoyed wine in my early twenties but not in a sophisticated way. I had no ambition at that point to be a winemaker; I sort of fell in to it."
The entry point of Tim's winemaking journey began at TarraWarra Estate in the Yarra Valley, then moved to Yarra Ridge and Domaine Chandon. His initial exposure to the Mornington Peninsula wine region was through Paringa Estate in Red Hill working alongside a master of winemakers, Lindsay McCall, for five years. "It was phenomenal working along Lindsay, a meticulous operator who consistently produces good wines."
All fruit from Portsea Estate was taken to Paringa for bottling back then. That's when Tim met Warwick who asked him to come across to Portsea Estate and build a boutique winery. "I jumped at the opportunity to take on principal winemaker," he said barely containing his enthusiasm. 
The Ross family acquired the Portsea Estate property in the early 1960s. Some of the land was purchased from the Baillieu family. It's hard to believe the area was used for cattle grazing then as it now shares its boundaries with residential blocks and holiday makers. Warwick loves his wines, especially Bordeaux and Burgundian varietals, so decided to plant vines in the late 1990s.
Portsea Estate covers eight acres of neatly-rowed Chardonnay and Pinot wines which are benchmark varietals on the Peninsula. "The soil and site of Portsea Estate (described as "terroir") is unique to the peninsula, being free draining calcareous sand with a bedrock of extensive limestone ridges. This makes it the perfect site for Chardonnay and Pinot Noir – a great choice by Warwick in deciding to plant a vineyard," says Tim.
In addition, olive trees are grown and harvested on the property for Portsea Estate Olive Oil and a new vineyard will be planted this summer.
The history of the land on which Portsea Estate stretches dates back to the 1800's when the first settlers arrived. The plot where Chardonnay grapes now grow and flourish was an old limestone quarry.  Limestone taken from the quarry helped build the Continental Hotel, Sorrento Hotel & Whitehall Guest House.
Tim believes he is blessed, mixing with 'wine royalty' and international Masters of Wine (sharing anything from a Rothschild to Chateau Margaux), and Chinese businessmen in Beijing & Shanghai who have a desire for the best wines in the world.  "Being invited by Warwick and his wife Margot to the premiere screening of the movie 'Red Obsession' in Bordeaux was incredible," says Tim. "The other highlight of the trip was visits and tastings, wonderfully organized by Master of Wine Andrew Caillard. This included an incredible tasting at Chateau Margaux with winemaker Paul Pontallier," he concluded.
Tim's extensive CV extends to Northern Italy's Barolo region, describing it as "Probably one of the most important vintage experience that really drew me into the industry." He also has had a hand in making vintages in Languedoc-Roussillon, France.
With a concern for the environment, Tim runs Portsea Estate organically, using no synthetic fungicides or pesticides. He is very 'hands on' with a passion for boutique style wines. "It's rewarding to do everything from start to finish."
He doesn't measure his time at Portsea Estate in years, rather in the number of vintages he produces. Starting in 2010 he is now into his 5th vintage. He is proud of the many awards he has won for his 'Stonecutters Block' Chardonnay, Pinot Noir and Pinot Gris.
A newcomer to the range is Portsea Estate Rosé which will hit the market this summer. "It has a light Billecarte-Salmon blush with a province style to it. It's quite savoury, some delicate fruit but not real fruit driven and has interesting earthly characteristics –  great summer drinking," claims Tim.
In Tim's mind, a great winemaker has to bring passion. He explained, "I think the attribute of being a respected winemaker is producing consistent vintage after vintage, no matter what mother nature dishes up, maintaining a creative edge and a deep inner belief. At the boutique end of the scale you have to enjoy getting your hands dirty! I feel blessed to be working for such a supportive family who love getting involved in every step of the process."
Tim loves spending time with his family including Willow, swimming and paddle boarding on the bay to chill out. And you can't go past asking a winemaker what the best hangover cure is? Tim rattled off in one breath, "The usual, drink plenty of water before bed and in the morning. If I'm near the sea, definitely a good swim and body surf works for me followed by a bacon, eggs and tomato breakfast."
Visit Tim and Willow by appointment at 185 Hotham Road (entrance via 7 Pembroke Place), Portsea.
Ph: 5984 3774