Nissarana Galleries at 211 Main Street Mornington is presenting its inaugural solo artist exhibition celebrating the fabulous and inspiring work of ethereal local artist Kerrie Warren. Kerrie has a long history as an exhibiting artist and has numerous qualifications in her field. Born in Melbourne in 1968 she has completed a Diploma of Transpersonal Arts Therapy, a Diploma of Arts in Ceramics, and in 2016 was awarded the degree of Masters in Contemporary Art at the Victorian College of the Arts, University of Melbourne. In this outstanding exhibition Kerrie will present both her spellbinding landscapes, full of movement and earthly grace and her elegant ceramics of majestic expression.
The exhibition has taken its naming from the principal work 'A Journey in Flow'. This work of imaginable magnanimity traverses the dominant wall in the main chamber of the gallery and expresses Kerrie's intrinsic emotional connection to the environment as it takes us through clouds of intricate hue and non-repeated pattern that is one of the hallmark characteristics of these remarkable creations. Pondering for some time it is easy for the viewer to see the myriad of opportunity that lies in each work.
"Like Ian Fairweather and Jackson Pollock, Warren paints standing up and looking down upon the artwork from above unencumbered by specifics of location, time and dimension, evocative combinations and distillations of impression, sensation, memory and reflection are synthesized in a process within which spontaneity, intuition, power, balance, extravagance and restraint all play a part.
While working within the abstract expressionist tradition, whimsical figurative interventions lap playfully at the edges of several works, providing a sense of fleeting solidity. Rhythmic and undulating, these artistically charged works evoke a state of lively flux, somehow reassuring in their inconstancy, and at one dynamic and at rest." Dr Ewen Jarvis -Curator Yering Station Gallery
Nissarana Galleries Curators and Directors Valerie Pasquale and Philip Ayres are honored to invite you to this wonderful uplifting exhibition. They feel it is rare for an artist of such dynamic quality and calibre to prepare an exhibition incorporating the disciplines of both painting, large and small and ceramics. The exhibition will have its opening celebration on Saturday 15 June at 2pm with a preview for collectors the day before on Friday 14 June.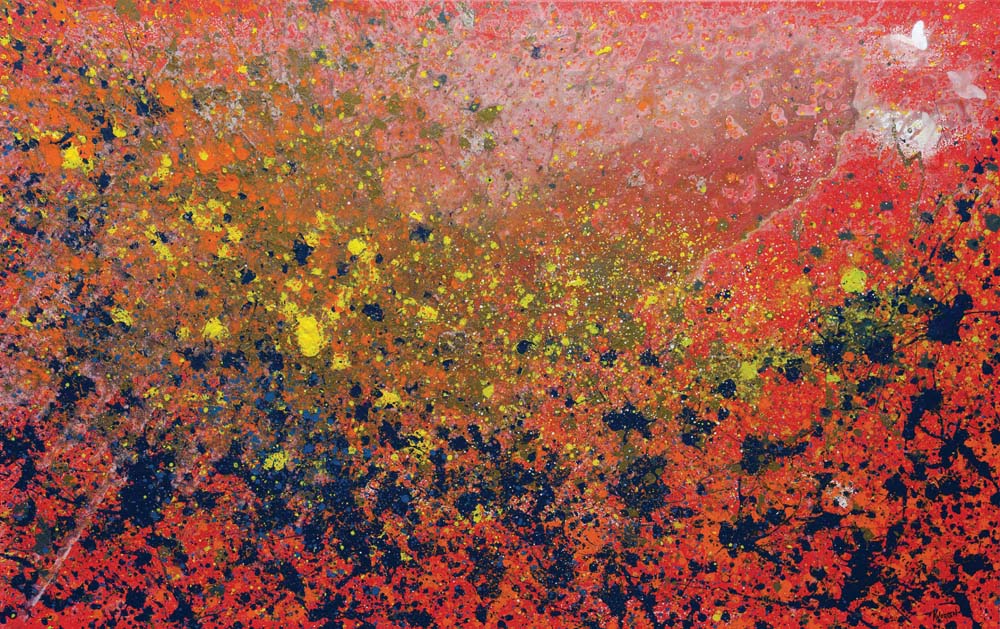 ---
'A Journey in Flow' Kerrie Warren Solo Exhibition at Nissarana Galleries Mornington 14 June – 7 July 2019

Preview: Friday 14 June 10am – 4pm
Opening Celebration: Saturday 15 June 2pm – 4pm
NISSARANA GALLERIES
Open 7 days, 10am-5pm, or after hours by appointment
A: Ground Floor, 211 Main St, Mornington
T: 5976 8877  
E: info@ngmornington.com.au