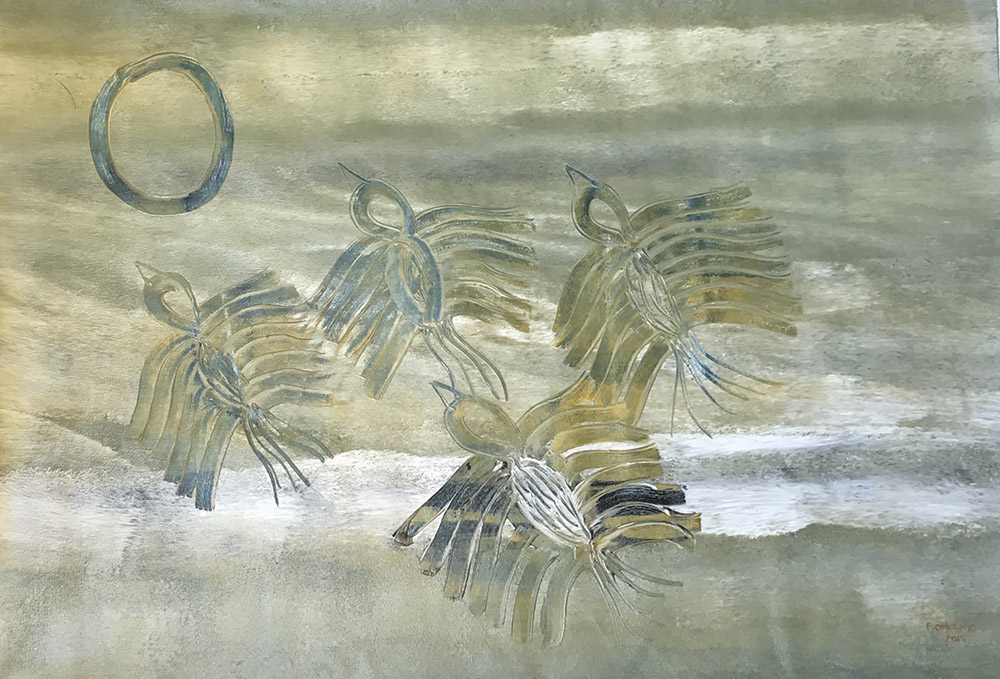 Australia's birds, animals, aquatic life and the Indigenous stories of their creation feature in Everywhen's Christmas exhibition.
"Aboriginal artists celebrate and document the wildlife of their regions in a great diversity of ways," says co-curator Susan McCulloch.
"Some, such as the artists of Yuendumu in the Western Desert, have  dedicated community programs in which they often paint the birds of the region in quirky and humorous ways; others such as the Kimberley's Madelene Purdie document creation stories, such as that of the great barramundi whose scales became embedded in rock and formed what we know as Argyle diamonds; Central Arnhem Land artists paint delicately cross-hatched fish and other wildlife in works on paper. "
Far North Queensland's Fiona Omeenyo paints her ancestral story of the Parrot Sisters who were taken by the black python before escaping to form the lands to which she belongs.
In the Western Desert the story of creation ancestors such as that of brush tail possums and the large creation Tingari myth includes representation of dingo, emu, kingfisher and the western quoll.
Kaye Baker, Kalaya (Emu) Dreaming, acrylic on linen, 200 x 200cm (left) & Madelene Purdie, Kilkayi, Argyle Diamond Dreaming, ochres on canvas, 45 x 45cm (right)
Although the designs on bark paintings and ceremonial poles of North East Arnhem Land may appear abstract, they are backgrounded by stories of epic journeys in which sea eagles, crocodiles, sharks, stingrays and dugongs interacted with creation ancestor figures to form the land itself and establish the laws under which people live.
The show, says Susan, includes joyous small works in which artists celebrate the wildlife they observe on a daily basis, as well as major works that carry deeper resonance and significance.
Throughout, she says, the strong inter-relatedness is evident of Aboriginal people and their lands which many actively care for as rangers.
The exhibition runs from 6-22 December.
---
Everywhen Artspace
Open: Friday-Tuesday | 11-4 | Wed & Thurs by appt
39 Cook Street, Flinders 3929
T:  5989 0496 | E: info@mccullochandmcculloch.com.au
W: mccullochandmcculloch.com.au