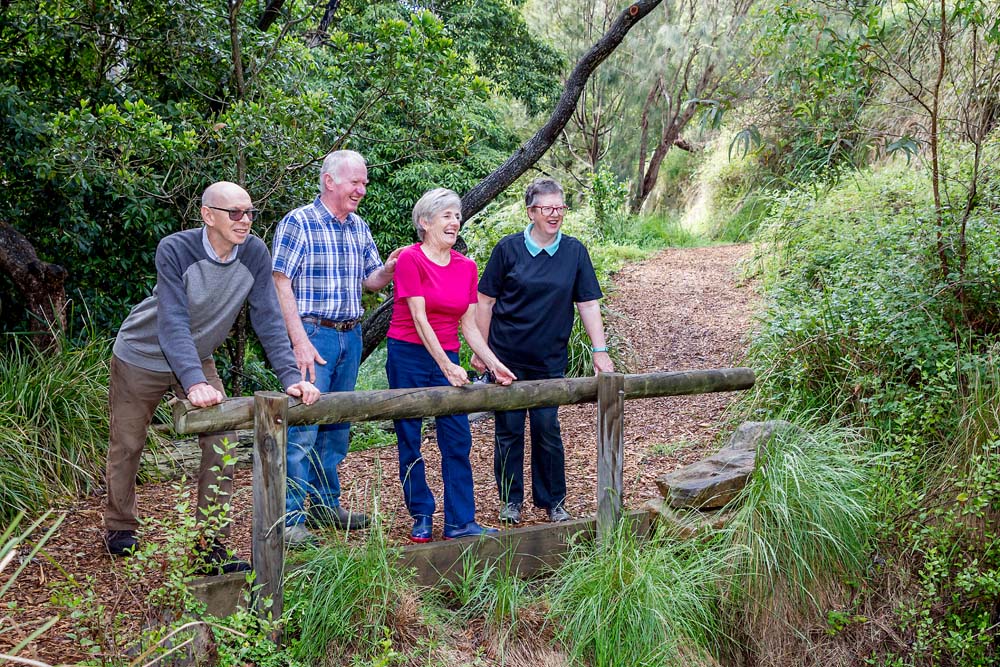 By Andrea Louise Thomas
Mount Eliza couple Barbara and Wayne Macpherson spearheaded a volunteer movement to transform an overgrown, wild blackberry-riddled, former firebreak into a lush, kilometre-long walking track celebrating the Australian flora and fauna of the Millbank Creek Reserve located in the Mount Eliza Woodland. A core team of six volunteers has dedicated ten years to effecting this incredible metamorphosis. It has been a monumental effort and a testament to the change a small group of people can make when they set their minds and hands to it.
Mount Eliza Woodland is a unique neighbourhood bounded by Nepean Highway, Humphries Road, Moorooduc Highway and Canadian Bay Road. It makes up about a third of Mount Eliza which was envisioned from the outset in the early 1970s as a suburb where the trees were the most valuable asset, and it remains so today. Within its boundaries are a regional park, quarry and the Millbank Creek Reserve. While these areas are predominantly utilised by locals, anyone is welcome to enjoy them and volunteer to keep them healthy and viable for all.
The Macpherson's have lived in the Woodland for three decades. Their property backs on to the Millbank Creek Reserve. Original impetus to revive the creek trail came from their youngest daughter who regularly returned from walks with the family dog dragging home interesting debris from the overgrown track for inspection. Subsequently family walks included a pair of secateurs and a mission to see what else was to be discovered in there. When they found the waterfall, they thought it was a good place to start working.
Bellbird Millbank Friends Group started out as a fireguard because the overgrowth not only obscured the path, but it presented a significant fire hazard. A small group of local volunteers started to cut, slash, burn and pull out the overgrowth. The Mornington Peninsula Shire's Natural Systems Manager was instrumental in getting the ball rolling. He explained that as a 'friends group' as well as a fireguard, they would have more clout. Today that same core group of friends still do the majority of the maintenance work.
Once the destructive plants and debris had been removed, both the Mornington Peninsula Shire and Melbourne Water pitched in to keep the good works going. For each of the past ten years, Melbourne Water has approved grants for new plants and other significant practical support. "The Mornington Peninsula Shire has been incredibly supportive. The Shire has provided new native species to plant. They also provide mulch and bags for green waste then collect what volunteers weed out. They also send a supervisor to work with us on working bee days and whatever Melbourne Water gives, the Shire gives in kind," Barbara Macpherson says.
That said, without the volunteer core leading the way, working tirelessly, organising working bees and applying for the grants that provide what is needed for this environmental work, nothing would have been done. Since they began, the volunteers have donated 120 hours of labour per month and planted over 30,000 plants! It's a clear example of how many hands make light work. Ongoing maintenance is critical, but the majority of the hard work has been done.
Millbank Creek Reserve is a serene forest walk along a meandering creek. It features hundreds of native trees, plants and some very rare flowers such as the Green Hooded Orchid and Sundew, a native carnivorous plant which means walkers are never plagued by flies! Many of the trees and plants are identified with species plaques. There are trickling waterfalls and timber bridges and the mulch is so high that traipsing over it is like walking on eucalyptus-scented pillows.
The reserve is home to some very special fauna too. Early mornings start with the laughing of the kookaburras, the chattering of the rainbow lorikeets and the lowing of morning doves. Warbling magpies get into the mix as well. If walking just after sunset a keen observer may see tiny sugar gliders, microbats, Tawny Frogmouths or the occasional Powerful Owl. It is a truly tranquil place worthy of preservation. Working bees are held on the second Wednesday and fourth Sunday per month. The camaraderie of the group is evident.
---
The reserve is located between Bellbird Avenue and Millbank Drive crossing over Mather Road. Signs are posted at each entrance announcing the upcoming working bees. Dogs on leads are welcome and there are lots of things for children to explore.