By Erica Louise  Photos Yanni & Supplied
For the past four years, Helen Powell, together with her team of Wonder Women, has powered along the coast of the Mornington Peninsula to fight against ovarian cancer. Despite being diagnosed with the disease six years prior, Helen remarkably summoned the inner strength to start and grow the Wonder Woman Walkers movement.
The Wonder Woman Walkers, now in its fourth consecutive year, is an annual coastal event raising funds and awareness for the Ovarian Cancer Research Foundation (OCRF). It begins at the Safety Beach Sailing Club and finishes at Hotel Sorrento. In October 2019, the Wonder Woman Walkers raised $32,000 for the cause.
Ovarian cancer is a disease that often goes undetected until it has spread. This is because the illness presents no symptoms in the early stages. The symptoms that do present themselves are indifferent, and can often be associated with other, less severe, medical conditions such as mild abdominal discomfort.
In 2013, Helen sought medical help after experiencing two weeks of bloating.
"The prolonged bloating was very unusual for me, so I went to my GP and said 'something doesn't feel right'. I was very lucky that my GP took notice and sent me for a full scan, which identified advanced stage cancer," says Helen.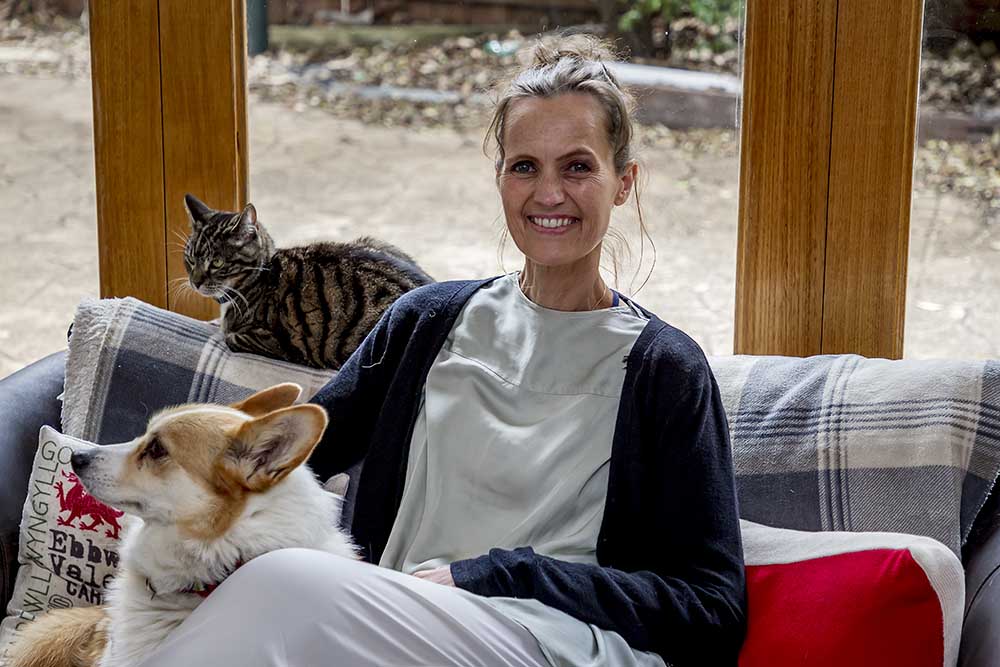 Helen is a mother of four boys ranging from 12 to 23 years. Her family had moved to the Mornington Peninsula from Wales in the UK ten years prior. She describes her family as a "good bunch" who are a terrific support for her and her many endeavours.
"As I was recovering from my treatments for ovarian cancer, I couldn't help but think about those women who are diagnosed with the disease when they are much younger. I had finished having my family, but for those who are younger, this is devastating news."
Despite being a nurse, Helen didn't know much about ovarian cancer and hadn't realised there was no early detection for the disease.
"To identify the early stages of breast cancer, for example, women know they must have regular screenings, and for cervical cancer, go for regular pap smear tests. With ovarian cancer, there are no tests to detect the disease in its early stages," she explained.
Although faced with an uncertain future, Helen gathered a team of friends to raise money for the Ovarian Cancer Research Foundation by walking the coastline of the beautiful Mornington Peninsula.
"It all started about four years ago. A few friends wanted to do a walk anyway. I was at work and a friend said 'why don't we do it for charity?' I'd done some charitable work over the last few years such as afternoon teas. We all agreed to do a walk. There were six of us at the time. We really enjoyed it and raised $8000," says Helen.
This saw the emergence of the newly–named Wonder Woman Walkers. The number of participants, many of whom dressed in Wonder Woman attire, tripled to 18 the following year, 60 in 2018, and 200 in 2019.
Helen believes the popularity of the walk grew quickly as other women also recognised the camaraderie and joy in undertaking a beautiful walk along the Peninsula's stunning coastline.
She says, "We'd see women talking to other women and say  later how they'd met a great friend that day because they'd talked all the way."
She also believes that more people are becoming aware of ovarian cancer. There was a girl who joined the Wonder Women Walkers whose mother had died from ovarian cancer a few months prior. She couldn't believe her mother led such a healthy lifestyle, yet this had happened to her.
The walk is earmarked as a casual meander, timed for a coffee stop and lunch. In the 2019 event some of the 200 women decided to complete the walk in three hours. However many took their time, beginning at around 8:30am, with most finishing up around 4pm.
Helen hopes her Wonder Woman Walkers' fundraising efforts will raise awareness for ovarian cancer. She would also like to see the introduction of an early detection test in the future.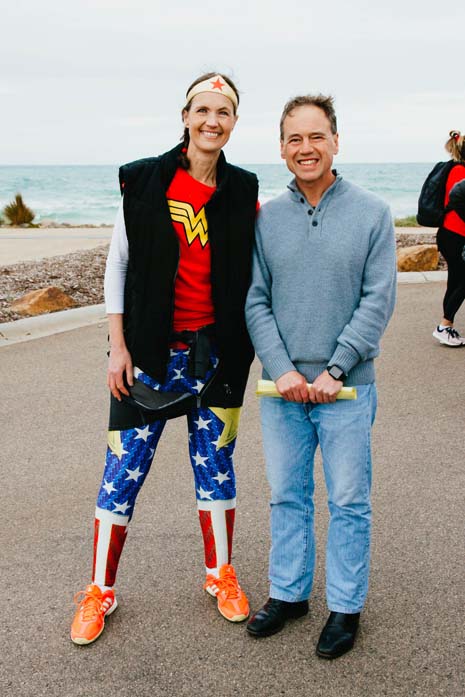 As an ambassador for the Ovarian Cancer Research Foundation, she sits on a panel of people who have either had ovarian cancer or know someone who has been affected by the disease. She therefore sees the research papers as they come in.
"There are lots of exciting things going on. Treatment and early detection for ovarian cancer hasn't really changed in 30 years. However, Australia is ahead of its game and there's lots of exciting work being done. The government has funded $15m into research this year, which is brilliant news."
Helen admits she wouldn't have achieved such success with the Wonder Woman Walkers if it were not for the support and help of the community.
"From the generosity of Driver Coaches – Hastings providing manned buses for free to transport walkers from the end of the walk back to the start, to the Mornington Football Club providing boxes of food, and so much more. The feeling that the Peninsula is behind us has been overwhelming."
This year peninsula local Greg Hunt, the Federal Minister for Health, also backed Helen's mission.
Helen is hopeful the event will also take place next year. Although she is in now receiving palliative care, and is no longer able to walk, her many friends and colleagues have expressed a desire to continue with the fundraiser in 2020.
Helen might not think of herself as a warrior, but for the women of the Mornington Peninsula and beyond, she certainly is.