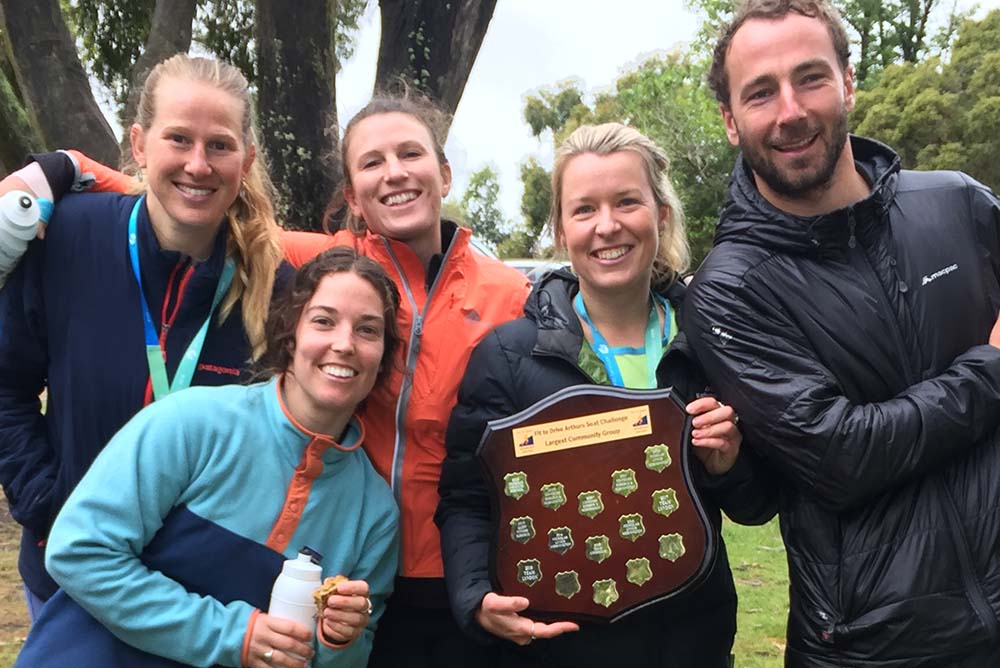 By Cameron McCullough  Photos Supplied
Among the thousands who braved 'the hill' in this year's Arthurs Seat Challenge, one group stood out. In fact, they have won the 'largest community team entry' for three years in a row.
But most would be unaware of the story behind 'Team Lyndon', and how the tragic loss of one man has made a huge difference.
Lyndon Williams was just 26 years old when he was killed in a road accident in November 2016. It left his friends, family and partner of five years, Kate, at a loss as to how to move forward and honour his memory.
"Lyndon and I were on the edge of our future together," said Kate. "Despite having been together for five years, it felt like we were just starting. We were in the process of buying our first home, had discussed marriage, children and had so many exciting adventures planned. Nothing could have prepared me to have him ripped out of my life."
Lyndon and Kate had both grown up on the Mornington Peninsula. They met, aged 21, at a university party. For Kate it was love at first sight; they became good friends and eventually partners. They had so many common interests: a love of the outdoors, a love of hiking, a love of the water.
Lyndon was also the captain of Peninsula Old Boys soccer team, and a huge advocate for helping others, especially in the area of men's health. Kate was building her jewellery business, and Lyndon supported her dreams.
"Lyndon would wake up early with me and help out at all my markets without a complaint, selling my jewellery much better than I ever could."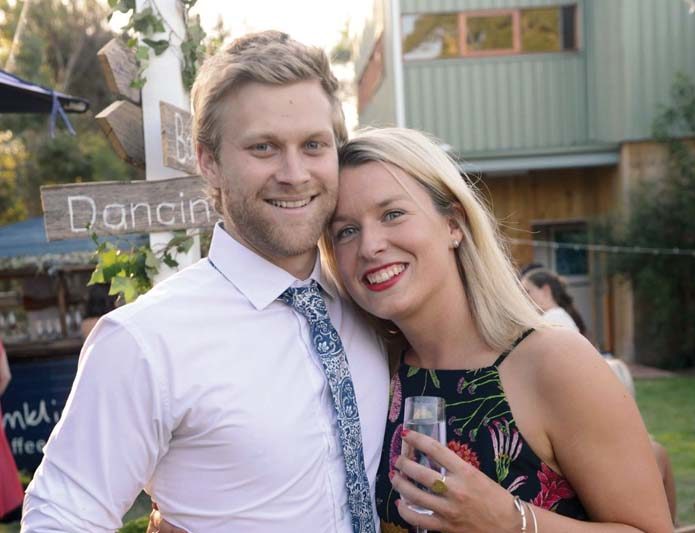 Kate supported Lyndon too.
"He was such a great friend. He was passionate about life. He loved his job," said Kate. "Lyndon taught PE and Health at Cranbourne East Secondary College. He loved teaching and had so much respect and time for all of his students."
Lyndon's death was a devastating blow to Kate, but the effects were widely felt. "Lyndon wasn't just my partner. He was a son, a brother, a teammate, a teacher, and a great friend to so many people," said Kate. "He touched so many lives in just 26 short years".
Close to 1000 people attended his funeral.
After Lyndon's death, his family and friends felt they wanted a way to honour him. Lyndon was a fitness fanatic. He loved sport, and he loved running. In fact, he had competed in the Arthurs Seat Challenge in the years before he died.
Kate and her friends came up with the idea of celebrating his life by competing in the annual run up Arthurs Seat. The Arthurs Seat Challenge coincided with the anniversary of Lyndon's death, was an event he loved, and was in aid of Fit-To-Drive, an organisation raising funds for driver education for youth.
"I would always laugh at him 'You'd never get me running up that hill'", said Kate. "But now the Arthurs Seat Challenge seemed like a perfect way to honour him. It seemed fitting that at the time of such pain and grief, we could do something so positive".
So, 'Team Lyndon' was formed. In 2017, the first anniversary of Lyndon's death, 'Team Lyndon' made its first run up 'the hill'. "I feel like Lyndon would be laughing at us. Embracing an event he loved, and watching us all struggle up 'the hill'!"
"The Arthurs Seat Challenge is really positive among the sadness. Getting out in the sunshine and raising money for an important cause is great. It also offers a chance for us all to get together; Lyndon's family, friends, work colleagues and even people that never met him who have been touched by Lyndon's story, are joining the team."
The organisers of Arthurs Seat Challenge originally didn't know the story behind 'Team Lyndon', or why they entered such a big team. They only became aware of Lyndon's story after the team had won the team award in the event in 2017.
"They were touched by the story, and were keen for us to tell it, as it has a strong message for road safety, which is what the Arthurs Seat Challenge is all about," said Kate. "And we are happy to tell it to keep the memory of Lyndon alive and hopefully help raise awareness about road safety".
The importance of 'Team Lyndon' is not lost on the organisers of the Arthurs Seat Challenge, or the cause the event is run for.
"I would like to say how important it is that 'Team Lyndon' has become an established part of our Arthur's Seat Challenge event", said Angela Pollard, the Chairperson of Fit-To-Drive Frankston and Mornington Peninsula Association.
"The event is the major fundraiser for the Association, which was established following the tragic loss of a number of young people through road accidents, and local principals got together to take action.
"The Fit-To-Drive Program has recently celebrated completion of the course by its 100,000th student, and our commitment to doing all we can to reduce the road toll through education, remains as strong as ever.
"While 'Team Lyndon' has originated from the terrible loss of a loved one, Lyndon's family and friends honour his memory annually and ensure that their contribution assists others to continue to work toward further reduction in the loss of lives on the roads".