By Danielle Collis  Photos Gary Sissons
As a young child, Grace Perrin would eagerly look forward to arriving at the airport, begging her parents to arrive ahead of schedule so she could watch the planes take off. As she sat at the gate, waiting patiently to board, she never thought that one day she would be a qualified commercial pilot.
While most young females are travelling around the world, Grace is being paid to fly around the country. At the age of 22, Grace is a qualified commercial pilot; her everyday job includes teaching cadets and conducting aerial surveys. She is surrounded by inspiring people, a range of training and high-performance charter planes, plus some of the rarest operating warbirds in the world. Grace flies a variety of aircrafts including Cessnas, Decathlons, Sierras, Warriors and Vulcan Airs. She has flown over some of the most beautiful parts of Australia, including the Gulf of Carpentaria, Broome and the Nullarbor.
Now, as she soars over the Mornington Peninsula's fields of green and the rugged coastline, with the aircraft control in her hands, she says "flying is a mix between total freedom and control. It puts things into perspective when you're up above the world and everything seems so small."
Growing up, Grace didn't know what she wanted to do, but she knew that, whatever it was, it had to be something different. After her family moved to Flinders when she was 14, her mother decided to buy her an introductory flying lesson at the Tyabb airport for Christmas. "I think mum thought it was a good stocking filler," she says. And yet, eight years later, she's still there.
At the end of her school day, Grace would jump the fence and run down to start her shift behind the desk at the airport. Throughout year 12, she knew what she wanted to do. Flinders College allowed her to release one subject so she could pursue her flying.
You could certainly say a few people were confused when their flight instructor would arrive, in a school uniform to conduct a presentation on flight school. "I stepped out of high school and into this place," she says. "It was my hobby, before it was my job."
Grace's career has seen her accomplish numerous achievements, one in particular was conducting an aerial survey of the Dargo bushfires. Accompanied by a photographer, the idea was to utilise infrared to see how much has been burnt and what was still alive. "It was an eye opener," she says. Grace flew a total of 30 hours for the job. While most pilots don't enjoy surveying, there was something about being on her own up in the air that sparked her curiosity and passion for surveying.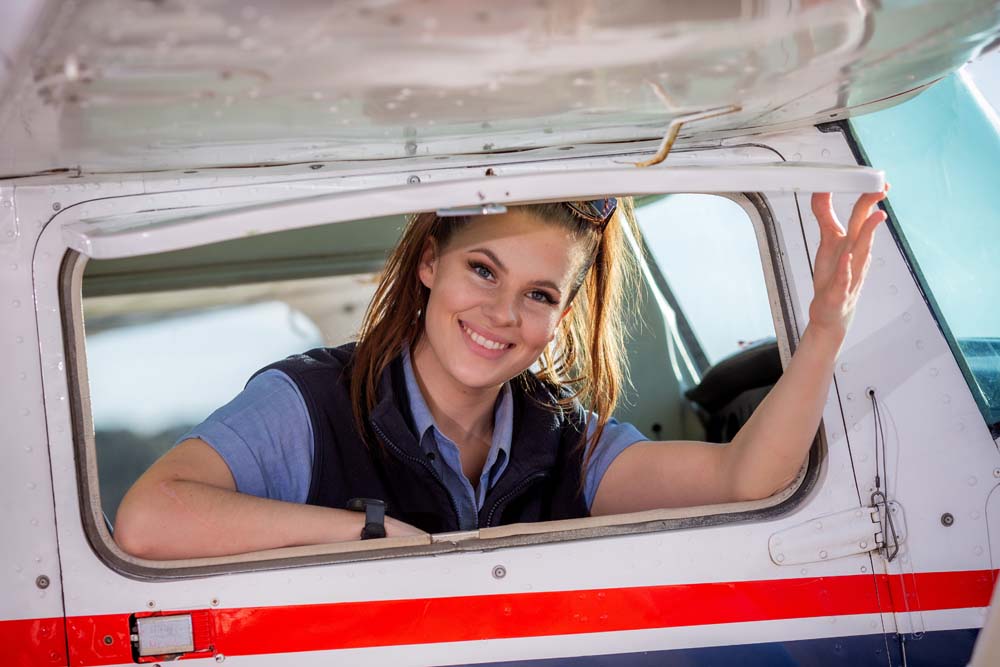 Grace's biggest achievement is circumnavigating Australia twice while conducting multi engine photogrammetry surveys on mines and quarries. She was only 19 years old when she completed her first circumnavigation, one of the youngest to do so. Flying a Vulcan air which has been fitted out with an extensive photogrammetry camera, it captured data such as the volume and movement of stock. Before Grace took off for her circumnavigation, she wanted to be organised and pre-plan the itinerary. Then she received an email the day before departure that outlined all the locations to survey. When she arrived at the plane, she was told she had to cover as many as she could in the day. "So, I didn't know where I was going each day," she says. "We would just fly from site to site." With a limitation of seven hours flying a day, Grace said they would just keep flying until they ran low on fuel or until the sun went down. "It's not like driving a car. You can't pull over when you get tired; you have to stay focused and monitor," she says. Grace flew for a total of three weeks, roughly 74 hours.
During her circumnavigation, Grace had the chance to visit one place she's always wanted to go. "Being the aviation nut that I am, I always wanted to go to Forrest Airport, just on the Nullarbor in the middle of nowhere," she says. "I got the opportunity to do that on this trip; it was an exciting thing for me to do." Surveying allowed Grace to fly all over Australia and have experiences that a lot of other flight instructors may not have. "It was a really big opportunity," she says.
"It was more than work, it was a life experience." Grace said she would like to continue pursuing aerial surveying in the future.
Grace has had an array of opportunities working with Tyabb airport and loves being able to share her passion for flying with others. "Being an instructor allows me to share what I love with other people and help them develop skills that can one day allow them to do what I do," she says. She loves teaching people who are just as enthusiastic as she was when she first started, watching them progress from taking control for the first time, to then sending them on their first solo flight. "I like the idea that someone can look to me for guidance and I can provide some insight and make them feel comfortable learning something I have so much love for," she says. "It's one of the most rewarding jobs I've had." Grace said flying isn't just about becoming a pilot; it's a hobby, a great activity, a confidence boost.
When Grace isn't flying, she's committed to her studies. As a pilot you have to stay up to date with all your ratings and theory. She is about to start her ATPL, (air transport pilot licence), exams which are for a transport licence, which consists of seven exams. Completing these exams will give Grace further opportunities. Aside from flying and studying, Grace is also an avid baker and she owns one too many plants. Grace said she is so thankful for the support from her Mum and would like to encourage other young girls to take the opportunities that are available. "If there is something you have always wanted to try, do what you need to do to make it happen," she says. Grace is encouraging anyone to try flying, whether as a career or a hobby, "Even though it may be daunting, pop into your local flight training school, say hello and ask a few questions. This is a great first step."