New paintings by 10 Yankunytjatjara women artists from Indulkana in the APY Lands of South Australia celebrate both their Country and the work of women to mark International Women's Day 2023.
Presented in partnership with the artists' art centre Iwantja Arts at Indulkana, the exhibition features glowing works by Emily Cullinan, Julie Yatjitja, Maringka Burton, Priscilla Singer, Raylene Walatinna, Rosalind Tjanyari, Trisha Singer and Yajtiki Cullinan as well as a collaborative work by four artists and those by mother and daughter painting duo Jeannie and Katie Walatinna.
All the artists describe their Country (Ngura) in the remote lands of South Australia as both beautiful (wiru) and rich in important creation sites and meaning.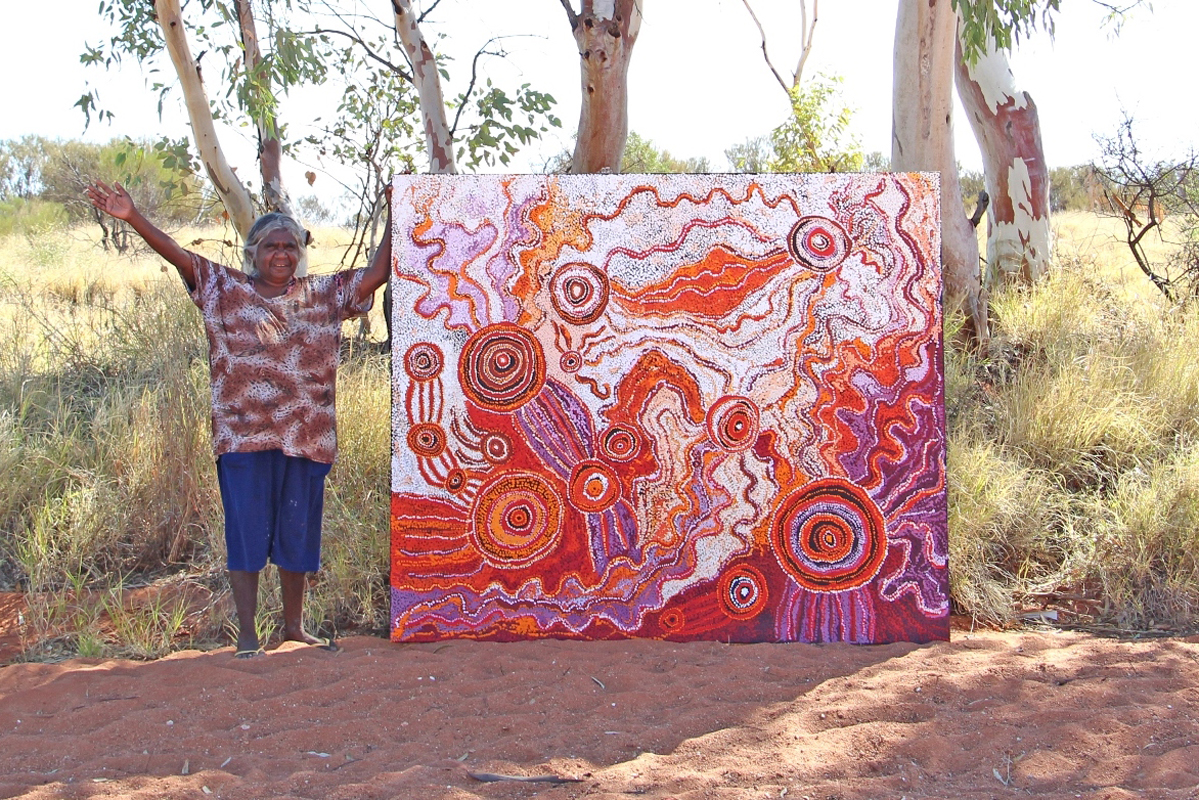 Julie Yatjita with her painting Iwantja Soakage at Indulkana.
Image courtesy Iwantja Arts and the artist.
The most senior of the group – Maringka Burton – is also a traditional healer whose paintings incorporate reference to her healing practice; mid-career artist Julie Yajtjitja's paintings of Iwantja Soakage depict the creek alongside which she was born, adjacent to which the Indulkana community developed. Her friend and painting colleague Rosalind Tjanyari's new works reflecting the Spirit and Energy of her country, show an exciting stylistic development with a more painterly style and use of brilliantly coloured magentas, greens, yellows and oranges while Jeannie and Katie Walatinna's elegant new paintings feature dotted rippling lines and spare imagery.
With a diversity of styles linked by the artists' depiction of the beauty of their country Ngura Wiru showcases a comprehensive selection of works by 10 fine women artists from this leading painting community and the art centre that represents it.
Ngura Wiru (Beautiful Country) runs from March 10 to April 4, in partnership with Iwantja Arts.
---
Everywhen Artspace, 39 Cook Street, Flinders.
Phone 5989 0496
Open daily 11am-4pm
View online everywhenart.com.au