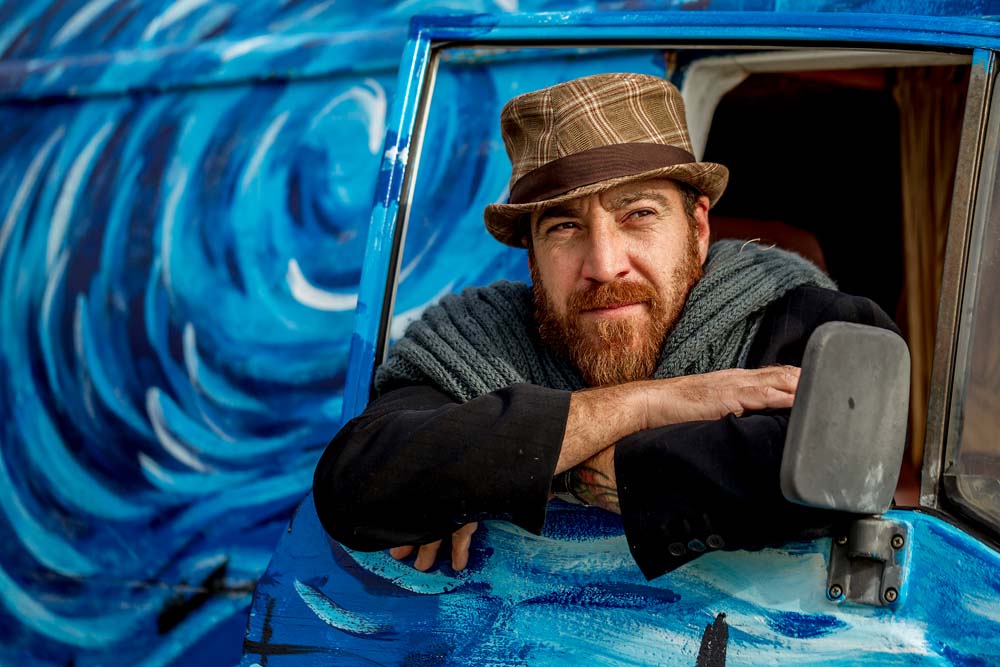 By Andrea Louise Thomas Photos Yanni
This story starts at 4 am on a balcony in McCrae. Peninsula artist, Andrew Grimmer was just about to start his day painting when he decided to check his facebook page. A friend had sent a link to a website recruiting painters to work on a film in Poland. He convinced Grimmer to send an application. He did and then forgot about it. Three months later he got an email saying he had been selected to test for the film. They wanted him to come to Poland in two weeks and they wanted an answer on the spot.
Academy Award winning BreakThru films were creating a groundbreaking project – the world's first fully painted animated feature film using oils on canvas. They needed to find the very best fine artists. From an applicant pool of 5000, they chose 125 artists from around the globe to work on Loving Vincent a film based on the paintings of Vincent Van Gogh. Grimmer was the only Australian artist chosen.
Originally from South America, first he had to have his birth certificate translated to apply for his Australian passport. Then he had to raise several thousand dollars for the trip and to cover his living expenses when he got there. So he sold a number of paintings, got an expedited passport, packed up his life and boarded a plane for Gdansk.
Arriving in Poland he had no idea what to expect. He had only the film's trailer to go by. The work was complex and intensive. First the film had to be rotoscoped. Rotoscoping is a technique used by animators to create realistic action. The actors are filmed on a green screen. Artists then trace over the film footage frame by frame in black outline. For Loving Vincent, each frame was projected onto canvas and painted in the style of Vincent Van Gogh.
"To imitate a madman, I had to paint like a madman and paint in a style that wasn't really me," said Grimmer. He found the work both challenging and exhilarating. For one thing he had to learn to paint in the dark! He agrees with Van Gogh who famously said, "I would rather die of passion than boredom." The artists worked around the clock six days a week to complete the 65,000 paintings for the film. Though Grimmer spent five months working in Poland, the film itself took five years to complete.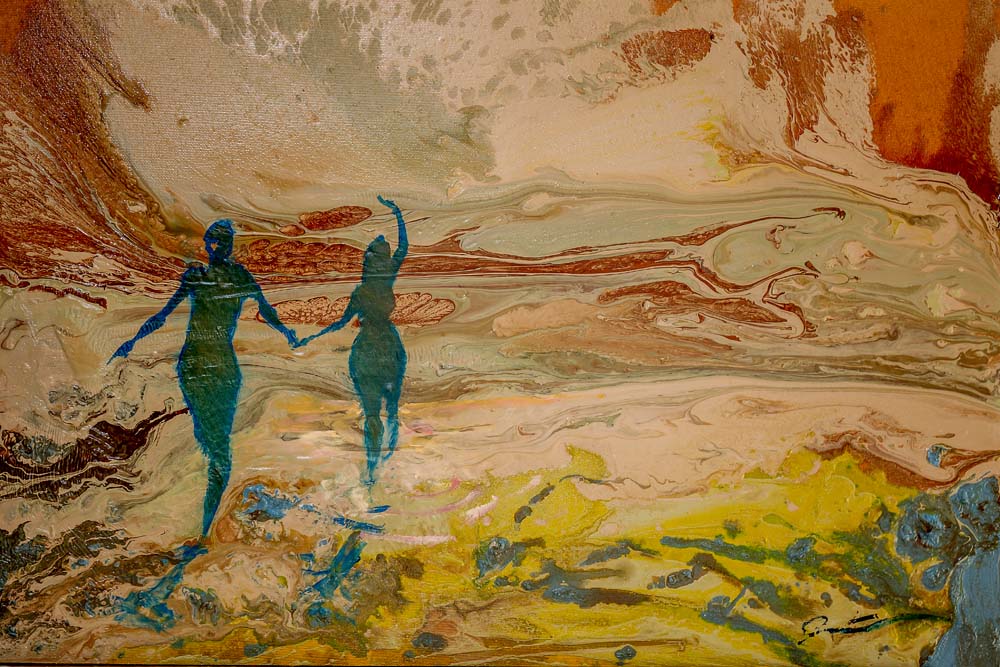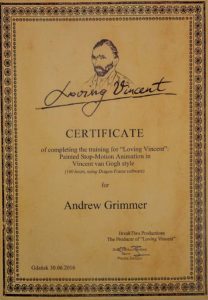 Grimmer found living in Poland markedly different to living in Australia. While working on the film he lived in what he described as "a tiny closet of a room – an artist's garret." Because Poland was a communist country for so long, the accommodation is uniformly compact. People are accustomed to living in close quarters. He thinks Australians take for granted the size of their housing and the openness of the land around them.
He found it strange that the sun went down at 11pm and rose at 3am so he didn't sleep for the first few months until his body clock adjusted. What also struck him was how politically informed and engaged the young people of Poland are. Most importantly, he found the freedom to be himself surrounded by like-minded artists. "They were accepting of my weirdness," he said. He loved living in a culture that fully embraces the arts and the individuality of artists.
Coming back to Australia Grimmer was artistically recharged and ready to create new work. He embarked on a series of paintings inspired by his time in Poland. These paintings are much more abstract and free flowing than the works he had painted before his time overseas. He wants to exhibit these new works in Europe or the United States where he feels patrons are more likely to be open to his painting style.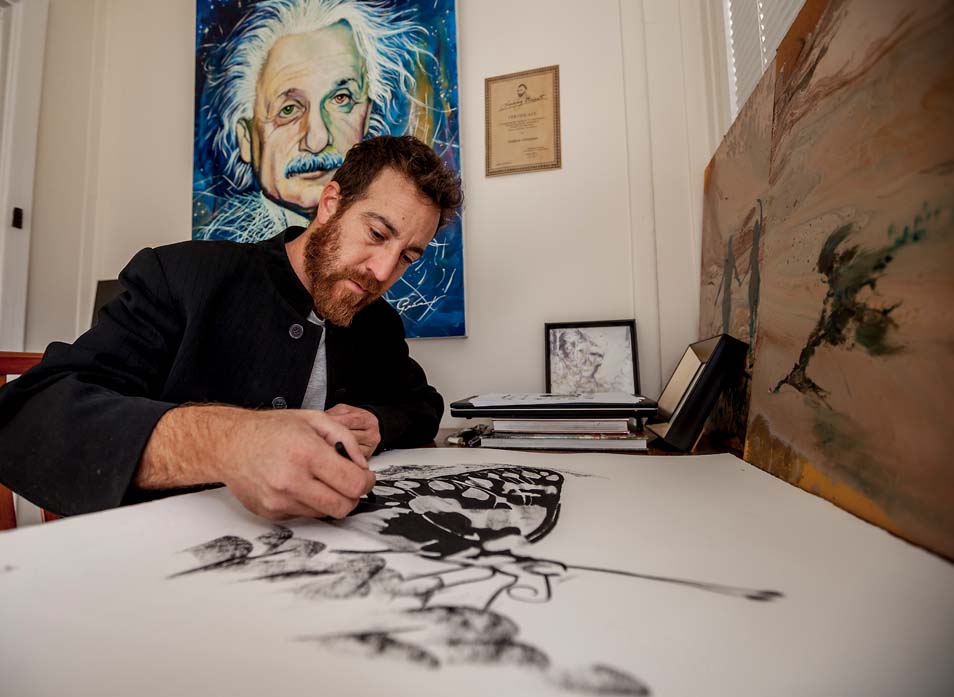 He recently completed a series of butterfly drawings he has put together as a colouring book for adults and is looking for the right publisher. Currently he's working on illustrating a children's book. While he is likely to return overseas in the future, Grimmer is now taking commissions for portraits. In fact, it was a portrait of then Mayor of the Mornington Peninsula, Graham Pittock that helped fund his trip to Poland. Who knows where future commissions might land him next?
---
To see more of Andrew Grimmer's artwork, visit his website: https://grimmer6.wixsite.com/artistagrimmer.
Information and trailers for the film can be found on YouTube.
A BBC television segment on Loving Vincent features Grimmer, who was possibly chosen because in addition to his talents as a painter, he bears a likeness to Vincent Van Gogh.
Loving Vincent premieres this month at the Annecy International Animation Film Festival in France. It will likely premiere in Australia later this year.