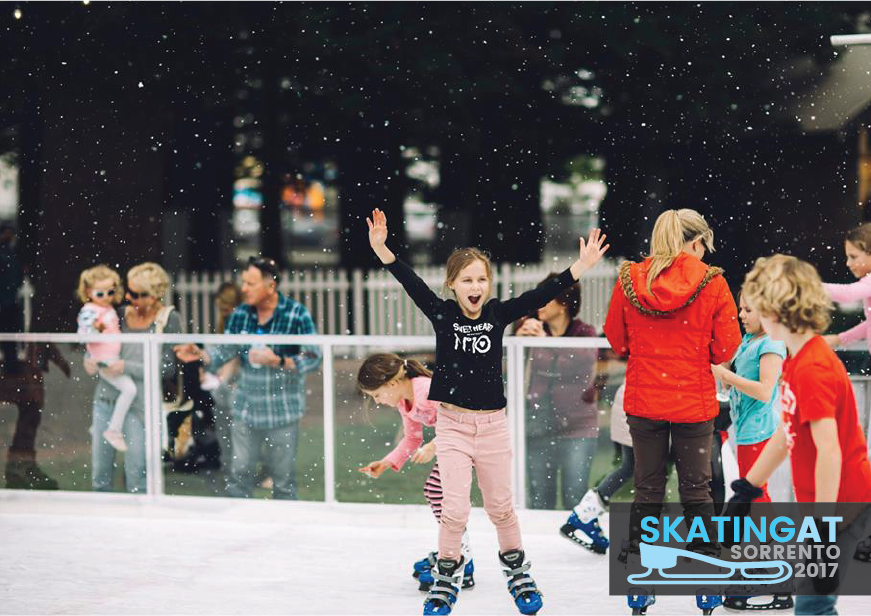 This winter the Sorrento foreshore will be transformed into a winter wonderland with the construction of an ice skating rink between the Baths and the rotunda. In a partnership between the Sorrento Portsea Chamber of Commerce and Ice Rinks Australia, a Somerville based company, the foreshore will have an ice rink from June 23 until July 16.
Ice Rinks Australia managing director Rob Stoller could not be more thrilled to be bringing an ice rink to the peninsula.
"We have lived on the peninsula for many years and this is the first time we have constructed an ice rink here," said Rob, who has built ice rinks all over Australia, and on the sand of the beach at Bondi. "We have built rinks in Alice Springs, all the capital cities, and built international ice hockey standard rinks in places like Rod Laver Arena. We are excited to bring a new form of entertainment to families on the peninsula and as an attraction to bring people from outside the peninsula to Sorrento in what is a very quiet time commercially."
Rob says the process of setting up an ice skating rink has become straight forward with pack up and pack down taking about a week each.
"When setting up the rink we have to be very sensitive about the environment so we use practices not to impact adversely the foreshore," he explained. "First we bring in a tent or marquee with a level floor, then we plant and equipment we need to refrigerate the water to make the ice. We use propylene glycol which is a food standard refrigerant that is contained in a sealed system and circulated through a grid of aluminium pipes and chilled to minus 12. We then pour fresh water on the top of it and we have ice. The rink is going to be 25 metres by nine metres and will use approximately 10,000 litres of water. The water is delivered to us by truck to the site."
The partnership between the Sorrento Portsea Chamber of Commerce and Ice Rinks Australia should be great for the local economy, according to Natalie Garner, business development manager of Sorrento Portsea Chamber of Commerce.
"We are thrilled to bring the first of its kind to the peninsula, and are setting it up so as to take advantage of its fabulous foreshore location. The sides will be clear plastic so you can see over the water when you are skating," said Natalie, of the project that has been about nine months in the planning. "Everybody loves the peninsula in the summer but we wanted to bring an activity here that people could do in the winter too.
If you've ever ice skated in Times Square or near the Eiffel Tower, get ready to add the iconic Sorrento foreshore to your list.