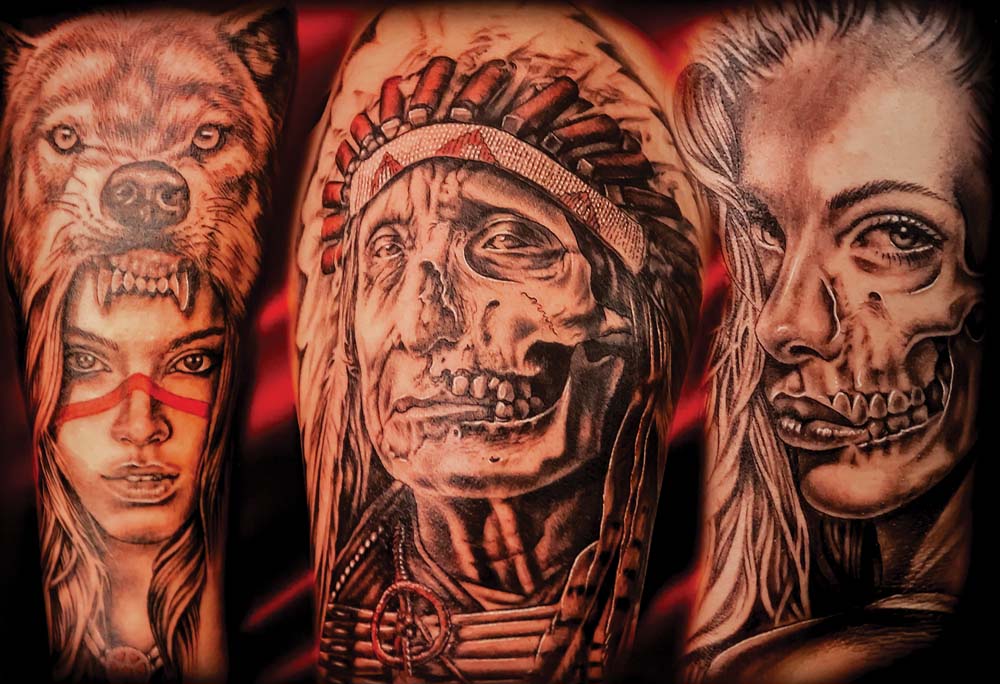 By Andrea Louise Thomas Photos Yanni
"There is no finer art with less room for error than tattooing," says Nicholas Boyle, the proprietor of 3931tattoo in Mornington (formerly The Collective). He would know because he has been an artist all his life. With formal art training and 25 years as a professional fine artist before shifting to tattoo art, Boyle comes to the trade with a deep-seated and well-founded sense of confidence. He's only been tattooing for seven years, but already his reputation precedes him.
"Having been a fine artist means I approach tattooing differently. I am very much about composition and contrast and all of the things that are important on a canvas. I'm also very aware of the human body and how an image sits on the skin and how that works. My specialty, although I love colour, is black and grey. It has become what I do most. I'm definitely more interested in the art of tattoo than I am in the business of it," he says.
Art has been the cornerstone of his life right from childhood. His mother was a fashion designer and artist. He started drawing and painting when very young and hasn't stopped. He began his formal training with an advanced certificate of art and design. He used that portfolio to apply for a fine arts degree at Monash University. He'd almost finished his degree before choosing work over study. He went on to produce artwork for record companies as well as window art for Virgin Megastores and Brashes.
While his previous job was interesting, it was not quite as electrifying as working on a living canvas. He had his first taste of tattoo art during a brief apprenticeship at 21 and it left a lasting impression. Boyle explains, "My first tattoo was just having a little bit of a go on a tattoo that my boss was doing in an area where he could fix it if need be. It was one of the biggest adrenaline rushes of my life. It's one of the scariest things you could possibly do."
Boyle says his greatest challenge in tattooing is the difference in people's skin. "No two people's skin are the same and the difference between tattooing someone who is young and pale compared to someone who is in midlife and has seen a lot of sun is the difference between drawing on tissue paper and cartridge paper," he says.
Some people might shy away from the pain of getting a tattoo, but Boyle says there are numbing agents available. He makes sure his clients are well looked after. This care includes talking a client out of a tattoo if the concept is a bad idea, the location won't hold the ink well or if they are unsure about committing to the permanence of a tattoo.
Tattooing can be a very time consuming process, but most tattoos can be completed in a number of hours. "The longest single sitting I did was about 11 hours at a convention where there was only a limited time to get a large piece done. In some of these conventions, that's 11 hours straight! Other times we've done three days on the same tattoo," he says. Patience is clearly one of Boyle's virtues.
Stereotypes about what type of person gets a tattoo are a thing of the past. "Our clientele range from doctors to police to tradies. There is no age limit. (Except for the age of consent being 18.) We're tattooing people in their 70s and 80s and we get almost as many women as men," he says.
Tattoo art is certainly not a fad either. It has a long and venerable history. In actual fact, tattoos have been around for thousands of years. They were once thought to have begun with the Ancient Egyptians, until the discovery the infamous Otzi the Iceman in 1991. Carbon- dating confirmed that his were the oldest recorded tattoos. He was 5,200 years old and he had 61 tattoos!
At 3931tattoo the history and value of tattoo art is known and respected. The likelihood of walking away from this welcoming and reassuring business unhappy is unlikely because as Boyle explains, "It's always a collaboration between the client and the artist. We're not here just to produce things that are going to wow people. I will try to steer them towards something I think will work best, but I will be guided by their concept and their images," he says.
If not coming to his establishment, Boyle's advice is "Research your artist! If you have to wait, that probably means they're good. Everyone who tattoos isn't a master of every style. Research what you want to get done and who's the best artist for that style," he says. That said; if you're after a distinctive, creative and high quality tattoo, consider a visit to 3931tattoo.
---
3931 Tattoo is at 354 Main St, Mornington
Phone 5976 8423