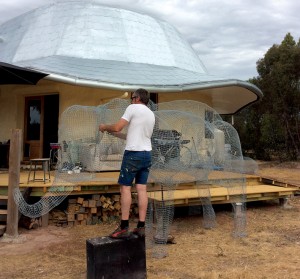 A spectacular menagerie of sculpture by the extraordinary Tom Ripon will be heading to Stillwater at Crittenden this summer.
Meander through a kaleidoscope of animals wandering, grazing and lounging lakeside.
Brimming with character and personality, this is an exhibition of wondrous delight for audiences young, old and everyone in between.
This wonderous wire animalia will warm your heart and bring a smile to your face.
Tom Ripon started making frames from chicken wire for papier-mâché sculpture. When he was about 15 or 16, he made his first wire sheep.
"I remember being quite shocked that I could actually do it. Chicken wire is awful to use so I scouted around for a better medium. Back then, I lived near Victoria Market where I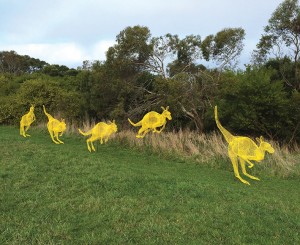 could buy the same type of wire by the metre that I still use today."
He covered the sheep with real wool by melting wax to stick over the papier-mâché.
Sales followed, but the better he got at using the wire, the more disappointed he was when he covered it up with papier-mâché.
"I found the material to be quite malleable and could sculpt great form with the galvanized grid mesh."
Next came colour, and the discovery of bright and intense colours, lifting the sculptures into a new dimension.
"I had a giraffe in wire ready for papier-mâché but spontaneously I suggested we spray paint it fluro, put it and other works under UV light, mount a mirror ball underneath and have them glowing and spinning. And away we went."
"The grey wire is great in certain contexts but can be hard to see. I wanted the sculptures to be as big and loud as they possibly could. Fluro was perfect."
Tim's inspiration primarily arose from his love of animals.
"There is so much nowadays going on with animals as far as David Attenborough, and National Geographic shows but back in the late 70's there were only National Geographic magazines."
"If you wanted a picture of a zebra you had to go to a library and get about five or six books to find different views of zebras. Even with specialized books one needed to scour to find pictures. Nowadays google any animal and you will find thousands of pictures."
"It's always the big animals. I love the fact that I can make big things out of this wire, getting the structure right so they stand up and don't crash under their own weight."
Tom's work has been shown in unconventional places like nightclubs and festivals.
"This is because of the fun element of my work that people respond to, I can place my work almost anywhere."
"I love that I can move my work around and have a bit of a joke with my work, which is probably not a very arty thing to do."
Tom believes in the power of art in influencing people aswell, "I recently saw Banksy's Dismal World. It is very appealing to use your profile to get a group of people together and have something decent to say about the world and not have it run by people who own galleries."
"If you want to make something, you want people to see it, and as many people as possible."
Tom's work has been sought after for high profile commissions with organisations like the NGV and Melbourne Museum.
"It's funny because the commissions for high profile were always on a commercial basis. It's never been on an arty basis. I was living in Thornbury and needed somewhere to store the works. My backyard was taken up with my kids playing footy so I put them in the front yard and all of a sudden it was interest from the public that sparked me off."
Maybe there is something in that.
Creatures of a Wire World is at Stillwater at Crittenden
25 Harrisons Road, Dromana
Open 12 – 5 everyday
Exhibition runs until 20 February 2016
First published in Peninsula Essence Magazine – Summer 2015/16