By Amy Newman Photos Gary Sissons & Supplied
For Sorrento locals and brothers, Will and Sam Phillips, representing Australia at the 2021 Tokyo Olympics culminates a lifelong passion for sailing on the Mornington Peninsula.
"We both started sailing on our family couta boat, Muriel, from when we were only a few months old – so we've been sailing our whole lives," says Sam, 29, who, along with Will, 33, works in the local family business, The Wooden Boat Shop.
"We then learnt to sail at Sorrento Sailing Couta Boat Club (SSCBC) in their junior sailing program and have sailed at other clubs all over the Peninsula. We are still members at Blairgowrie Yacht Squadron and enjoy sailing just as much today as we did back then."
With international and state borders closed for so much of 2020 due to the COVID-19 pandemic, the local waters have been a key part of their Olympic training schedule.
"We recently finished a training camp at Flinders Yacht Club, where we were using the unique location to access Bass Strait to train for the bigger wave conditions we expect to see in Japan," explains Sam.
"On the Western Port side, the protection of French and Phillip Island offer possibilities for almost any wind direction. On the Port Philip side, the summer sea breeze direction is offshore meaning that sailors get to enjoy flat water. With access to both Port Philip and Western Port bay there are so many options to choose from."
Off the water, they have seen their family business like their sailing, grow and evolve. From a humble garden shed beginning, The Wooden Boat Shop is now a five-factory business that builds and restores boats, and the brothers have received tremendous support from the local community in their Olympic pursuit.
"SSCBC have been great in supporting us with our Olympic campaign. Whether it's contributing to the costs of equipment, providing training facilities, coach boats or rules analysis – their eagerness and enthusiasm to assist our campaign has been a constant."
After qualifying for the Olympic 49er class in February 2020, just before COVID-19 swept the world, their preparation has certainly not been as originally planned. It has, however, provided some benefits.
"The postponed Olympics has given us an extra year to prepare. Yes, the goalposts have shifted a year later but it has given us more time to improve and seek advantages over the competitors," says Will.
That said, the change in timing and preparation has not been without its challenges.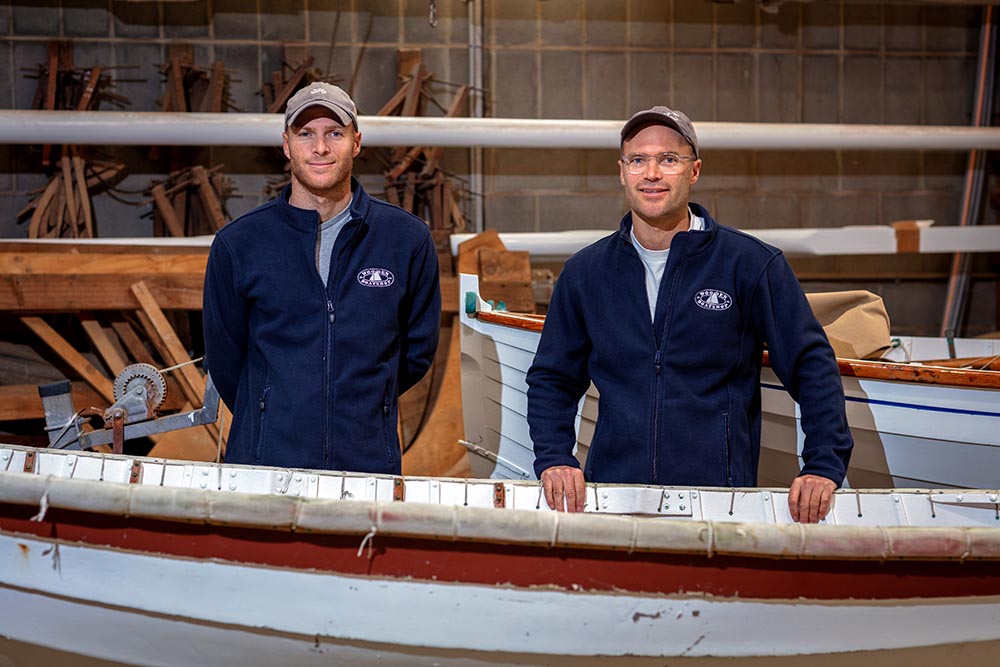 "The Olympic sailing circuit, along with most of the competitive Olympic teams, is based in Europe so while we have had the advantage of staying fit, healthy and COVID-free, they have been able to train and compete with each other," says Sam.
"Rather than going to Europe in 2020, instead we were training up and down the east coast of Australia trying to avoid the lockdowns and border closures.
The last time we competed in a big event was February 2020 so by the time we get on the start line for the first race in Japan we will be stoked to be there."
Reflecting on their sailing journey, some of the best memories for Sam and Will are sailing couta boats on the Mornington Peninsula.
"The couta boats were designed to catch barracouta in the open waters of Bass Strait, explains Sam. "As a result, they display tremendous seafaring capabilities, exceptional speed, a large cockpit and spectacular, classic lines.
Apart from their significant heritage to the local coastline they're also a great social boat to sail."
Today, their involvement continues through the Gill Next Gen Couta Boat race held every January at Sorrento.
"It's a lot of fun racing with young energetic people and also helps to continue the tradition of the historic couta boat," says Will.
Despite sailing all over the world, the boys agree that the Mornington Peninsula is one of the best places to sail, and, when they have free time, they also love exploring some of the best that the Mornington Peninsula has to offer including kite boarding in the flat-water surrounding Mud Island, cycling up Arthur's Seat, swimming at Sorrento, and exploring the Quarantine National Park and local wineries.
Hopefully, those future experiences will soon be as Olympic medallists.
---
The Tokyo Olympic Games start on Friday 23rd July, 2021.
See more at Olympics.com.au