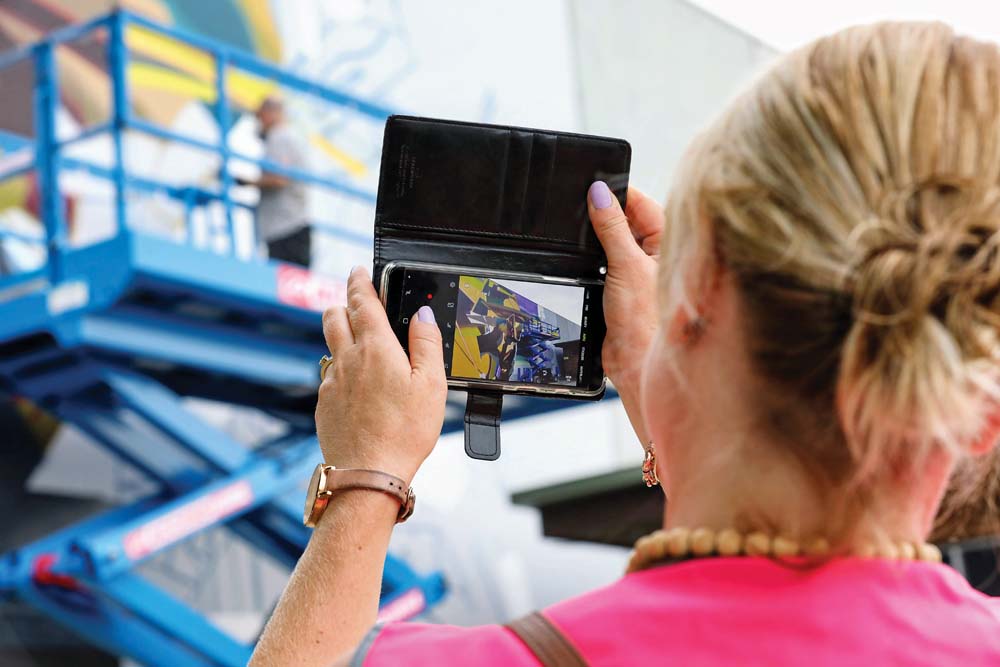 Word on the street is that Frankston is transforming into a cultural and artistic hub and the new emergence of street art is testament to that. Wander down any alley or back street and, instead of dirt and destruction, if you are lucky you will find a work of art that might inspire, make you question or just impress. With artists, international and local, commissioned to create their murals, the bayside art zone is becoming a contender in the cultural community.
"It all started with the Big Picture Fest last year which was part of the Frankston Train Station precinct redevelopment," said street art tour guide, Sue Fabiny, who is passionate about promoting tourism in Frankston. "I could see the potential we have here with our artistic and cultural history with places like Mulberry Hill and Cruden Farm. Our street art is second to none as well and, after being a roving ambassador last year, I decided to become a tour guide."
The tours have now taken on a life of their own after their initial beginnings as a four day incentive during last year's Big Picture Fest.
"The art we have here is a different layer of cultural experience and brings Frankston onto the world stage. There is a great following of street artists around Victoria, and a community of followers who travel around to street art festivals to see the work of artists like Smug, who is well-known in the industry," said Ms Fabiny. "We have commissioned international artists who work alongside the local artists and it exposes the young ones to that kind of creativity. Some of our international artists are from different backgrounds including sculptors and those with PhDs."
Frankston city centre's skyline has been well and truly transformed thanks to the inaugural Big Picture Fest last year and the fallout is an all-star line-up of art works.
"We have some of the world's best contemporary street artists from Germany, Italy, New Zealand and France. Alongside these artists are interstate and local Frankston talent from past and present, including former Frankston boys, Adrian Doyle and Sheldon Headspeath,"
said Ms Fabiny. "Born and raised in Frankston, Sheldon has been honing his craft as an artist mainly focused on aerosol art for over twenty years. Now as a full time artist, he is completing works right across the state with a diverse range of style. Leaning towards life-like images at any opportunity, Sheldon is always up for a challenge artistically, and runs State of the Art Murals in Frankston. Adrian Doyle a.k.a Doyle is best known for his paintings, murals, installations and large-scale public artworks. He grew up in Frankston and began his art life scribbling on trains, playing in drains, and exploring abandoned buildings. As he got older, he managed to get into art school. He is currently completing his PhD on the impact that urban art has made on the fine art scene in Melbourne."
Street art stopped being graffiti only a few years ago with Ms Fabiny explaining the core differences.
"Street art is commissioned by professional artists and it is a long process to set up the work. You have to find the right artist to commission, write out a brief of what they are going to paint, then negotiate with the owners of the building," she said. "It can be quite a laborious exercise but the end result is a thing of beauty."
Smug's work of art is a huge skeleton painted on the side of a building in central Frankston and, last year it ignited the debate about art versus graffiti.
Commissioned as part of the Big Picture Fest to transform drab walls in high profile sites across the Frankston CBD, the piece of art situated behind the Braaap building, off Park Lane, is either loved or loathed by the public.
"The works of art are far from graffiti. You could see that image of the skeleton as overwhelming as or as a piece about hope. The skeleton signifies the truth that lies underneath our skin, our ideas about religion and society; we are all the same. The little birdie, to me, and the slight smile on the skeleton's face is a sign of hope."
Originally from NSW, Smug has worked for years transforming the facades of buildings in Glasgow, Scotland, into works of art, gaining a reputation in Scotland for creating imagery with photo realism which has been mostly admired across the country.
"We have already had thousands of people checking out the street art throughout Frankston to mainly positive responses," said Ms Fabiny. "With our new walking tours it will allow so many more to walk the Frankston city streets and laneways to witness the artworks being created and gain a greater understanding of our world and the art community without having to go to a gallery."
The street art walking tours take in 23 commissioned art works over about ninety minutes of walking.
"We start at the Frankston library and head into the Frankston CBD and the area surrounding the shopping precinct," said Ms Fabiny. "Take a tour through Frankston's laneways and streets to find out how artists are shaping Frankston's urban identity by creating unique pieces of public art for everyone to enjoy."
---
For bookings or more enquiries, contact the Frankston Visitor Information Centre 1300 322 842