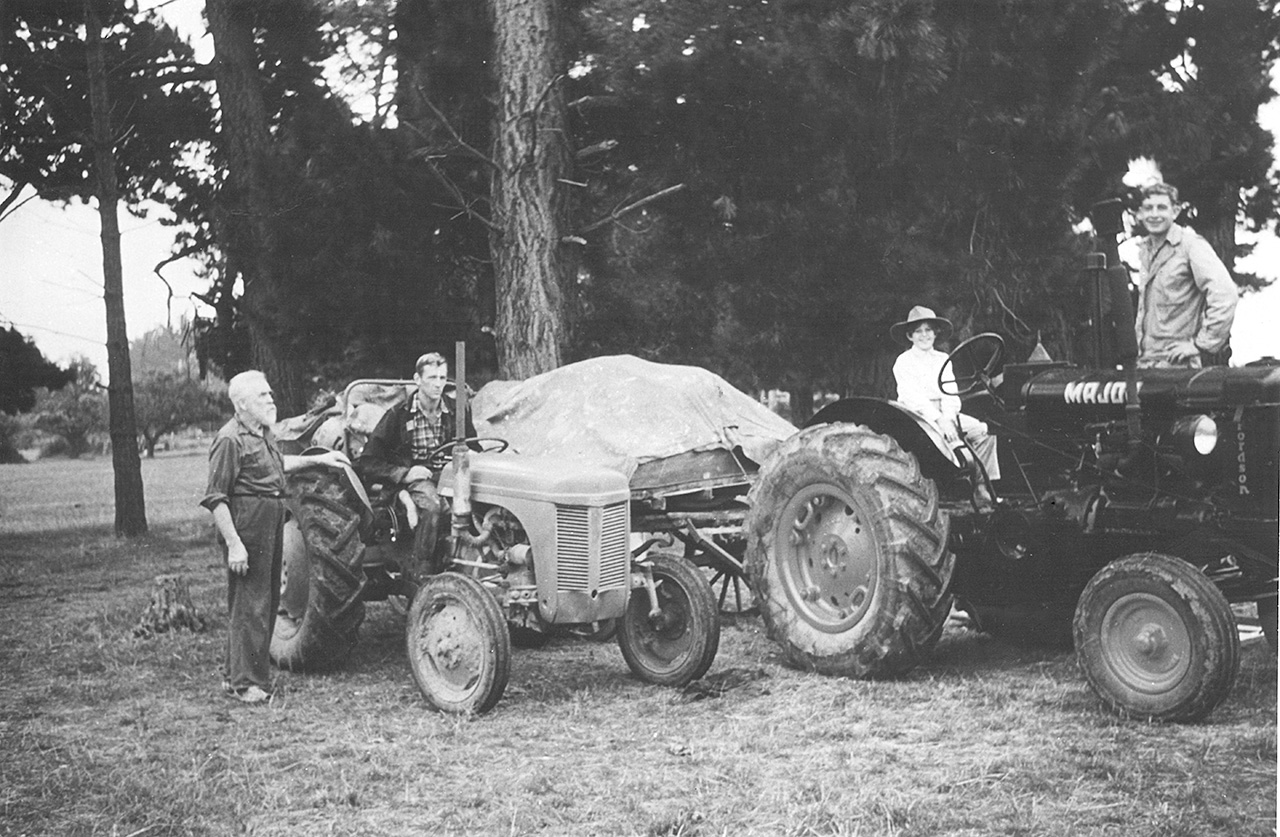 By Peter McCullough
DURING the 1960's the Prahran Methodist Mission, assisted by the local community, undertook this project which involved thousands of working hours freely given by children, teenagers, and adults.
Origins
In 1958 77-year old John Barclay made available his farm at Tyabb to the Prahran Methodist Mission and Christian Community Centre to assist them in their youth programme. The farm, which had been in the possession of the Barclay family for 100 years, consisted of 75 acres, 34 acres of which was uncleared. The property abutted the sea and a further 25 acres along the water's edge, subject to tidal variation, was leased from the Lands Department for a nominal rental.
A panel of local farmers and businessmen, under the leadership of Harold Thornell, a Tyabb real estate agent, was set up to assist the Prahran Methodist Mission in the development of the project.
Before long regular organized working bees commenced. It was the policy of the Mission to link the educational, recreational and worship programme with physical labour.
Enter the Davidsons
Ken Davidson and his fiancee, Dorothy Cooper, attended the Mission's Youth Group in Prahran. The project was still getting underway when Ken offered to give up his job as a bricklayer to manage the farm. In his own words, "I have wanted to be a farmer all my life, and I want to help the Mission." This was Ken's practical and rather shy way of saying he had received a call of God.
Those in charge did their best to discourage him: the farm was in a run-down condition, there was no house in which to live, virtually no capital and little security. On top of all that, Ken would have to give up plans to build his own home. But Ken was not to be denied; he felt committed, as did his fiancee.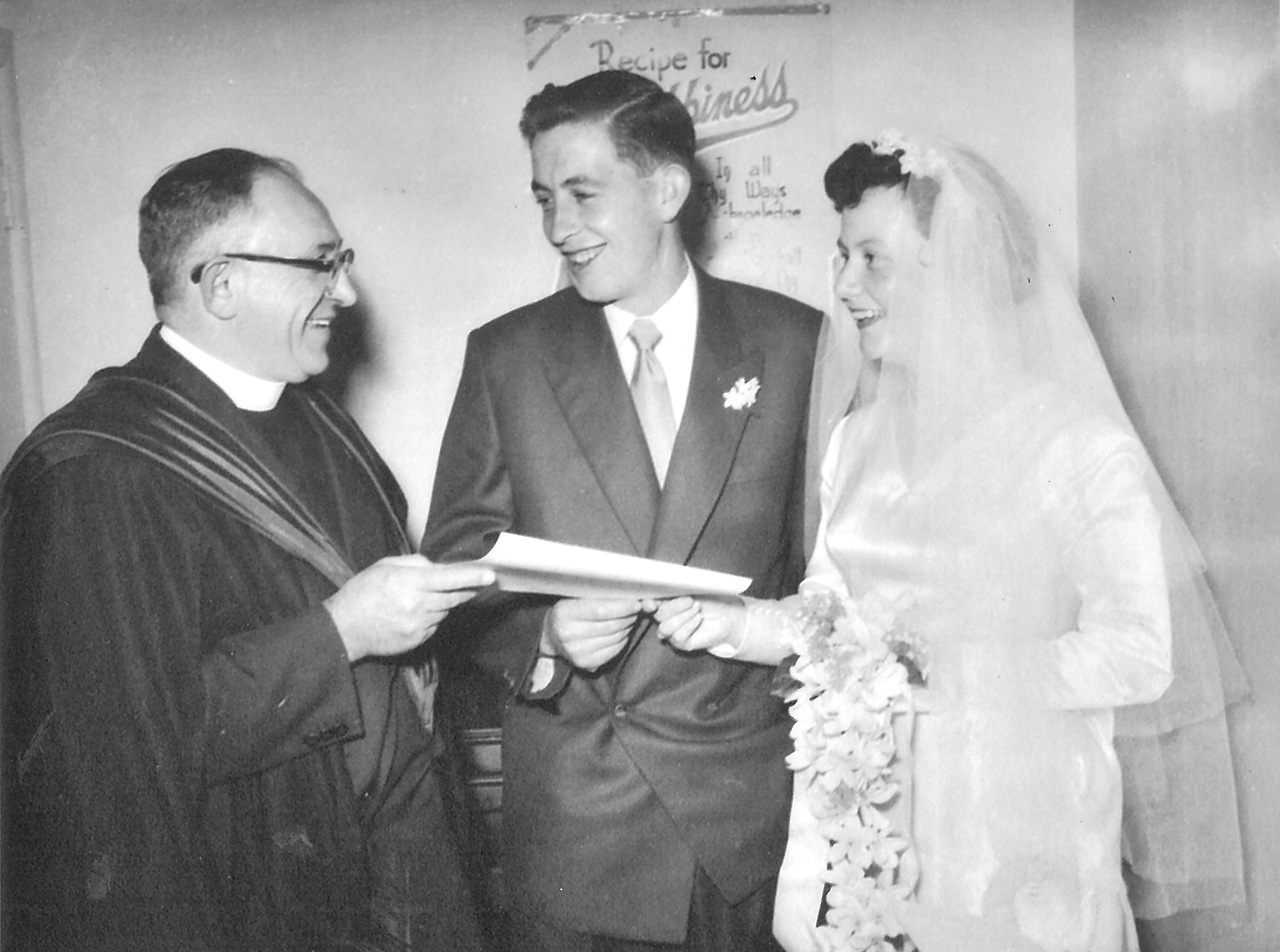 Ken and Dorothy were married on 1 November, 1958 and moved into a house in Hastings which a supporter of the project had made available rent free for a year. Ken immediately immersed himself in the first task which was to cut hay for the cows that were still to come. He was assisted in this task by local man Dave Barclay who enquired as to whether Ken might be interested in a game of cricket. And so began Ken's association as the spin bowler for Tyabb Cricket Club which extended over thirty seasons ( 1958/59 to 1987/88 ). Ken was always readily identifiable on the field; he never removed his cap, even when bowling! While Ken was rolling his arm over, Dot was kept busy in the capacity of meticulous team scorer for many years.
While primarily a bowler, Ken was capable, if dogged, with the bat. In his 314 games he scored 4481 runs, with a highest score of 84 and passing 50 on 17 occasions. Rather amazingly, he was not out 77 times in his 328 innings. As a bowler he took 517 wickets, including three hat tricks. His best figures were 7 for 21 and he had a bowling average of 14.79.
These figures were supplied by Doug Dyall, long-time statistician at the Tyabb Cricket Club, who added "Ken was a great advocate for juniors and often took on leadership roles in the seconds and thirds to encourage and promote youth, and many players at Tyabb Cricket Club over the years would remember fondly that it was Ken Davidson who gave them their start in the game and showed them how to enjoy the game in a sportsmanlike manner. In 1973/74 he led the seconds to a premiership. Ken is remembered at Tyabb Cricket Club as one of the greats both on and off the field." Finally, Doug has recounted a story which is part of the folklore at Tyabb Cricket Club: how two fairly ordinary batsmen pulled of a remarkable victory.
As well as his contribution on the field, Ken was a member of the Tyabb Cricket Club committee for 29 seasons and at various times filled the positions of President, Secretary, and Treasurer. He was made a life member of the club in 1969/70. So significant was his contribution that the Tyabb Cricket Club still awards the Ken Davidson trophy each year to the best clubman.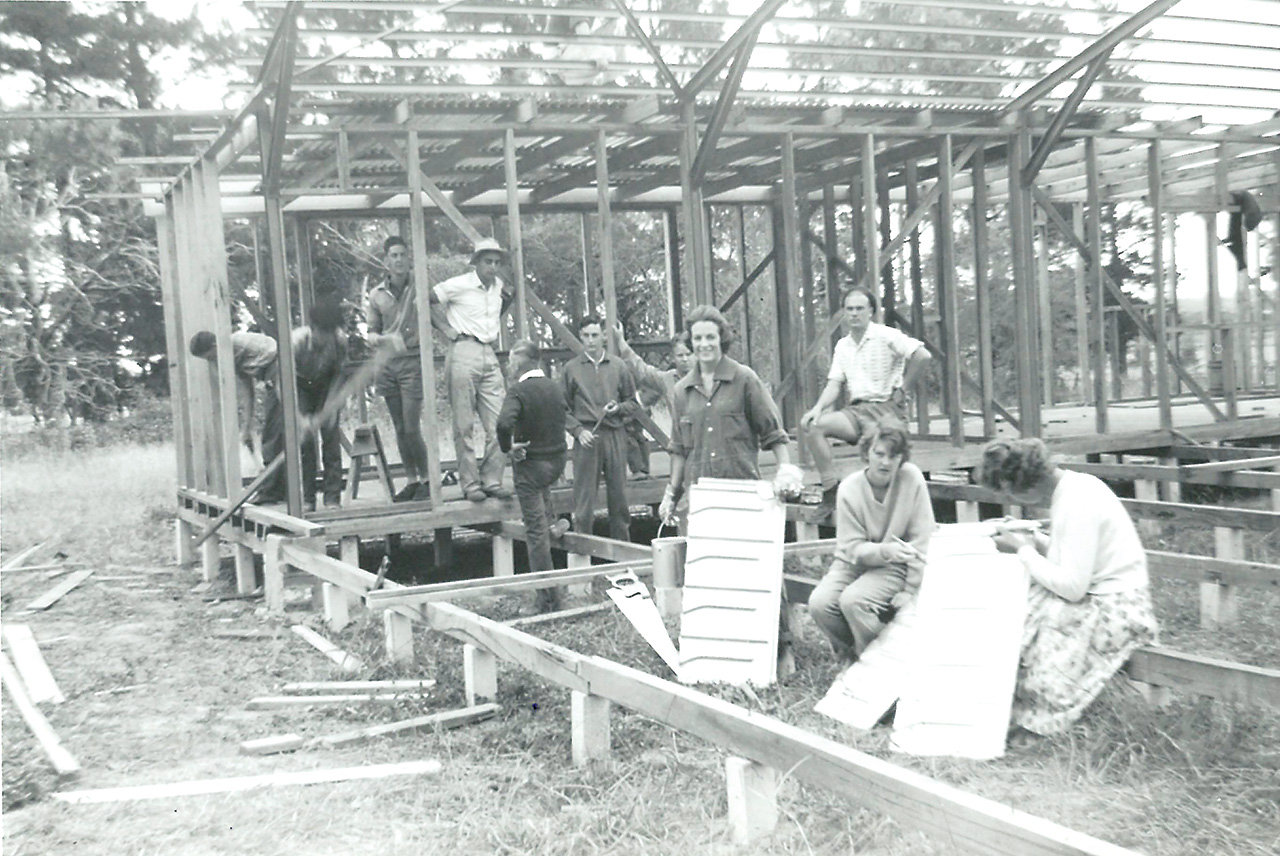 Stage 1
The first priority was the building of a cottage on the farm for the Davidsons. An anonymous supporter's donation of 1000 pounds, together with news that a Davidson baby was on the way, gave the project some impetus.
It was decided to build the cottage by voluntary labour and on 27 June, 1959 fifty tradesman and helpers began at 8 a.m. to build the cottage to lock-up stage in a day. All gave their services entirely voluntarily and brought all kinds of modern machinery to help them in their work. With such a big team, the ladies were kept busy providing sandwiches and drinks. T.V. Cameras recorded the progress throughout the day, and by nightfall the outside of the building was complete and has the first coat of paint.
Then began a race to finish the interior; all was completed so that Ken and Dot could move in with a fortnight to spare before the arrival of Gary 15 October, 1959.
Work began immediately on a modern brick dairy, which made good use of Ken's bricklaying expertise, while clearing and fencing work continued. During 1959 a party of Wesley College schoolboys travelled across from the Youth Camp at Somers every day for a week to help. This was part of their community service programme and a garage was the end result. Then a gift of 200 pounds was sufficient to purchase a reconditioned tractor.
With the completion of the brick dairy the farm was in production, and Stage 1 was officially opened on 28 February, 1960.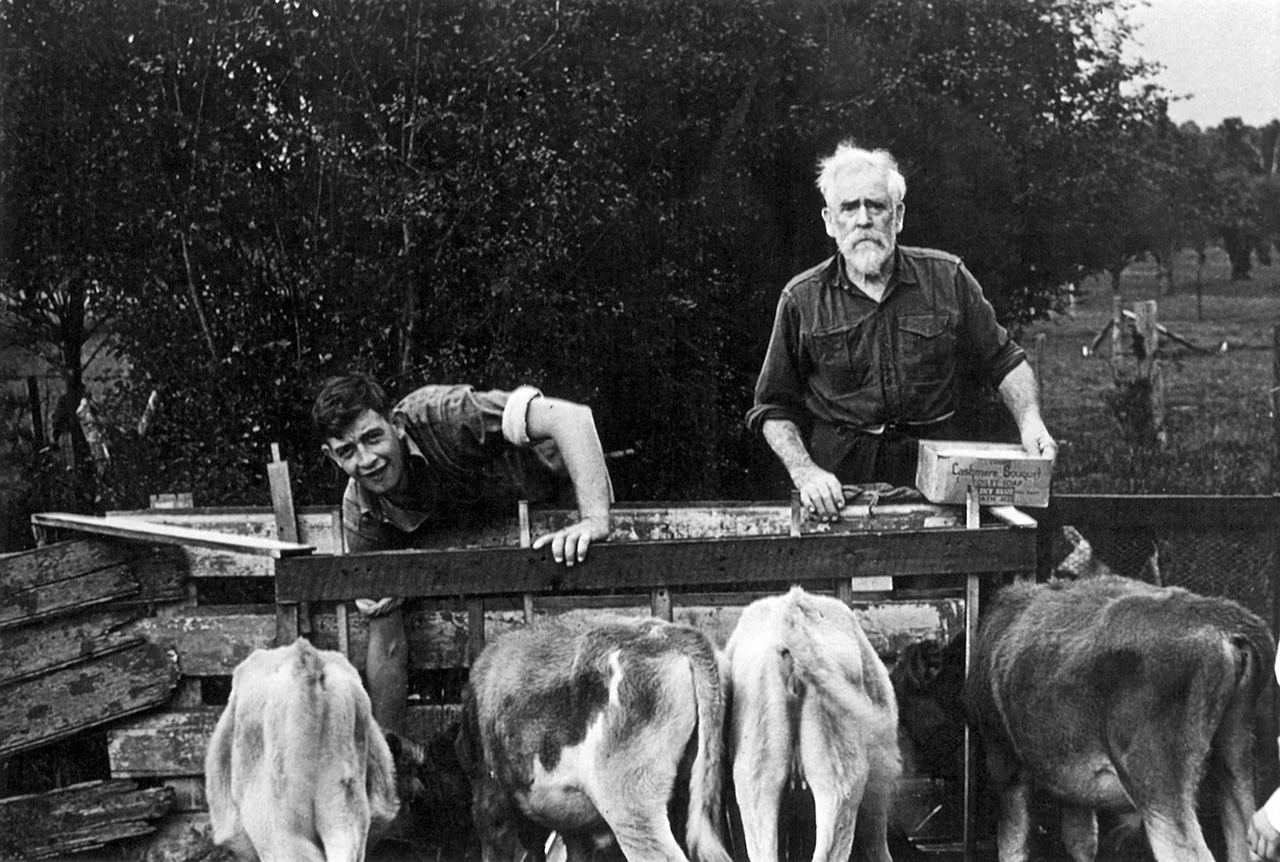 Stage 2
A good herd was a priority but funds were limited. Then in June, 1960 a supporter opened an opportunity shop, first in Box Hill and then in Boronia. Run by volunteers, this provided a great boon to the project, enabling the purchase of milking machines (650 pounds), a rotary hoe (125), chain saw (125), pump (300), polythene hose and fittings (90), and four cows (over 300 pounds).
In May, 1961 a prefabricated steel hayshed valued at 1000 pounds was donated and in September of that year an anonymous gift of 4000 pounds enabled a start to be made on the building of the hall and accommodation quarters.
Meanwhile, Joanne Davidson was born on 30 November, 1961.
In January, 1962 an opportunity shop was opened at McKinnon with half of the proceeds to go to the Tyabb Training Farm Project, and the following month a group of Korumburra farmers donated seventeen jersey heifer calves.
Throughout 1962 regular monthly working bees from Prahran pushed on with the building programme, and a youth group from Kaniva gave a week's work; this was a first for the farm.
16 March, 1963 was a gala day at the farm with the opening of Stage 2. The International Harvester Company put on a demonstration of farm machinery which was of special interest to local farmers. All youth groups who had undertaken work days on the farm, including the Kaniva group, were present, as were members of the regular working bees. Two hundred pensioners from Prahran came down for a day's picnic outing. There was a barbeque tea followed by evening entertainment of films and dancing in the new recreational hall.
The Farm in Operation
Over the next few years the farm was able to realize its objective and provide accommodation for youth groups and boys who were orphans, may have been neglected, or in need of rehabilitation. In its first summer the farm provided six weeks of accommodation for Peter, an aboriginal boy from central Australia. Although numbers were generally limited to about six, as many as sixteen could be accommodated in the dormitory if a youth group visited, and even more could sleep in the hall if the need arose.
The project's success notwithstanding, there was a struggle to achieve all those items which were necessary to complete Stage 2: furniture for the lounge room, stack-up chairs for the recreation hall, cutlery and crockery, and so the list goes on.
For most of the 1960's Ken Davidson battled on as manager of the project with up to twenty cows being milked twice a day. Dot also assisted in the day-to-day operations, mainly in a "house mother" role. However enthusiasm towards working bees dwindled – the project was after all a long way from Prahran – and the farm was always short of funds.
Eventually Ken was forced to obtain part-time employment so he drove a truck between milkings.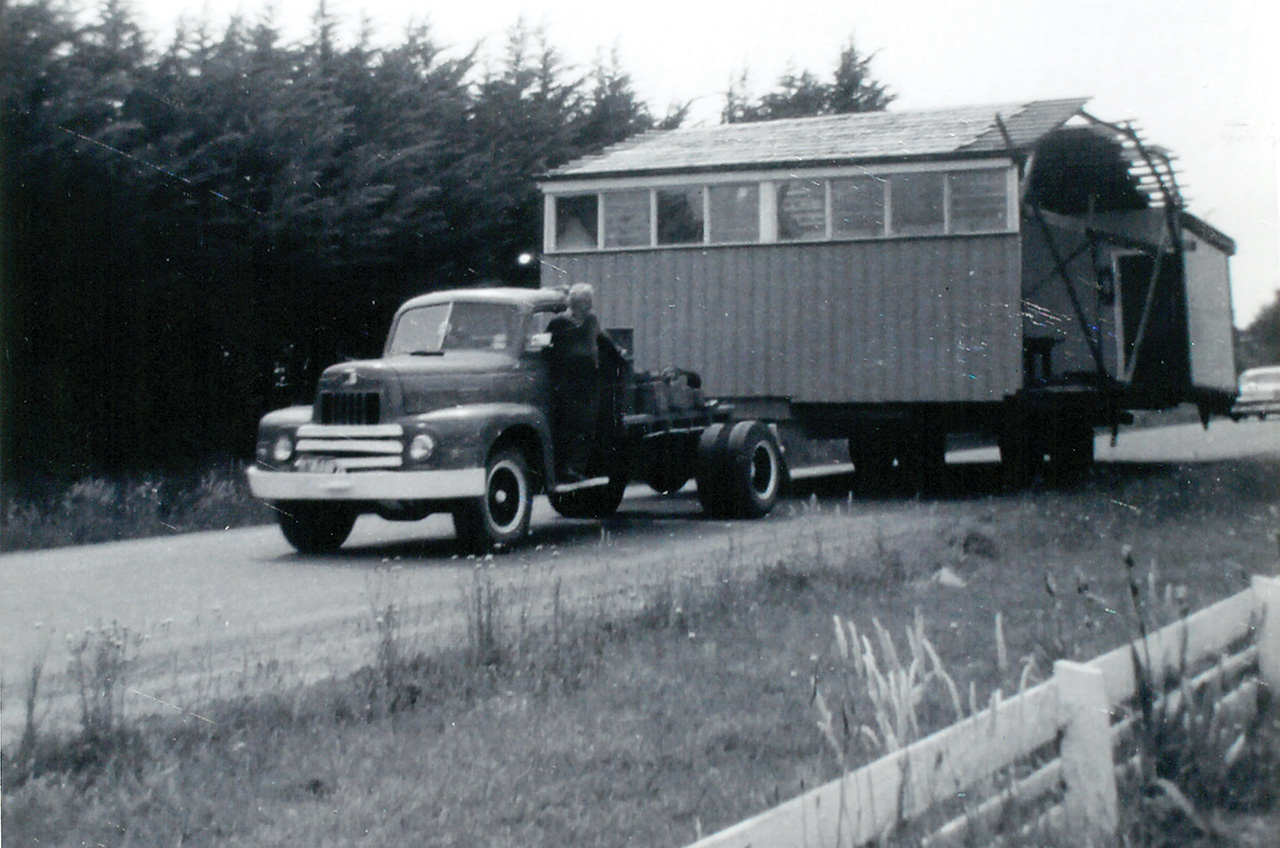 The End of the Tyabb Training Farm Project
Although Ken kept milking cows until 1969, the lack of financial support forced the closure of the farm. In addition, much of the land was torn up so that pipes could be laid for the new Esso complex. The cottage and hall were transported to the Mission's Youth Camp at Somers and most of the equipment was disposed of at a clearing sale.
Ken Davidson worked full time in the trucking business for the rest of his working life, firstly with local Max Christie and then with Mayne Nickless/Vic. State Transport. Dot, freed of her responsibilities as well, worked in the packing shed at Seller Brothers Orchards for seventeen years.
After renting for twelve months following the closure of the farm, the Davidsons moved to their new home in Tyabb where Dot still lives. Ken died in 2009 at the age of 75.