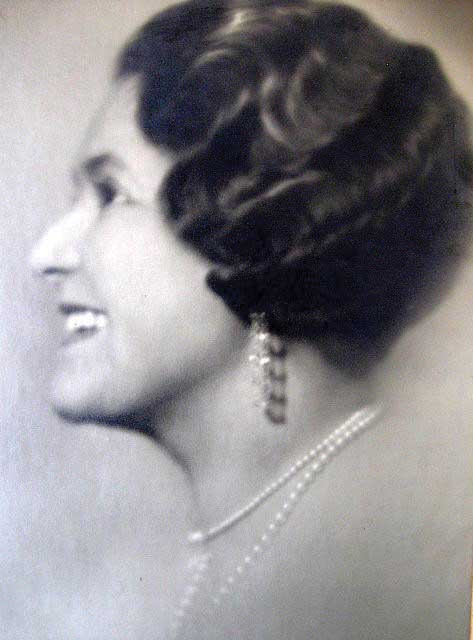 By Lance Hodgins
The Hastings Hall was filled to its utmost capacity by many excited people who believed that this would be their last opportunity to see Miss Rosa Alba before she left for Europe.
The concert on April 17 1914 was a pronounced success, and one of the most memorable in the history of the town.
Very few people knew that a few days earlier she had been ordered to rest by her doctor. But the 23 year-old soprano gave her audience what they wanted and showed the marvellous improvement she had made over the past 12 months.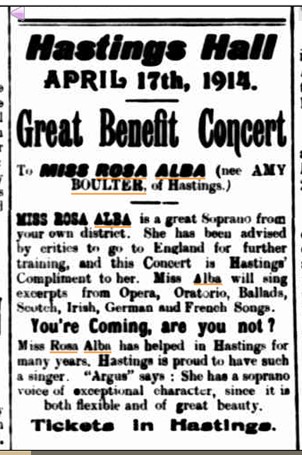 She sang Dear Bird of Winter and Wake Up in the first half of the program and then followed with Rigoletto's Caro Nome and a duet Where My Caravan Has Rested with Mr Percy Blundell, one of the renowned tenors of the day who also took part in the concert.
JD Hodgins chaired the evening and gave a short address stating that Rosa Alba, now Mrs White, was leaving to continue her studies in Europe. He felt sure that he was expressing the sentiments of all the people of Hastings when he said that one and all wished her every success and trusted that she would come home at the top of her profession.
Just who was this Rosa Alba who had already excited the music world so much?
Rosa Alba began life as Amy Boulter, born in 1890 the fourth child of James and Elizabeth Boulter. In the year of her birth her parents had bought a property in Hastings and planted 30 acres of fruit trees with long rows of protective pines. "The Pines", on the corner of Hodgins and Coolart Roads, soon became one of the most productive apple orchards in the district.
Amy's three brothers were active young men. The oldest was quite an athlete and a member of the Hastings Gun Battery. The other two, closer to her age, were keen footballers and members of the pre-war Hastings premiership teams.
Amy also showed some athletic talent as a young girl, but her true love was to be found in the activities of the local church. Her parents were members of Holy Trinity at Hastings and Amy, along with many other young people in the town, attended Sunday school.
Under the tutelage of Miss Pearson and the guidance of the Reverend Swan, the young people of the church developed considerable artistic talent. On one memorable occasion in December 1903, the Sunday school children joined members of the Church choir to give a Christmas concert. After interval, the scholars performed an ambitious operetta entitled The Queen of Choice, in which the girls were dressed as various flowers – perhaps giving Amy the idea for a stage name. How many of her fellow artists ever dreamed of the heights to which Rosa Alba would reach?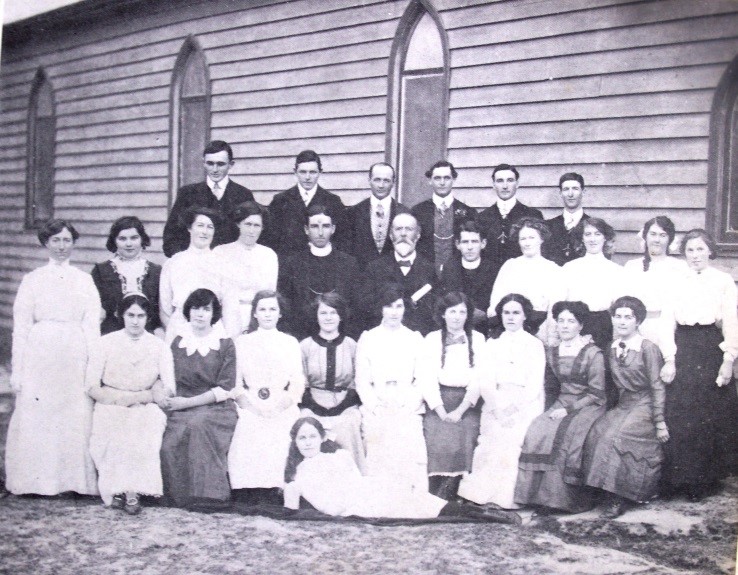 During her teenage years, Amy sang in many concerts in Hastings most of them for worthy causes, such as destitute widows and local community projects.
By the time she was 21 years old, her solos were being given in "her usual effective style" her voice began to command attention. One scribe reported: "Our local favourite, Amy Boulter, was just a treat to hear … and deserves more recognition".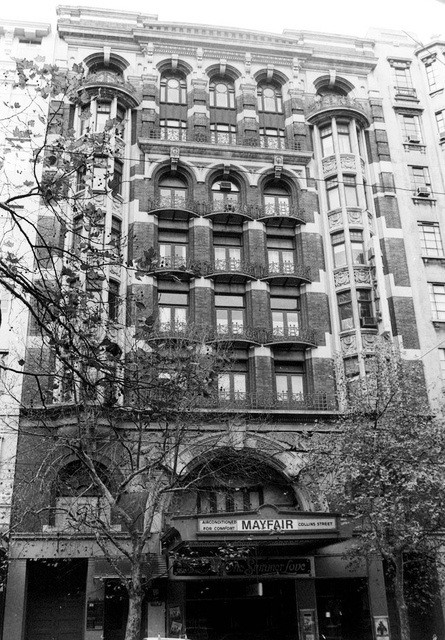 In 1911 in Hastings a Boxing Night concert showcased several artists from Melbourne and Amy was the star of the evening. The Hall Committee had been keen to show off their new lighting and other improvements, but seven weeks later the hall lay in ashes – the result of an accident at a wedding celebration. Concerts and other functions were then moved to the Sunday school hall, and proceeds had a new target – the building of a new and better hall.
By now, Amy had been discovered by music lovers in Melbourne and she began taking lessons with the famous mezzo-soprano Madame Maggie Sterling. In October 1912, at a garden fete in the palatial gardens of Toorak's "Whernside", she was introduced to Melbourne's social elite by Madame Sterling as her star pupil – Miss Rosa Alba – the first time Amy had used her stage name.
In 1913 yet another name change was on the horizon. By the time she sang at the Hastings Tennis Club concert and ball, she would be introduced as Mrs White – wife of the Reverend William Bloomfield White, rector of St James Old Cathedral, Melbourne. White was a friend of the Eva brothers who served as successive vicars at Hastings from 1909 to 1914.
With the full support and encouragement of her new husband, Amy soon made her presence felt in Melbourne. In November 1913 she sang at the Melbourne Town Hall in their monthly municipal concert and also for the Royal Victorian Liedertafel Society, one of Melbourne's oldest choral groups.
It was her performance at St Paul's Cathedral Chapter House, however, that captured public attention. Never before had such an audience heard such brilliant singing.
"She has several points in her favour – good stage appearance, magnetic power and an exceptionally beautiful voice, a soprano of exquisite quality."
"The singing made us straighten ourselves and hold our breath … She sang to us to make us understand … her style was winsome and appealing."
1914 was a significant year for Amy but she did not anticipate the series of events about to unfold in Melbourne before her very eyes.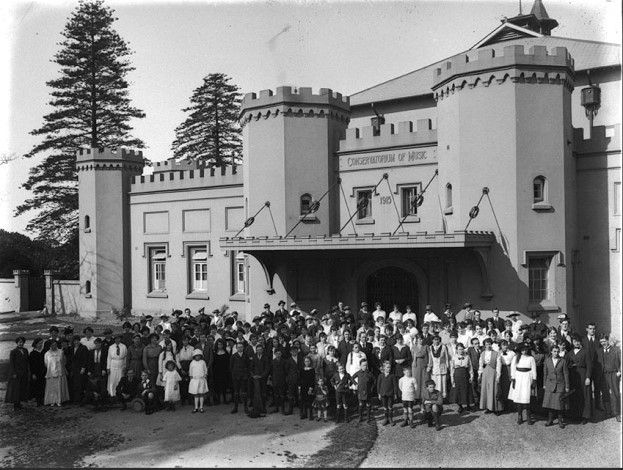 In March there began a series of "Pops" concerts arranged along similar lines to those held in London. Featuring predominantly local artists, the concerts offered cheap seats and strong appeal to the "average" person. Behind the idea were the entrepreneurial Tait brothers, who had recently made The Capture of the Kelly Gang – the world's first feature film.
The Taits constructed a large, luxurious concert-hall called The Auditorium on a prominent site in Collins Street and to gain attention for their first concert they hired the famous prima donna, Madame Slapoffski. A week later, the European veteran returned for her second appearance but the evening was stolen by a newcomer who, according to one critic, "created a sensation".
"We were grateful for the pleasure of hearing Miss Rosa Alba, a young soprano with all the elements of a lovely voice … pure in quality and accurate". Another described her as having "a soprano voice of remarkably beautiful quality… which, with a little more experience, should 'give thrills'."
Rosa's new fans were disappointed when she failed to appear for the third Pops concert. Suffering from a heavy cold, she had been ordered to rest by her doctor. She defied his orders by singing mid-week and then appearing at Hastings on that Friday night in April 1914 where she was back in fine form. The next night she appeared in the fourth Pops concert and her many Melbourne fans were ecstatic.
The Tait concerts continued throughout the winter months with Rosa receiving top billing and every Saturday night she performed to a crowded and enthusiastic audience. There were many other engagements, of course, but they had to be all midweek to fit in between the Pops concerts.
Rosa Alba returned to Hastings for a grand concert and the proceeds went to the Patriotic Fund to provide "comforts" for soldiers. This was a timely reminder that the Great War had been officially declared only eight weeks earlier, and it became increasingly obvious to Rosa that her dreams of going to Europe would be put on hold. The public did demand that the Taits continue their "Prom concerts", however, and by year's end Rosa Alba had completed a dozen consecutive performances at the Auditorium.
It was a significant year for Rosa but bigger and better things were about to come. Early in 1915, Amy realised that she was pregnant and the hustle and bustle of performances were gradually wound back until October when she gave birth to a daughter.
Her excitement, however, was far from over. Soon after, she was offered a scholarship to study at the new State Conservatorium of Music in Sydney, an ambitious project to create a school and showcase for the nation's musicians under the directorship of famed violinist, Henri Verbrugghen.
For Amy the opportunity was too good to pass up but it would mean putting her European aspirations on hold and relocating the family interstate. As ever, husband William was totally supportive and he immediately applied for a transfer to a parish in Sydney.
In March 1916, Rosa became one of the 55 foundation students of the Conservatorium.
Here she studied under several specialists, and at her introductory concert six months later the lyric soprano impressed everybody with her exquisite freshness and charm.
The following year she toured Queensland with the Conservatorium as its leading singer. She was warmly welcomed wherever she appeared and her excellent stage presence quickly won her the lasting admiration of her audiences.
Early in 1918, after an absence of three years, Rosa Alba returned to Melbourne audiences at The Auditorium and showed that she was even more brilliant than before. She gave a beautiful concert at Mornington and returned to Sydney for another round of appearances at the Conservatorium and the Sydney Town Hall.
In October 1918, Rosa made her first visit to Tamworth, the New South Wales rural town that decades later would become synonymous with Country Music. At the inaugural concert of their new Philharmonic Society she roused the audience to a high state of excitement, and everyone (including Rosa) hoped that she would return.
Back in Sydney for Christmas Day, Rosa gave a recital at the Town Hall in the morning, sang the Messiah with full choir in the evening, and then appeared at the Women's Hospital on Boxing Nght.
By 1919 World War One was over and as life began to return to some sense of normalcy Rosa's thoughts turned once again to Europe. As she pondered her readiness, the months flew by and she conducted whirlwind tours of regional centres in both New South Wales and Queensland where she was received with furores of applause.
Rosa began 1921 with concerts in the Sydney Town Hall and at the Conservatorium, where she was encored after every item.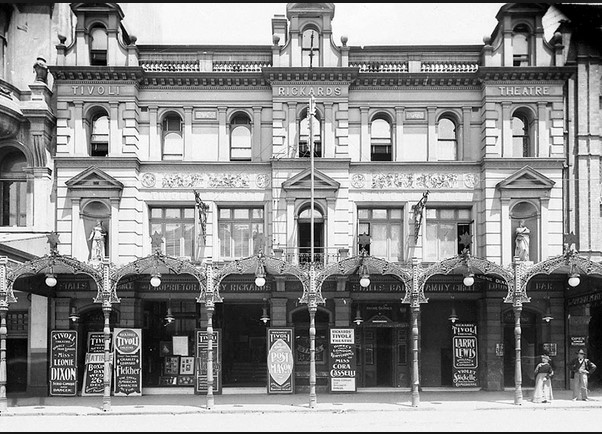 Soon after, Rosa Alba left on a tour of New Zealand where she took audiences by storm and created unprecedented scenes. 3,000 ticket holders gathered for hours outside the Auckland Town Hall waiting to enter and hear her sing. In Dunedin many had to be turned away and at the end of her performance it was the audience who rose and sang Will Ye No Come Back Again and Auld Lang Syne. The seven weeks NZ tour had lasted for four months!
Her next venture, however, created a surprise.
In October 1921 she performed at the Tivoli, an old theatre and music hall in Sydney's Castlereagh Street. This was her first appearance in vaudeville and she was nervous but she did not need to worry as capacity houses and multiple encores marked every show. To the critics, Rosa Alba was "undoubtedly the sweetest and most cultured singer ever heard in vaudeville". Rosa said in later life that vaudeville audiences were the best to whom she had ever sung, there being a friendliness that was missing on the concert platform.
There was now repeated talk of London and all of her concerts were regarded as "farewells". Finally after a hectic round of parties in Sydney, the Whites travelled by train to Hastings for Amy to say goodbye to her parents. On April 15 1922 they boarded the P & O Liner Ballarat for England.
On her arrival, Rosa was introduced to Miss Nellie Rowe, the Melbourne-born singer who had become a celebrated music teacher in London. Nellie heard her sing and declared that "Rosa has the voice of a century! Not since Nellie Melba came over have I heard one so beautiful. There is a fortune in it."
Despite such enthusiasm, Rosa did not meet with instant fame and fortune. Success in London would be hard-fought – she was in an expensive and cut-throat business.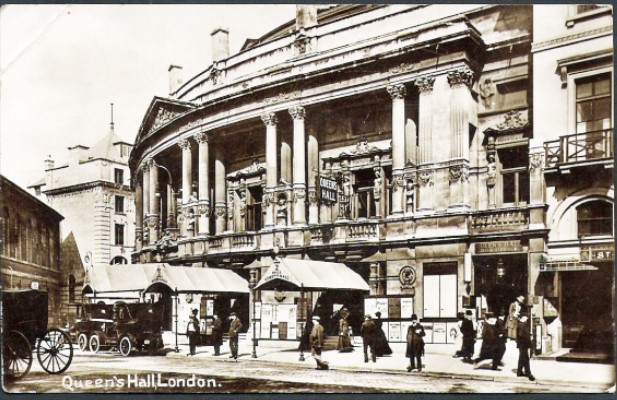 Within weeks Rosa was writing home: "London is an eye-opener … only the courageous and well-equipped can weather the storm … ample private means are essential."
And the harsh reality: "London does not care if they come or stay away. …They will be at the bottom of the class until they have proved their capacity and it may take five years before their chance comes."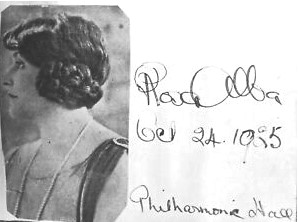 Rosa finally made her London debut on Australia Day 1923. Dame Nellie Melba was conveniently unavailable so Rosa was chosen to head a strong Australian program in a broadcast from Marconi House to Australia – the first of many to follow.
Despite this exposure, Rosa continued to find the competition far beyond anything she had expected. There were so many newcomers hurling themselves against the established singers.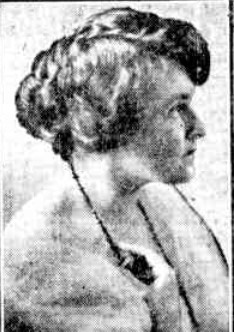 In shades reminiscent of the Melbourne "Pops" a few years earlier, Rosa was invited to give a series of performances at the Promenade Concerts in the Queen's Hall, London's principal concert venue.
Rosa had just turned down a role in a new musical comedy when her big break came: on March 17 she gave her first London recital – at Wigmore Hall in the West End – in front of a large and enthusiastic crowd. The critics were impressed:
"The sponteneity of Miss Alba's lark-like singing, the flexibility and the full throated resonance of an unfailingly beautiful upper register in particular, established her at once as a singer of unusual quality."
Rosa remained the darling of Londoners. She was encouraged by the patronage and friendship of Lady Cook, wife of the Australian High Commissioner and former Prime Minister, Sir Joseph Cook. Rosa was chosen to perform the solo at a touching Anzac Day ceremony at the Cenotaph.
A few weeks later she sang at a large concert in Wembley Stadium in front of Queen Victoria's grand daughter, Princess Marie Louise. The Princess was so delighted with Rosa's singing that she promptly invited her to a garden party at Buckingham Palace, where she was presented to the King and Queen.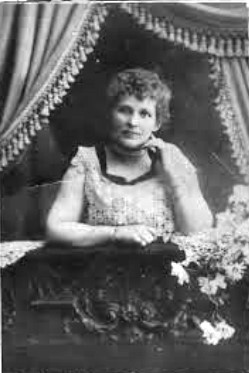 Rosa's engagement book filled up rapidly after this. In one week alone, she sang at Scarborough, London, Eastbourne and Margate. Rosa then added Harrowgate, Bury St Edmunds, Llandudno and Pontypridd in Wales, Brighton, Hastings, Tonbridge Wells and Shrewsbury to her list of performances – many of them involving repeat engagements. She returned to London for concerts in the Alexandra Palace and the West End's Palladium.
Rosa also found a way to remind those in her home country of her talents. One evening she performed six songs which were broadcast to Australia by radio station 2NM. It was clear that Rosa never forgot home and she developed numerous Australian contacts and friends in London. Whenever Australian musicians and singers would gather, Rosa and William were at the top of the guest list.
From 1928 onwards Rosa kept herself busy with numerous engagements but she was less and less in the public eye. She traditionally sang the Alleluja solo in the Anzac Day ceremonies at St Clement Danes. In 1932, she sang for hundreds of guests at the Imperial Institute in the Royal Empire Society's grand night of film and concert. There was also the occasional BBC broadcast home to Australia.
Rosa was now in her forties with a teenage daughter and a clergyman husband. Family played an increasing role in her life and, as a wife and mother, she was simply Amy White. She involved herself in William's parish affairs but, on occasion, the star attraction at the church fund-raising concert would be Rosa Alba.
In 1932 Amy was saddened to learn that her father, James Boulter, had passed away at Bittern. She would have liked to have been there but the hardships of the Great Depression made travel very difficult.
Two years later she did briefly return to Melbourne for some broadcasts and a small concert tour as part of the Centenary Celebrations. She visited Hastings and her widowed mother who, in the following year was to die tragically in a motor accident.
Amy returned to England where she and William settled happily into her rose garden and parish life. As the years went by they shared the joy of seeing their daughter marry and making them grandparents.
The Reverend William White passed away in 1952 and Amy outlived him by over 30 years.
---
The above is one chapter in a book of events that happened in and around Hastings entitled "It Happened Here".
Copies of the full book are available from Lance Hodgins 5979 2576 and cost $20.