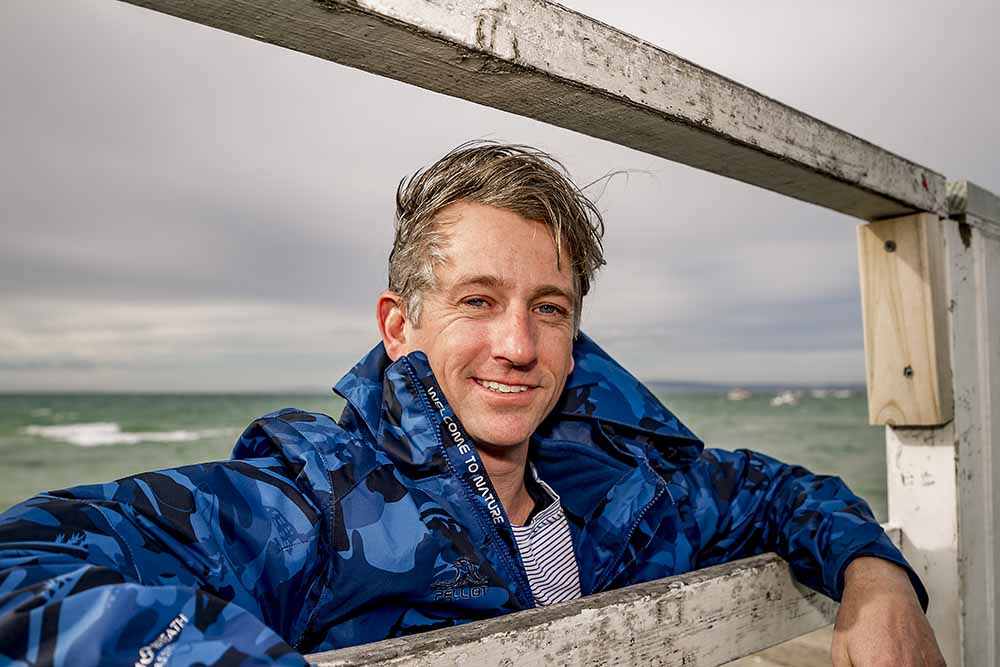 They're huge, mysterious and graceful. Known as the gentle giants of the ocean, the peninsula is lucky enough to see a migration of whales during winter as they make their way from Antarctica to the warmer Australian waters to give birth to their calves. Local man, Marlon Quinn, with his Watermaarq Ocean Adventures, has the wonderful job of taking regular charters out whale watching from June until August.
"I have been doing the whale charters since winter last year when I realised there was no regular whale watching boats down here," said Marlon, a former IT project manager, who found his new calling as a freediving instructor five years ago. "I wanted to share with locals and visitors the finest marine experiences and one of those is the migration of whales over the cold months."
Marlon says that winter is a great time to head down to the peninsula, and Sorrento is the perfect place to start a whale watching adventure.
"We run a two-and-a half hour winter whale watching and wildlife eco boat tour, and each year we've been treated to increasing sightings of Humpback Whales, Southern Right Whales and Orca or killer whales," said Marlon. "It's a very special experience because historically whaling and sealing were one of the first industries in the region. Now protected, we have the opportunity to search for these grand marine animals as they safely visit our local waters. We are very mindful that we are the visitors to their environment and will only get within a certain allowed distance. Often the whales will be curious and come closer to see us as well."
The boat, which takes 12 people, leaves from the shores of Sorrento and guests have mentioned at the end of the tour that the journey was just as magnificent as the whale sightings.
"One of the things I love is to give people an amazing experience. We go out through The Heads, through the area known as The Rip, to the open water which can be slightly treacherous depending on the conditions. It is always safe but definitely can be quite thrilling with the boat low in the water and sometimes encountering large waves, as we venture deep into Point Nepean Bay," said Marlon. "We use our open rigid inflatable boat Apollo, and go off on an adventure searching along the spectacular Mornington Peninsula coastline for the opportunity to see migrating whales as they journey through our beautiful region. On the way we get to see sights that most people wouldn't get to see from land, with incredible sandy cliffs and pristine beaches along the coast. There is a plethora of incredible wildlife like the Australian fur seals at their purpose built haul-out platform, Seal Rock. The bay is home to a variety of wildlife including seals, dolphins and abundant seabirds well known to exceed seventy different species."
While winter is cold, it is the only chance to experience something as unique as this in the southern peninsula waters.
"It is not only an incredible experience that may be a once-in-a-lifetime thing to do, it allows people to see these beautiful creatures in their natural habitat. It promotes their conservation and how important it is to keep these species around for generations to come," he said of the whale species that are mostly gentle towards each other. "They swim in family units with the mothers protecting their young and gently coaxing them along their migratory journey. They are curious and inquisitive when it comes to interactions with humans."
As fascinating as they are beautiful, whales live in all the world's oceans, communicating through complex and beautiful sounds. The largest animal on the planet, the Blue Whale can weigh as much as 200 tonnes. More than sixty percent of the world's whale population can be found in Australian waters, where numbers have grown steadily over the last twenty years. At the top of the food chain, whales play a vital role in the overall health of the environment.
"Doing our tours has allowed us to be helpful in the preservation and conservation of these whales, and we are very aware of the responsibility to protect this endangered species," said Marlon. "Southern Whales may have their calves with them and they tend to go close to shore so we are conscious about being careful around them. Even though our permits say we can be reasonably close, we leave it up to the whale and decipher their comfort levels."
Marlon says it is very much about mutual interaction.
"We never encroach on them and will not force interaction;
if they want to come up and interact that's fantastic and we take that approach to all the animals we see. If they are just passing through and want to be left alone, we let that occur as it makes a more real interaction," said Marlon of his 'softly softly' approach. "We don't want to be out there impacting in a negative way. They are an endangered species that used to be hunted so protection and conservation is an important thing."
As the seasons have progressed, whales have been caught in the cray pot lines which Marlon and his crew now watch out for.
"When we are on our tours, we always keep an eye out for animals in possible danger," he said. "It is paramount that we protect and help these magnificent giants. It is all about establishing respect and trust from us. We are in their environment after all," he said. "I want our guests to have a natural experience. It is not to get in there and get a photo at any cost. It is about witnessing them in their habitat and giving them a sustainable future."