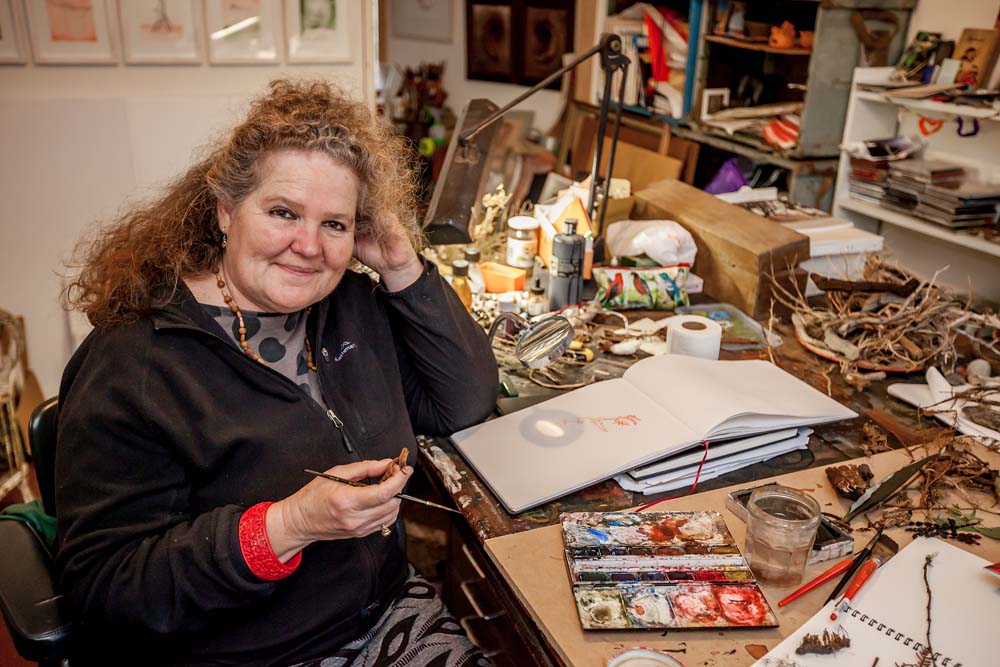 By Melissa Walsh  Photos Yanni
The Mornington Peninsula Regional Gallery's National Works on Paper was established in 1998 and incorporated the former Spring Festival of Drawing and the Prints Acquisitive which began in 1973.
From over 1,000 entries, 63 artists have been shortlisted for the 2018 National Works on Paper acquisition, one of which is Capel Sound artist Rosie Weiss. Peninsula Essence talks to Rosie about her love of art, the environment and what inspires her.
Rosie Weiss is an artist who examines the relationship we share with the natural world and finds eroded plant fragments teetering on the edge of human activity. Over time Rosie has documented dramatic changes to the shape and structure of the coastline in Port Phillip Bay, eroding some parts and plants beyond recognition.
"I have always been intrigued with nature and seeing the environment around me since I was a child. My dad was a painter and studied botany. He would take me out on long walks where he would point out all the plant life and how marvellous nature is. We were always looking at the interconnectedness in things," says the artist who finds inspiration in nature everywhere. "Becoming an artist was something that naturally evolved, growing up with a father who painted and a mother who was a graphic designer. I remember when I was 12 going into a competition for drawing and winning, and that was the first time I thought perhaps I could be an artist."
While Rosie has found inspiration in nature everywhere, for the last few years her focus has been on Port Phillip bay and looking at erosion.
"I went around the bay from Point Lonsdale to Point Nepean, finding things that have eroded in the water. I couldn't draw or photograph the eroding things fast enough before they disappeared, so had to capture them very quickly. The whole project took about 18 months," she said of the series called The Trees Are Falling Into The Sea And Other Stories. "In September 2015, I showed the first of these drawings at The Gatekeepers Cottage at Point Nepean as a result of a short residency. Being immersed in the landscape over the winter, I was able to observe and document 'an extreme erosion event' which Parks Victoria called it. The trees were falling into the sea faster than I could draw or photograph them; it was like walking through the fallen on a battlefield, their bones bleaching white by the waves."
Rosie says what she observed on Port Phillip Bay is occurring all over the world.
"This is a result of climate change, human interventions, and more locally, channel deepening, which has dramatically changed the shape and structure of the coastline in Port Phillip Bay, eroding some parts beyond recognition," she said. "However, while it is a serious and sad issue, I always feel like there is hope for change and improvement."
The 52 piece series is a selection of mirror plant collection points from around Port Phillip Bay.
"They are small fragments that have been dislodged from cliffs and embankments, but they also refer to all living beings, be they plant, animal or human, or all three at once," said Rosie, who uses a mixture of water colours and Chinese ink for her works of art. "I have always been trying to talk about our relationship with the natural world. Early on I was joining groups and trying to save bits of land but I had this idea that maybe I could do more through art and that's the track I've gone down, hoping that the work starts a conversation about how we can help.  This work is a way of talking about a global event that is happening and in that sense I guess it is heartbreaking but I always see hope in the world."
A beautiful, gentle soul, Rosie works in her home studio surrounded by bits and pieces she has collected on her walks with ornamental grasses, twigs, shells and stones. Botany and art books, her paintings and special treasures surround her, giving her the safe space to create her stunning works of art.
A mother of two, Rosie has seen her fair share of trauma but never lost her joie de vivre even when she was battling cancer.
"I created a piece of art while I was going through chemotherapy and recuperating from cancer," she said. "I just started writing and drawing with my water colours one day when I was very scared going to a doctor's appointment. It gave me hope and made me feel less like a victim. I realised I was still an artist."
The piece Rosie is referring to is called Diary Piece which was displayed at Monash University Faculty Gallery in 2012. It is writing and images in a long line, reflecting her feelings of going through the health challenge that lasted three years.
"A lot of it is about how you recover from something like that. When I started to make the work I didn't know I was going to show it then but it made me feel like I am still an artist and not a victim," said Rosie, for whom everything is a reflection of her experience of life and nature, raw and natural like the woman herself.
"My work has always been very closely connected to my life. A kind of diary if you like, of ideas, statistics, debates in the media, my rain gauge, dreams, combined with my collected plant materials to form a kind of palette that I work from. I want to give my plant forms a voice. I find them on the margins of human activity, roadsides, schoolyards, beaches, besides logging tracks, in my vegetable garden. I want them to say, 'remember us, we are essential, without us there is nothing.'"
---
The 2018 National Works on Paper exhibition will be held at Mornington Peninsula Regional Gallery from 20 July to 9 September 2018.
Visit mprg.mornpen.vic.gov.au to find out more about exhibitions and events
www.rosieweiss.com