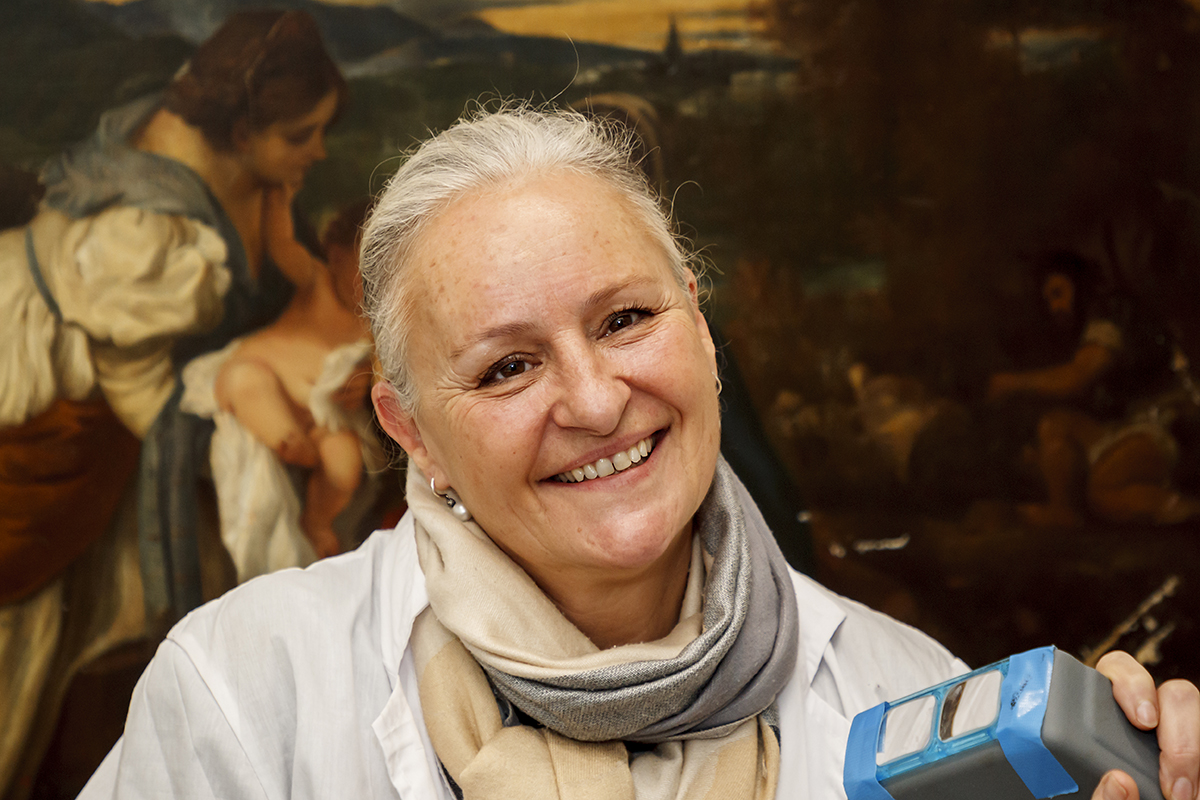 By Andrea Louise Thomas Photos Yanni
Sorrento art conservator Cash Brown has a fascinating job. She's an investigator, scholar, chemist, art historian, technician and artist all in one. All of her interests, skills, studies and previous professional incarnations come into play in her current work and she loves it.
From the earliest age, Cash was driven by curiosity, creativity and a spirit of inquiry. She was always making things and collecting ephemera from the natural work which she documented through drawing and painting.
Growing up in Adelaide she remembers having access to great artworks, particularly Aboriginal and Indonesian art, as they formed part of the curriculum from primary school. Excursions to the Art Gallery of South Australia made a great impression on her.
She studied art in high school, but decided to pursue a degree in Biological Science (University of Adelaide) studying botany and zoology. She stopped just one subject short of her degree because she realised the jobs she really wanted weren't open to women in her field at that time.
What she loved most about her studies at university was making illustrations of biological and zoological specimens. She loved examining their intricate structures under the microscope.
After leaving university, Cash worked as a lab technician at the South Australian Institute of Technology. At 25, she started her own business, hand-painting and printing textiles. In her thirties, she came down with a serious illness. During her convalescence, she studied art privately before deciding to go to the National Art School in Sydney where she attained a Bachelor of Fine Arts, majoring in painting.
Over the following ten years, Cash was making art and exhibiting extensively. She was a finalist in numerous major art prizes, such as the Archibald Prize Salon des Refuses, the Sulman Prize and the Doug Moran National Portrait Prize. She also began curating exhibitions. She then worked with Art Fairs Australia for several years, supporting and promoting emerging contemporary artists. This led to curating exhibitions in regional and commercial galleries.
While her work as a curator was interesting, the forward trajectory was into senior management at the regional gallery level, and administration wasn't where she wanted to be. When a friend, who was an art collector, suggested becoming a conservator, it was a light bulb moment for Cash.
She moved to Melbourne to study for a Master of Cultural Materials Conservation (University of Melbourne) where she could combine her love of science, art and technology. She had to do a bridging course in chemistry that proved very challenging. The whole course of study was difficult and rigorous, but fascinating.
Thanks to scholarships from the university, Cash was fortunate to get an internship in the Netherlands, working with a major bank collection. It afforded her the opportunity to be mentored by some of the world's most respected senior art conservators.
When she graduated, she decided to move to the Mornington Peninsula where she could enjoy beauty, serenity and a fabulous food culture while having access to enough art collector clients to sustain a business.
When artist friend, Julie Collins, decided to open '& Gallery' in Sorrento, she invited Cash to look at the place. Cash realised there was the perfect space for her to set up a laboratory and workshop. The Art Doctor was born.
One of the things Cash loves most about her work is meeting her clients and hearing about how they came to possess the work of art they are bringing to the clinic. Each client and each work has a unique story and many have history dating back hundreds of years.
When the investigation begins, Cash carefully examines the work using different light sources and UV radiation to determine the materials used to make the piece, the changes to those materials over time, and the extent of the damage. She carefully documents every step so she can make a treatment plan.
It's a tricky business trying to determine how long it will take or what it will cost to repair a piece because she doesn't know what she'll find until the work is underway. She also has to be mindful of the ethics of her profession. Like a doctor, she must do no harm. All of her work must be detectable and reversible.
Often one of the hardest tasks is trying to undo well-intentioned but ill-executed reparations of the past before people really knew what they were doing. Art conservation has only been a profession in Australia since 1973 and a lot has changed. "Conservation is a very complex field. I am constantly upskilling, constantly researching," she says.
To repair and conserve is very meticulous work. Cash uses all manner of tools from dental instruments and eye surgery tools to tacking irons and suction tables. She also has a small chemistry lab where she melts and mixes and makes materials for her trade.
It's not just paintings, frames and objects Cash works on. She also digitally restores photographs and documents and houses them archivally. Cash brings the past into the present to preserve it for the future. Her work combines everything she loves. What could be better than that?